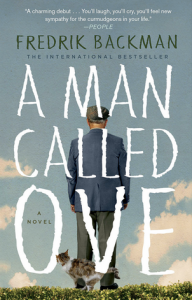 This week my Facebook feed is filled with #meinthree posts: stacks and stacks of status updates where my friends describe their best traits in terms of beloved characters from Alcott, Rowling, and beyond. Also this week I met the character who might be the most like me: Ove from Fredrik Backman's A Man Called Ove.
Now, you might wonder what a thirty-something writer mama marketer from Seattle has in common with an elderly widower from Sweden. More than I'd like to admit…
Characters We Hate to Love
I was predisposed to hate Ove. He's so upset about everything. "He's the kind of man who points at people he doesn't like the look of, as if they were burglars and his forefinger a policeman's flashlight." He knows nothing about modern technology and everything about the way the people around him should live their lives. As I read more and more about this irascible curmudgeon, I started to wonder why I was so upset at him and why I couldn't stop reading his story. Because usually when I dislike a character too much (or at least can't find any redeeming value in their narrative), I put the book down and never pick it up again.
Not so with Ove. The more he railed against drivers who disobeyed traffic signs and became frustrated with neighbors who didn't understand the simple way things ought to be done, the more I recognized him and his unhappiness. Images of a certain blonde shrieking at drivers who won't yield to pedestrians and muttering about neighbors who park improperly came to mind. I saw in Ove the same tightness I feel when I'm upset and don't have the communication skills to express my feelings in any proper (or productive) way.
There's an art to describing a character who's so unpleasant to be around and Backman's nailed it. Although we steadily learn more and more about Ove and why he is the way he is throughout the book, that reveal isn't fast enough for us to forgive Ove's "right fighting" straight out. Nor should it be. If we understood Ove's reason for being immediately, we'd sympathize with him and maybe clap him on the back and ask him to buck up. But that wouldn't be giving Ove's feelings his due and we'd be in serious danger of reading the rest of the book in a pool of sympathy for Ove.
Instead, Backman lets us find Ove annoying and opaque, but he does two specific things that gave me reason to read on: 1) he slowly reveals good deeds Ove's done (even if somewhat reluctantly) over time and in the present so I learned that Ove did have a good heart in there somewhere, and 2) Backman gives us Parvaneh, a character who believes in Ove and his goodness even when he (and we) do not. There are other characters like this in the book, including the glimpses we get of Ove's deceased wife, but Parvaneh has the most faith in Ove. Even when she's busting his balls.
The Language of Comedy
I struggle with books I know are meant to be funny. Maybe because I am like Ove, maybe because I'm tone deaf to comedic writing, who knows. But one thing I noticed about this book was the way Backman structured the tempo of his sentences:
"Ove is fifty-nine.

He drives a Saab. He's the kind of man who points at people he doesn't like the look of, as if they were burglars and his forefinger a policeman's flashlight. He stands at the counter of a shop where owners of Japanese cars come to purchase white cables."

– Fredrick Backman, A Man Called Ove
Beyond the fact that Backman does a wonderful job of conveying how out of his element Ove is in that moment, these first sentences of the book are so staccato that they must be meant to be funny. It's obvious that Backman's using these short sentences intentionally because he does us the favor of alternating them with longer phrases, but the sentences never flow, just as Ove never flows through life. There's just enough detail to get us through and absolutely no unnecessary ornament.
Compare this with the final sentence of the first paragraph of Flannery O'Connor's Wise Blood:
"She was a fat woman with pink collars and cuffs and pear-shaped legs that slanted off the train seat and didn't reach the floor."

– Flannery O'Connor, Wise Blood
Here O'Connor, who is also writing a comedic book (according to the introduction, I've barely started reading it), takes exactly the opposite approach and not only feeds us a luscious running sentence with no punctuation to slow us down, she also overloads us with detail. There is still some staccato in this sentence with the alliteration of "collars and cuffs" but I love the way that plays against the melody of the rest of the sentence.
You won't find this curmudgeon laughing out loud at either book, but I can recognize the craft that goes into this kind of writing and I hope you'll fall in love with Ove as I ultimately did. Maybe he'll even teach you a little something about yourself.
As for me, I'm embracing my inner Ove and squeezing some love on into that little stickler for rules to see if I can't get myself to loosen up a bit. Even if you won't find me in the Apple Store anytime soon. And if you're wondering who my other #meinthree characters are, I think I'm also a little Elizabeth Bennett and more Sophie MacDonald (from The Razor's Edge) than I'd like to admit.
If you want to hang out with Ove, pick up a copy of A Man Called Ove from Powell's Books. Your purchase keeps indie booksellers in business and I receive a commission.