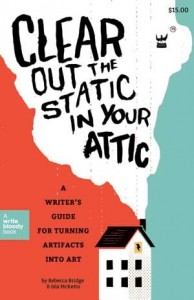 Co-authored by Rebecca Bridge and Isla McKetta, Clear Out the Static in Your Attic: A Writer's Guide for Transforming Artifacts into Art is designed to make writing seem less intimidating for beginners and to give intermediate writers solid tools to improve your writing. We share tips for poets and prose writers alike and the book includes stories from our own successes and struggles as writers.
This book of writing prompts and exercises is your guide to endless inspiration. With a wide variety of innovative exercises, there will always be something to spark your imagination, no matter what writing mood you're in.
Simple and effective. The innovative approaches in this book start are simply explained in a clear voice and include reading recommendations to further explore your craft.
Developed by two writers who understand the feeling of being stuck during the creative process, each exercise comes with a mini essay about the trials and successes of the writing journey as well as an example piece of writing. You're not alone in this writing world and we all need a little support and community sometimes.
"Writers in my poetry, fiction, and non-fiction workshops have found much to inspire them in this rich, varied collection of prompts. Both the narrative element of this practical guide and the included writing samples make Clear Out The Static in Your Attic a resource I'm sure to reuse and recommend." – Nicole Hardy, Author of Confessions of a Latter-day Virgin
Clear Out the Static in Your Attic is published by Write Bloody Publishing.
I'm happy to pay your classroom or writing group a visit to talk about writing. Email Me to set something up.