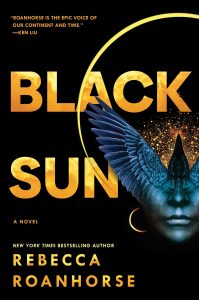 Fantasy has never been my go-to genre. While I deeply respect the massive creativity that goes into building a strong fantasy world, my own brain doesn't work that way and I often find fantastic novels hard to engage with—to surrender to. So when I say that I loved Black Sun by Rebecca Roanhorse with my whole heart, I mean this book leapt over all my fences, grabbed me by the hand, and dragged me (wonderfully) into a richly-imagined world I could not get enough of.
Fantastically American Mythology
In her end notes, Roanhorse describes her own love of fantasy and how there's remarkably little of it written about the Americas. So she wrote the book she wanted to read. I wish I knew enough about the mythology and folklore of the pre-Columbian Americas to draw direct comparisons between the book and specific tribes, but also I know that Roanhorse took creative liberties in making her own world. The fragments I did recognize—the importance of the sun and crows—put me in mind of the shelves of kachina dolls my mom has in her home, gorgeous representations of immortal beings. So, for instance, when one character wears a cape fashioned from the feathers of a gigantic crow, I had a jumping off point. When Roanhorse describes the regalia and mask of the sun priest, I know enough to take my imagination farther than I normally would and try to soak up the details on the page so I can match the vision she has. An experience totally worth the effort. The various clans, religions, and locations in this book very much became real for me and I had so much trouble putting the book down (ask my kid).
Vivid Characters and a Compelling Plot
The opening scene of this book is visceral. Serapio's mother is cutting her young son's body and exposing his eyes to the sun to make him into a vessel for a god. As the mother of a young boy, it was a lot, but it was also richly described and layered enough to be fascinating. This was not gratuitous violence, this was the determined act of a woman trying to change the destiny of her people.
Other characters are equally interesting and nuanced. Naranpa, the sun priest, is a woman from "the wrong side of the tracks" grappling with some fascinating "palace intrigue" while trying to alter the relationship of the priesthood to the population entire. And Xiala, a drunk ship's captain from a matriarchal culture that may or may not eat their lovers, is the hope on which Serapio's plan hinges. There are also many side characters—including two nonbinary characters (it took me longer than it should have to get used to the "xe/xir" pronouns)—that complete and complicate this world, each with a story and a motivation interesting enough to earn them a place in the book.
Black Sun is a page turner in the best of ways as Roanhorse takes us from scene to scene in alternating locations from the point of view of alternating characters as the story weaves towards its conclusion. I had the pleasure of being stuck on a train with this book. It was thicker than I would usually carry downtown with me, but I couldn't part with it. By the time I reached my destination I'd read more than 60 pages and I read another 40 on the way home. I also stayed up late reading because I wanted so badly to know what happens next.
Of course more happens than I can know at this minute because this is the first book of a trilogy. I'm holding off on buying the second book because the third won't be out until next year and I want to pace myself. But you know if I'm planning my book buying for the next year around a series…it's really fucking good.
For my friends and family who are fantasy readers and writers (hi Natasha, Roxana, and Nikki!) and interested in pre-Columbian history (hi Tosh and Dad!)—check out Black Sun, I really think you'll love it as much as I did.