Editor and Book Reviewer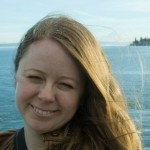 Isla McKetta is the author of Polska, 1994 and co-author of Clear Out the Static in Your Attic: A Writer's Guide for Turning Artifacts into Art. She earned a Master of Fine Arts in Creative Writing at Goddard College and worked in various capacities for the literary magazines Pitkin Review and Farfelu. In 2009, Isla was a guest reader with the Artsmith Salon Series in Doe Bay, Washington. A native of Moscow, Idaho, Isla's undergraduate studies included Bachelor's degrees in Political Science and Sociology from the University of Washington and a certificate in literary fiction from UW Extension. Isla lived in Poland and Chile and speaks several languages. She makes her home in Seattle.
For more information about Isla's writing, check out her Artist Statement, Artist Resume, and Fiction page.