What stories do the books on our shelves tell about us as readers, as people? I had a chance to ponder this question recently as I read through a few of the last books my grandmother, my beloved Baba, ever owned. When she passed away in 2011, she had already diligently shed nearly all of her books, which means that my library is already full of tomes that were once hers from her French grammar books to a copy of Cormac McCarthy's All the Pretty Horses.
It was that last book that inspired me to write to my grandfather, my beloved Djiedo, and tell him that I was reading her books and thinking of the two of them. In reply, he offered to let me take whatever I wanted from the 30 or so books that remained. So I did. And less than a month later I opened a treasure box of Baba's final books. Now my to-read shelves are filled with titles like Death in Kashmir, Great Cases of Scotland Yard, and The Judas Kiss.
The First Thing about Baba
She loved mysteries. I know that from the books left on her shelves but also from the years of Sue Grafton, Mary Daheim, and Dick Francis novels traded back and forth between her and my father and aunts. In fact, when I picked up Great Cases of Scotland Yard, Djiedo said that had been a particular favorite of hers. I haven't read it yet. I'm savoring it. But what about the books I did read?
Birds of a Feather by Jacqueline Winspear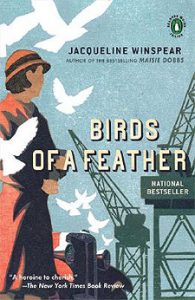 This second book of the Maisie Dobbs mysteries has a smartly dressed woman on the cover with fabulous roadster and a lot of birds flying about. It's set in 1930s Britain as Maisie tries to figure out what happened to the daughter of her client because the girl seems to have disappeared. The mystery is interesting and well-plotted. There are even some unusual elements about it (no, I won't spoil them for you), but what I loved most about this book is imagining Baba reading it.
That action itself is likely a fiction. There was a piece of paper left in this book about 60 pages in. A bookmark, I'd imagine, Baba was always kinder to books than I. So it's possible that this is the last book Baba ever read. Winspear pays a lot of attention to Maisie's wardrobe and I could imagine Baba reading through and happily recalling the fashions of her girlhood. Maisie is also quite a pistol, I think is the accurate type of phrase, and I loved imagining Baba celebrating each time Maisie outsmarted one of the men who looked down on her—a cultural phenomenon that still isn't fixed but which must have been prevalent throughout Baba's life. My Baba had a quick wit but a quiet way and I enjoyed picturing her delight as Maisie triumphed (quietly and loudly) once again, always beating expectations.
There were moments when the book was plain slow and I also wondered if Baba would have rankled at the tangents or sunk in for the ride. Whether she would have skimmed impatiently through as I did or savored every single word. On my own I don't know that I would have had the patience to finish this book, but reading it "with" Baba made the whole experience special.
Gilgamesh as translated by Stephen Mitchell
This was the first book I read from my latest (and last) raid on Baba's shelves. Perhaps the most surprising thing about it was that there was a letter inside from the friend who had given it to Baba. I won't disclose the contents here, but reading the letter reminded me that Baba was a whole person and not just my grandmother. I know it's a juvenile revelation, but it's one I was finally ready for. In some strange way reading the story of this king who must step down from his throne and literally go to hell and back in order to become a more whole person while starting to think of Baba as human was just what I needed to start accepting myself as human. More on that in a bit.
The Right Attitude to Rain by Alexander McCall Smith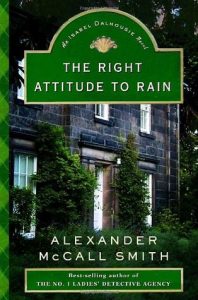 I kept looking for the mystery in this quiet novel set in Edinborough because the other books I'd read by McCall Smith were in the Ladies Detective Agency series. Instead I was surprised by a smartly modern narrative about an older woman and the life she's choosing the make for herself. I write "older" though the character is 40 because I mixed Isabel Dalhousie up with Baba somewhere in my brain and averaged them out at 60-something.
Although the jacket copy describes this as the next (second) installment of Isabel's adventures, so little happens in the way of plot. Instead, we spend a lot of time in Isabel's head as she contemplates whether to have a love affair with a younger man. It's a slow but thoughtful read and I loved thinking of Baba reading through this book and pondering what she would have thought of the characters and their choices. I like to think she would have celebrated Isabel's quiet brashness in the same way she would have celebrated Maisie's.
I suppose that's the beauty of "having" this "conversation" with her now, I can imagine any point of view that suits me. But I've often heard touted that Baba said when she turned 60 she could finally say whatever she wanted. And with her quick wit and winning smile, I bet she got away with a lot. I'm in a place now, nearing 40, where I'm ready to do the same and it was nice to have the encouragement. Even if only from my subconscious.
Why Baba, Why Now?
I believe if I pay attention that the right things happen at the right time, and I needed this box of books this past month. It'd been kind of a rough year, really. What I thought was a struggle to fit back into work after maternity leave turned out to be a fundamental discord with the strategic direction of the company I was working at. Though I didn't speak my mind at the time, I see in retrospect how much happier I would have been if I had and if I had left earlier. Instead I was laid off one month ago, and while that was a bit of a psychic relief (because we really were going different directions), it also thrust me into an accelerated job search. All while all I wanted to do was snuggle with and stabilize my family. If I'd had the strength, I might have dug us an actual bunker because I needed that much to feel safe and surrounded by the people who loved me. Baba was part of that. An amazing support group of fellow laid-off employees was, too.
I was fortunate enough to be offered two positions on the same day and now I've been at the one I chose for a whole week. I'm settling in okay (though adjustment to a new crowd for a shy introvert takes a lot of energy). I like the people, the work, and the office. I think they even want me to speak my mind. That's an adjustment, too, but I think Baba has my back.
Thanks for bearing with me through this long silence that had become my blog. I struggle to speak publicly when I'm truly unhappy which sucks, because sharing books with you is a source of happiness. I still don't have a lot of time to read and write, but I'll post here whenever I do.
Oh, and if you're hiring for anything related to digital marketing, I know a fabulous group of people.