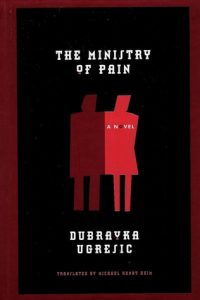 We're coming back from Croatia today, so here, at long last, is a post on Ugrešić.
In an interview with James Marcus, Dubravka Ugrešić said The Ministry of Pain "is all about language." Ugrešić uses language as a metonym for culture to express the complexity of Tanja Lucić's identity in terms of her relationship with her homeland, Yugoslavia, and her language, Serbo-Croatian, "a subject that officially no longer existed."
Tanja is a well-educated and hyper-articulate professor of Serbo-Croatian living in self-imposed exile in Amsterdam. She has difficulty processing who she is in the aftermath of the Yugoslav Wars, and because she is a professor of language and literature, she is able to articulate her experience best in the context of her language. Tanja experiences a kind of "linguistic schizophrenia" where "[t]here were times I felt like a student of Croatian as a foreign language" and she experiences her "native language as alien." She is trapped in a no-man's land between her native language, Serbo-Croatian, and the newly defined Croatian, unable to express herself fully in either. Language, which is the comfort of any writer or student of literature, has become her torment, and because this is a first person narrative, the reader is painfully aware of Tanja's inability to define herself.
Tanja has lived in Berlin and Amsterdam and her husband is in Japan, but all of these places are temporary. She knows that because she cannot return permanently to Zagreb, she has no home anymore. Her identity belongs to a country, and a language, that has been divided like a schizophrenic mind. This foreignness of Tanja's own language mimics the feelings she is having as a displaced person—a refugee. Because she comes from a country that no longer exists, she is unmoored and must create a new cultural identity for herself. "I sometimes feel that here, surrounded by Dutch and communicating in English, I am learning my native language from scratch." She must also create her identity from scratch away from a home that was irrevocably changed.
Even in her dreams Tanja is best expressing her feelings through the metonym of language. She dreams of "a native language that had turned into three languages like a dragon with a forked tongue." The dragon is a menacing figure and the image is of dividing something that was once one whole into parts that can whip and lash and hurt. The image evokes language emerging along with a dragon's fiery breath. In another passage she recounts a dream where "I speak an unchecked, uncontrollable language, a language with a false bottom, whose words leap out like a jack-in-the-box and thumb their nose at me." This captures her tenuousness as she finally begins to learn Dutch and integrate herself with her host country at the end of the book. Language can drop out from under her at any time. Words, formerly her intimate friends, can now jump out and mock her. Tanja is completely exposed in the area she was once most comfortable—language.
Language fails Tanja as returns to what remains of her native country for a short visit. The street names have changed in Zagreb and she can no longer navigate what used to be home. Of getting lost in familiar streets, she writes: "[t]he refugee trauma, the equivalent of the sudden disappearance of the mother from a child's field of vision, had surfaced where I'd least expected: 'at home.'" Tanja is stripped of all that is familiar to her. She has left behind her home and her language, but when she returns home—to the place that should bring the comfort of a mother's arms—she finds it changed and is slapped in the face with how unmoored she truly is. When she discusses it with a man on the plane back to Amsterdam, the experience really comes alive:
"You had every reason to get lost….So many street names have changed"
"But the streets are the same."
"Not if they have new names"
The renaming of the streets makes the change real. It is the act of naming, the words, that define the new Zagreb. The old names are being erased and covered up with new names just as Tanja's history is being erased.
Language is explicitly political in The Ministry of Pain: "[a] language is a dialect backed by an army." Tanja tries to broker a peace between the Croatian, Serbian, and Bosnian in her classroom by focusing on the similarities of the Yugoslav peoples in the same way she has "no interest in dividing [Croatian, Serbian, and Bosnian] up by the fifty or so words that distinguished them." Though Tanja perceives the differences in her students, the "Zagreb way of talking," she unites them with reminiscences about their childhoods in Yugoslavia and reminds her students of their commonalities. Tanja is returning her students in memory to the "happier" times when their ethnic factions had a common enemy. Though she cannot return to Yugoslavia, she can create a proxy in her classroom.
Tanja projects her own torment over language onto her students. Some of the students are integrating with their host country as their language is "being taken over by a half-baked English and, more recently, half-baked Dutch." Nevena is "'more comfortable in Dutch,'" "as if Dutch were a sleeping bag." Shell-shocked out of their mother tongues, "[l]anguage was our common trauma" "my students had an easier time saying what they had to say in languages not their own." This connotes Tanja's concern that her students have lost their cultural identity, and the cultural identity she would like to ascribe to them and have them identify with along with her is Yugoslav.
Initially, Tanja asks her students to write in English because "using 'our language' would lead them to adopt a confessional mode." She is afraid that if she allowed her students to use Serbo-Croatian, they would relinquish control of their emotions. What she finds is that "writing in a foreign language had provided an excuse for being dry and brief." The students use the opportunity of writing in English to separate themselves further from their experiences and efface the vehemence of emotion associated with their linguistic differences. Later, Igor tells her that the students were trying to please her and that she never fully grasped what they needed. They were acting out her denial.
Tanja presents herself as a Yugoslav in exile, but her compatriots are acknowledging the division and therefore destruction of Yugoslavia and are finding new identities and new languages. Tanja laments the students' loss of their culture. Even when implying that the survivors of the Balkan Wars will move forward, she forecasts a hollowness in their futures: "[t]hey will be linguistically gifted, speaking several languages and creating a Eurospeak of their own, peppering it with personal coinages." Eurospeak is at once all languages and none. It has no homeland associated with it and what Tanja longs for most is a homeland. Ironically, Serbo-Croatian was itself a melding of languages, but Eurospeak belongs to the identity "European," and in her heart, Tanja is Yugoslavian.
Violence is inherent in the imagery of Serbo-Croatian: "'in other languages children sleep the sleep of the just and in mine they sleep the sleep of the butchered.'" Boban reminds the class of the inherent danger of speaking his mother tongue as he tells of his dream of being lost in Zagreb "'afraid to ask for directions, because people would hear that he was from Belgrade.'" The reader wonders if in acknowledging this, the students feel the violence in themselves and between their cultures is inevitable. At the end of the book, Tanja muses: "I keep wondering whether a language thus maimed, a language that has never learned to depict reality, complex as the inner experience of that reality may be, is capable of doing anything at all, telling stories, for instance." How does one rebuild a life in the ashes of a pogrom?
This violence manifests in the end, when Igor, a former student, ties Tanja up and holds her captive. He lectures her on the part language plays in culture and forces her to confront the alienation she is experiencing:
"[y]our course was about a culture that totally compromised itself, and you neglected to mention that fact….when you lectured on Andrić, you neglected to mention that the current cohort of culture butchers have chopped him in three….when you lectured on literary history, you neglected to mention that the Sarajevo University Library was bombed out of existence."
Igor has forced Tanja back into seeing how her beloved language and literature are inseparable parts of the culture for which she has been pining. After he leaves her, she reminds herself that "there is only humiliation and the pain of endless memory." She can no longer hide within her metonym, and she now has to live through the entirety of her loss. From the ashes of her cultural identity, she finally begins to build anew.
If this review made you want to read the book, pick up a copy of The Ministry of Pain from Powell's Books. Your purchase keeps indie booksellers in business and I receive a commission.