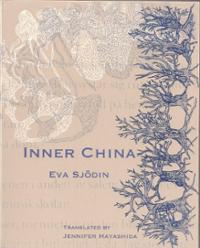 Frequent readers of this blog will know how much I appreciate spare language. Inner China by Eva Sjödin and translated from the Swedish by Jennifer Hayashida shows brilliantly just how much horror can be wrought with the sparest of language. The story of two small children who hide in the woods to escape sexual abuse is remarkably restrained. And therein lies the power of this poetry.
The Sound of Poetry
The narrator, the protector whispers to her mute sister:
Dark hard. — And quiet, I say. Not a word to Mother, not to anyone.
Get it.
Otherwise you are dead dead.
Those sentences take on the feeling of a heartbeat when you are so scared and small that the biggest sound in the world is your heart is pounding in your chest and your ears. The staccato two beats of "Dark hard," "Get it," and "dead dead" are so simple and so strong.
Words Rushing Together
Throughout the book, Sjödin takes what would normally be a list of items and removes the punctuation as in, "Nettles brushwood thistles grow down towards the river." The cumulative effect of these run-on lists is the feeling of rushing and running away. There's an immediacy and she uses it judiciously.
The Power of an Image
Sjödin also uses simple yet unusual images in Inner China. The narrator describes how she and her sister are "empty inside like carbonation." A soda is usually a happy thing for a child and many delight in the fizzing and sparkle, but here she sees the other side of that and I wondered, worried, that something as simple as a soda pop was part of their torment. Though why I should cling to the idea of a soda among all the other pleasures of life these girls have foregone…
Quiet Menace and Denial
As much as I read about suffering and sadness, sexual abuse and rape are topics I usually avoid. It's easy for the writer to slip into what I feel is description for the sake of titillation, and I just can't bear it. Sjödin does none of that. She provides very little description of the acts. Instead, she builds a feeling of menace. Early in the book she writes, "There is someone who eats children eats children" and combines it euphemistically with "He sticks it to me on the sly." It's clear what is happening to these girls, but the language is pulled back just enough that I found myself denying what was happening for much of the book. This adds another layer I felt like I could have been the mother of those girls, refusing to see what was in front of me.
Know Your Recommender
I adore recommending books, it's like sharing an intimate part of your soul, but I'm only just now learning to reach out to friends to create reading lists for me. Inner China was recommended by Gwendolyn Jerris, a gentle and poetic soul who is likely to hide the things that really hurt but will tell you the real truth if you ask her. Invaluable qualities in an artist and a friend. I asked Gwendolyn because I knew I needed something quiet that spoke loudly and boy did she deliver. Don't wait as long as I did to start asking for what you need. Your fellow readers are wonderful resources and sometimes what scares you most is just the right thing.
The Importance of Difficult Books
I will not deny that this is a difficult book to read. In fact I wouldn't recommend it to most people just for the sheer emotional impact of it. I've kept it nearby in my office in the days since reading the book I think because I knew it wasn't done with me. And I wasn't going to write about it for this blog, but it is a beautifully written book. And it's important sometimes to read outside your comfort zone in order to stretch and grow as a writer. I am grateful that Gwendolyn trusted me enough as a reader to recommend this book. Writers like Grace Paley can show you how to unpack an image in a few spare words, but even she got shelved relatively quickly. I think I'll be living with Sjödin on my coffee table for a good long while yet.
What books linger on your coffee table or next to your computer? What are they teaching you?
If this review made you want to read the book, pick up a copy of Inner China from Powell's Books. Your purchase keeps indie booksellers in business and I receive a commission.