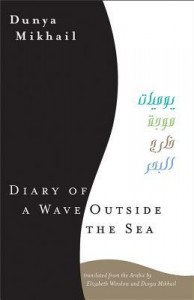 On the tenth anniversary of the 2003 US invasion of Iraq, I listened on NPR as Renee Montagne interviewed an Iraqi poet who fled her homeland and I knew immediately it was Dunya Mikhail and that I had read her book, Diary of a Wave Outside the Sea and I needed to read it again.
Plausible Deniability
In many ways, I've been avoiding reading about the Middle East since we invaded that sovereign nation under false pretenses. I protested the war then, weakly, and as I realized how little power I had to change our policies, I turned away and pretended that I couldn't see that my taxes weren't paying for the destruction of someone else's infrastructure and the murder of other people's children. I'm opposed to both dictatorship and terrorism, but what we did in Iraq was uncomfortably close to a Crusade.
Somehow now, 10 years later, I'm ready to begin to really look at the Middle East again—to let my political scientist side again start to question—and to confront what makes me so uncomfortable about Iraq just as I have started to question my reading tastes. Truthfully, I stumbled into Iraq a few weeks ago when we finally started watching Homeland. I didn't actually know the show started in Iraq, but watching Claire Danes piecing together international intrigue and speaking in foreign tongues reminded me of who I used to want to be. So here I sit, holding a book filled with Arabic script, trying to reconcile these pieces of myself.
Facing the Truth
The hardest thing to see in an "enemy" is his or her humanity. Mikhail's book starts just there, with the simple observations of a child:
In my childhood, I envied myself for being a child.
I thought everyone was created the way they were:
created as a child or an old man or a mother.
She goes on to write:
I used to count dreams on my fingers
and cry, because my fingers were insufficient!
I also cried when I saw myself in photos
and I would shout:
"Take me out of the picture!"
The book slips quickly into scenes during the first Iraq War, Operation Desert Storm, but Mikhail doesn't show the images I'm used to seeing—Humvees lumbering across a desert or oil wells on fire. Instead she writes about how life continued:
I was not waiting by myself;
the river was there, too,
and the smoke that rose from the explosions
and from the cigarette of a lover
who contemplated his loneliness
like a pawn in the corner of a chessboard.
And I remember what it was like then for me, my friends and I—not yet teenagers—gathered around a table in a kitchen discussing whether our brothers would be drafted. Our language wasn't as beautiful as Mikhail's. Our bodies were so much farther from danger. But we, too, existed with this war as it shaped our lives in ways we couldn't understand or control. Still, Mikhail's experience was much more immediate and soon the words devoted to war outweigh those devoted to other aspects of life:
Sometimes I imagine the war has ended
and life creeps into the foreheads of the corpses
for an instant.
One instant is enough,
a moment
the size of a bullet.
. . . . . . . . . . . . . . . . . .
Has the war stopped?
What will we do now
without enemies?
"Pens and Rifles Have One End"
The second part of Diary of a Wave Outside the Sea was written after Mikhail fled Iraq. No longer subjected to Iraqi censors, the poetry begins to use real names rather than references to Zeus. Instead of oblique references to chess and electrons that split and reunite only to destruct, she tells stories of her "war generation." I remember that the Gulf War was not the first to touch her lifetime and her city.
The way I fled the country was like everything in Iraq:
too hard, too easy, and exactly as they liked.
The way the book is laid out feels like a metaphor. Because Arabic is read right to left, the English translation of Mikhail's words and the Arabic original meet in the middle with only to separate them. Somewhere between these two languages, amidst the family photos and images of other important papers, is a poet and her story.
It's time to begin digging into my own story—to stop turning away when I encounter resistance—to delve deeper when life and writing are the most difficult. It's time to find who this person who is part political scientist, part writer, part woman, part wife, and so much more—who this person is.
Read Mikhail's poetry for the beauty of her language, but as you are reading, listen to the conversation that happens with all great books—the one where an artist provides you the keys to help you learn about yourself.
If this review made you want to have your own conversation with Mikhail's work, pick up a copy of Diary of a Wave Outside the Sea from Powell's Books. Your purchase keeps indie booksellers in business and I receive a commission.
Summary
Reviewer
Review Date
Reviewed Item
Diary of a Wave Outside the Sea