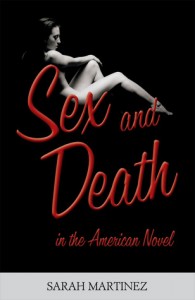 I've been thinking a lot about bravery this week and about commitment to one's art. It all started at the book launch party for Sex and Death in the American Novel. The book's author, Sarah Martinez, had invited Maureen O'Donnell to perform a belly dance to the music of Marilyn Manson that had inspired Martinez while writing her novel. I thought it was going to be ridiculous. But then I watched O'Donnell dance. By committing fully to the dance and her character, she transformed from a tiny Goth girl with plastic horns into an arachnoid creature who kept the audience rapt.
The Artist's Way
Sex and Death in the American Novel speaks to the myriad ways we come to and commit to our art and ultimately ourselves. Jasper is the wunderkind who was swept into the accepting arms of the writing world and never stopped for a moment to reflect. Tristan is the writer who could never get past his struggles. And Vivi did everything she could to avoid becoming a "Writer" only to find she had done just that. In Vivi's case, all that she lacked was the acceptance of herself and of her gift.
Every artist I know is on a different path to the greatness within. None of them will achieve lasting fulfillment without that self-acceptance.
Martinez's greatest success is disentangling the complex fabric of emotions each character is feeling. She understands the push-pull of shame and desire in art and love, and her characters strive to create the relationships that are right for them regardless of societal norms. And of course those norms are also what artists have to question and redefine on their way to personal greatness.
Explicit Content Ahead
The book follows Vivi's struggle to be as strong and fulfilled as she can, and at times she seeks that fulfillment in sex. Martinez is not shy about describing those sexual encounters and she explores a wider range of erotic possibilities than many people will encounter in life.
One of the things I admired about this book is how Martinez conveyed both the physical and emotional complexities of a ménage à trois. She enticingly wrote the encounters between her characters so that the reader is able to experience—in vivid detail—even the most unfamiliar acts right along with Vivi. The play-by-play narration which can be too much in scenes of daily life lends itself perfectly to introducing the reader to a new world of possibilities.
Anyone who reads Fifty Shades of Grey and finds it misogynistic might enjoy the sex positive attitude in Sex and Death in the American Novel instead.
On Writing About (and Becoming) a Fulfilled Woman
I've been reading a lot about women and sexuality as I work on my next novel. A.S. Byatt taught me to love my body. Dorothy Allison helped me question my relationship with Feminism. And Slavenka Drakulić revealed for me new depths in the relationship between mother and daughter. In Sex and Death in the American Novel, Sarah Martinez showed me how to write fearlessly about subjects that terrify me. Each of these authors is giving me strength as I commit to writing the next book as bravely as I can.
If this review made you want to read the book, pick up a copy of Sex and Death in the American Novel from Powell's Books. Your purchase keeps indie booksellers in business and I receive a commission.