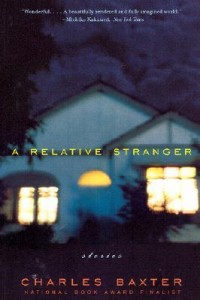 In the stories in A Relative Stranger, Charles Baxter allows his characters to be seen through the eyes of other characters and what the observing character notices often tells as much about them as about the observed. All of this is brought together with brightly active language with connotations far beyond the few words spelled out on the page.
Prowlers
In "Prowlers," Robinson, observes of his daughter: "[b]ehind her brown-rimmed glasses, her eyes are fierce. She looks like a twelve-year-old district attorney with a good case and witnesses." He feels as though his daughter has put him on the defensive. She is young, "twelve," but she is also insistent and he knows she has a point. She goes on to push him with questions about his wife who is downstairs flirting with his best friend. She is "fierce" in confronting the truth that he would rather avoid as he sits in his room writing about faith rather than insisting on faithfulness.
Westland
In "Westland," Warren observes Earl's new woman, Jody. He says: "she was pretty in the details, and when she looked at Earl, the lenses enlarged those eyes, so that their love was large and naked and obvious." He doesn't describe her eyes as doe-like, but the image is there all the same. Warren sees Jody as innocent, more innocent than Jaynee. Jody is not a classic beauty, but Warren finds her "obvious" devotion to Earl attractive but also simple. Warren with his background in therapy is observing a messy family dynamic between Earl, Jody, and Jaynee and he is simultaneously pulled in by the bareness of their relationships to one another and also repelled by the obvious dysfunction.
The Old Fascist in Retirement
When the old fascist in "The Old Fascist in Retirement" observes "that rare green scent of oak leaves that American women sometimes carried with them: the odor of innocence, the odor of what-if-everybody," he is reacting as much to the woman's culture as to her. The word "green" connotes freshness and his repetition of the word "odor" implies stench more than other words he could have used like "aroma" or "smell."  And his reference to "what if everybody" is a direct rebuke of the openness of American culture in contrast to his own. He later goes on to talk about the sense of history of the long-living oak tree.
The implication of meaning is also something I enjoyed in Grace Paley's writing. I like the unexpectedness of some of Baxter's phraseology. The viewing of one character through the eyes of another is something I enjoyed in F. Scott Fitzgerald's writing. This colorful observation of one character by another gives the reader a rich view of both characters. I can learn from the economy of describing two characters at one time. One is described explicitly and the other implicitly through the author's careful portrayal of what is important to that character. It allows a deeper understanding of the character. The grace with which Baxter introduces an abstract idea and then elucidates it just enough to get the reader's mind moving around the possibilities implied by the words he has chosen is enviable.
If this review made you want to read the book, pick up a copy of A Relative Stranger from Powell's Books. Your purchase keeps indie booksellers in business and I receive a commission.