When I say I've been in need of an escape lately, I don't think I'm alone. And while I've been reading throughout the pandemic, the main escape for my exhausted brain has been streaming whatever fits in the few minutes between my kid's bedtime and mine. My husband and I quickly run through the good stuff, so many nights are spent wishing for better as we switch between interfaces (I miss channels, they loaded so much faster), which is to say that it was a huge relief to run into Slow Horses on AppleTV.
I love spy stories and the performances by Gary Oldman, Kristen Scott Thomas, Rosalind Eleazor, Saskia Reeves, Christopher Chung, Jack Lowden, Dustin Demri-Burns and company were outstanding. The writing was so sharp and I really appreciated the fact that this isn't a story about a group of crackerjack super spies who are besting the world. Instead, this group of "Slow Horses" has found themselves at Slough House because they screwed up. Deeply. That doesn't mean they are not without their merits, but something about people inching through their days until they face a challenge where they are very much starting from behind suits the world of today. So when I say that unwrapping a Mother's Day package with the first three books of Mick Herron's series (on which the show is based) made me feel both seen and loved, you might guess how much.
The trouble was, I couldn't stop reading the books. That was the intent, of course, of my husband's ordering them for me, for me to get some time on my own to just recharge. But I don't think he expected me to get halfway through the first book, Slow Horses, in a bath on that first day. I was glad to have watched the series because the writing was faster than my brain and it took me a little while to fully understand their world, that said, the first book and the first season of the show are nearly identical, though I'm not sorry I experienced both. And the casting of that series is perfect enough that I've carried the images of the actors through the books as I've read each one.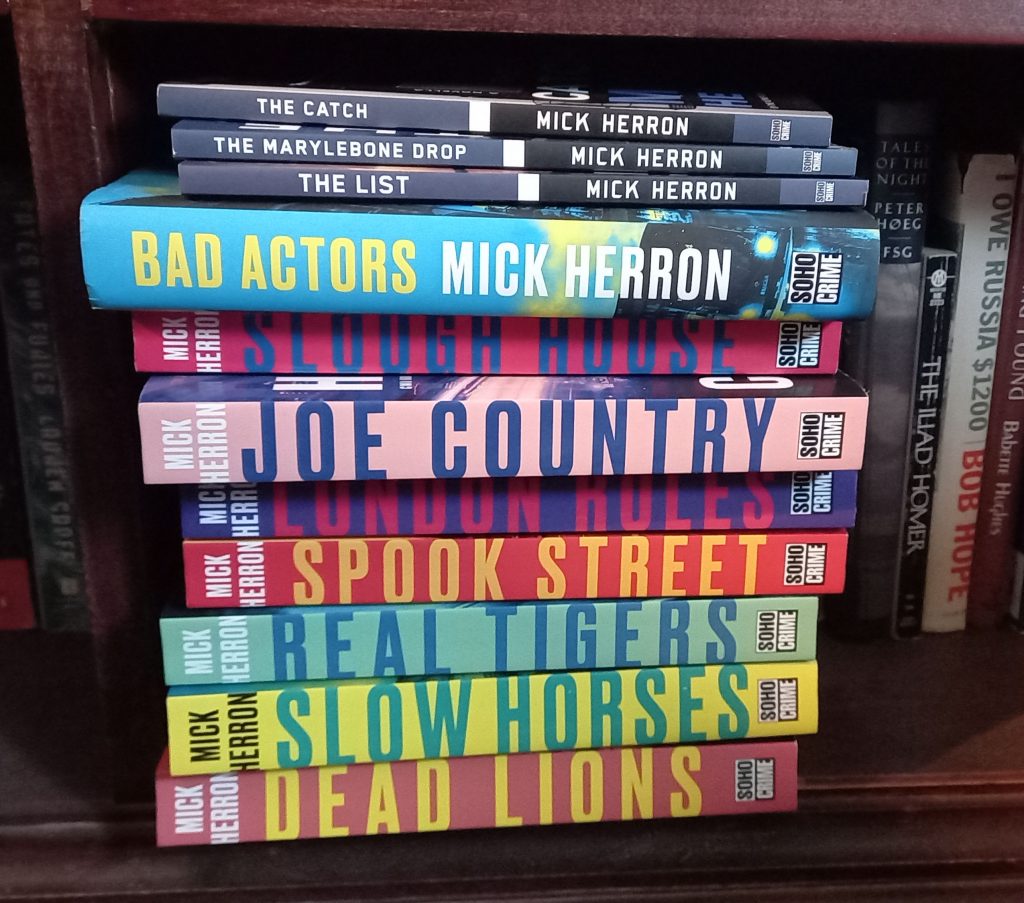 Truth is, I got so into the series that I read everything I had at hand in the first week. But before I finished the third book another package arrived. My husband had ordered the next three. And so on it went as I raced through every single book, including the accompanying novellas. I got sick one week and spent an entire day reading in bed with the fireplace on during the rainiest spring ever over here. I was reading the books so fast I couldn't even keep up with my own progress on Goodreads.
Mick Herron Pulls No Punches
As much as the series is one strong continued story line, I've loved every book in its own way. I won't go into details on the stories because I want you to experience them for themselves, but regular, beloved characters die often in this world of intrigue. And sometimes they die ignominiously. There aren't a lot of rays of sunshine in these books except in the sheer fortitude of these characters going forward to face another day with whatever they have at hand, even if it's aged technology and a rotting building.
The series is still being written and I appreciated the way that Herron wrote in contemporary events like Brexit, the pandemic, and Jeffrey Epstein without bogging the story too heavily in them. I hope this is something that happens in more books going forward (once we've had some time to process anyway), an acknowledgement of some of the heaviness of the last decade as the action of life continues on.
Can A Spy Novel Be Feminist?
The characters are beloved and the characters are awful. Sometimes they are both. One of my favorite depictions is of Roddy Ho, the resident hacker, because Herron does such a brilliant job of inhabiting scenes from Roddy's stunted (at best) point of view as he cyberstalks women he's certain are gagging for his love. Spoiler alert, they are not, but the way Herron takes us into his head we understand Roddy better but are not forced to have sympathy for his worldview.
I was jarred when I read the word "tits" in book two or three because the descriptions of the female characters don't veer into the woman as object trope (thankfully) except when seen from the eyes of specific characters. There are women I fell in love with in these books and women I hated. Mostly they get to be people with good traits and bad. I loved that.
Jackson Lamb, the ostensible caretaker of the whole bunch is easily one of the most offensive characters of the bunch, treating his employees awfully and saying often ("in jest") things that should not be said. Even he gets complicated, though, as he will go to the ends of the earth for his "Joes" (at least when the threat is coming from outside the office). Gary Oldman was especially beautifully cast in this role.
The Pacing of Slow Horses is Exceptional
One of the tricks Herron employs exceedingly well is constructing the books almost entirely out of very short scenes (one to two pages) that end with small cliff hangers. Each scene is then followed by one from a different point of view that ends with another cliff hanger. The writing and reading feel breathless (in a good way) as a result, and it's hard to put the books down. Even at bedtime.
A careful reading will show, too, that the cliff hangers are not always what they seem and it's worth reading as slowly as you can to see exactly what Herron wrote, not what he's led you to want to read into it.
What Made Me Sad About These Books
There was only one thing that I regretted when reading these books—that my Baba and Djiedo weren't alive to share them with. My shelves are filled with their old books (see that Bob Hope lingering in the back of the photo above?), and their mystery and spy novels are especially cherished. These Slough House novels are books I very much would have sent to them to share. But I've sent them to my dad for Father's Day instead. The first three anyway, and if he loves them as much as I did then maybe I'll keep sending them until he's all caught up. Because the best part of a good book is sharing it.
If you try out the Slough House books, drop me a line and let me know what you think.