After my lowest weeks, days I spilled over into tears at the slightest provocation, I started to think I might have cabin fever. I may have researched winter-over syndrome, wondering if there was something clinical. I've definitely read this article about the pandemic wall more than once. Recently, though, I realized that I'm profoundly bored and that I'm using the fitty energy of that to gnaw at my leg and any other thing I can reach. This whatever feeling has also explained my reading tastes of late—I'm reading almost entirely nonfiction, a category I mostly avoid, except, perhaps, when I'm trying to experience something that feels more like life than this routine we've developed to get through the thing. I should say that we're well, financially stable, and okay in general. But humans weren't designed to live a full year mostly indoors and away from other humans. Screens aren't helping. So I thought I'd share some of the lives I've been living lately in case you need your own escape.
Secondhand Time: The Last of the Soviets by Svetlana Alexievich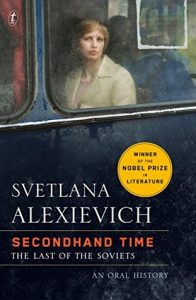 This polyphonic history of post-Soviet Russia is fascinating. It's fascinating as events unfold with Navalny in Russia. It's fascinating as the U.S. seems intent on forgetting our own attempted coup. It's fascinating in general to remember what it was like to live through the fall of the Soviet Union and the clashes and shifts in that country in the years following. It's also fascinating for me as someone who's always been interested in the Eastern European parts of my heritage.
Alexievich includes first-person narratives of everyone from dedicated sovoks to capitalist dreamers, from oppressed minorities to people who lived The Gulag Archipelago, and this book helped me realize how rich and complex the post-Soviet experience is. At times it made me feel better about the political situation in the U.S. At times it did not. Because of the failure of our Congress to hold Trump accountable for trying to kill them and their colleagues, I'll leave you with this quote from someone who was part of massive anti-Lukashenko protests in Belarus in 2010:
"As long as it's only us educated romatics out in the streets, it's not a real revolution." – Tanya Kuleshova as reported to Svetlana Alexievich
Land of the Firebird: The Beauty of Old Russia by Suzanne Massie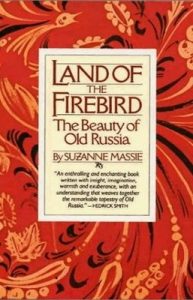 My Russian deep-dive may have started with an attempt to finally get this tome off my to-read shelf before the opening the stack of books awaiting me for my birthday. It might also have started because I was remembering my Djiedo, who died about two years ago. Regardless, Land of the Firebird was fascinating. I don't think I've ever read anything quite like this cultural history. While it's easy to be skeptical about any book about Russia published in America in the 1980's, it's clear that Massie loves the country of her ancestors and the book is filled with fascinating information.
Massie takes us through the history of early Russia where I learned that the Ukrainians and Russians used to be one people (which flipped some of my Reagan-era prejudices on their head). The early parts of the book are more history as she details Mongol invasions and other political transformations and I enjoyed reading about Catherine the Great after having watched The Great. In more recent history, though, Massie really goes beyond history and deep into the culture and arts of Russia (ending at the revolution). I took so much from this book as I forced my son to sit through Russian composers I'd never considered and started more than one poem tracing lines through the artistic side of my Ukrainian heritage. It's a nice book, but one I've already found occasion to share with another writer online.
The Face Series: Tash Aw, Chris Abani and Ruth Ozeki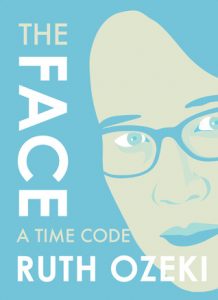 I was thrilled when I found this gem in a local Little Free Library one day this past fall, because Ozeki and Abani are two of my very favorite writers. I was also excited to delve into the very personal stories in the book as I work to learn more about individual experiences of race.
True to form, Ozeki's meditation on her literal face is as inventive, intelligent and humorous as the rest of her books. Her Buddhist perspective is always fascinating and humbling, and I loved how she interspliced mini essays on her life with the minute-by-minute observations of staring at her face in the mirror.
"Making familiar things strange is the job of the artist." – Ruth Ozeki, The Face
Abani's book contains his characteristic humanity, gorgeous writing, and knowing humor. His look at identity weaves us through stories of his life, conversations with his brother, and greater lessons about Western African culture. This book is one step in the trail of love he leaves wherever he goes.
I did not previously know Aw's work, but now I can't wait to read more of it. He belongs among Pico Iyer's global souls and this book takes us on a fascinating journey through what it is like for him as a Malaysian writer who both does and does not blend into a variety of cultures throughout Asia. Despite having traveled in several Asian countries, I learned so much about different experiences of the continent from the nuances of this book.
As much as I'd like to, I can't really do any of these three (short but rich) books justice here, because so much of the beauty is in discovering the way these three writers structure their thoughts. What I can do is highly recommend each and every one.
The Hunger Angel by Herta Müller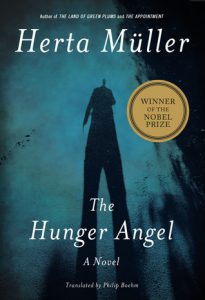 This book is actually fiction based on stories from someone who experienced the same deportation to the gulag. I've lost the book somewhere (or given it away, it was oh so very depressing), so I cannot treat you to any of Müller's sentences or the fantastic imagery she imbues into this bleak, bleak experience, but this book is one of the most beautifully written things I've read in a very long while and it will make almost any pandemic experience seem cheery.
New Seeds of Contemplation by Thomas Merton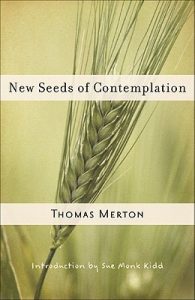 Now we're snowed in for the long weekend, and after finally finishing the Alexievich book (so good, so long, such small print), I decided to treat myself to Thomas Merton's New Seeds of Contemplation. I'm not very far along, but already it's a bit like reading Simone Weil (which I loved). Because I'm a reluctant agnostic (and most of the time Buddhist), I do not resonate deeply with Merton's relationship with God, and still I connect deeply with the content of his writing. When he writes of Descartes as a being alienated from his feelings, "in exile from his own spiritual depths," I recognize a struggle I've been working to overcome for the last decade as I integrate my thoughts and my feelings.
In January 2020, I had come to the conclusion that I needed to focus on being more mindful of my everyday experiences, their effects on me, and my relationship with the world at large. Which lasted until about February, when the only thing I was able to be mindful of was my need to stock up on basic supplies and the fear I was beginning to feel every time my son went to daycare. A year later, I feel stable enough (despite the pandemic wall) to breathe and think. And I'm excited to have Merton as my guide on the next step of whatever is to come.
Of course, this nonfiction fixation started before I realized it and most of my last pandemic reading list qualifies. May these (or any other) books bring you some comfort until we get to live our own lives again.