We made it through the elections and the holidays and while it seems like there is a very long winter ahead, I'm ready to focus on the after. Because we'll be late on the vaccination list (and there isn't even a vaccine yet for our son), I don't know when that after happens or what it looks like, but I'm ready to inhabit the liminal space beyond initial preparation and mere survival. Here are four books that are helping me get through this stage:
The Unreality of Memory and Other Essays by Elisa Gabbert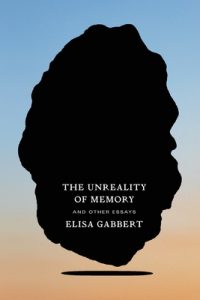 I started reading this collection of essays during the post-election drama when all sense dictated what should happen next and yet we all knew that sense was out the window. Reading about Gabbert's obsession with disasters was relatable and timely and her thoughts about everything from survivor's guilt to the way we glamorize disasters to "slow violence" feel important right now as we struggle to get through now, some of us while excitedly tweeting the worst headlines we can find.
"Often, when something bad happens, I have a strange, instinctual desire for things to get even worse—I think of a terrible outcome and then wish for it. I recognize the pattern, but I don't understand it. It's as though my mind is running simulations and can't help but prefer the most dramatic option—as though, in that eventuality, I could enjoy it from the outside." – The Unreality of Memory by Elisa Gabbert
Gabbert's insightful essays hit me in just the right spot. I read her thoughts on Chernobyl within a month of finishing the miniseries of the same name. And though she's writing about global warming with "You can't prepare for the worst-case scenario when the scenario keeps getting worse," the book gave me something to hold onto in the month when COVID was getting much worse and the news out of the White House was more unhinged every day. I found comfort in realizing that my own pull toward those dramas might be helping me cope, that I, too, might "feel this way all the time now. Nothing is safe. Everything is fine."
There's ever so much more to unpack in this book, from the battle for women to be taken seriously to the ways we return to the familiar even when the familiar is awful. Every essay helped me grapple with what it means to be human right now. With the idea of life after all this. I needed that. If you do too, read this book.
Becoming by Michelle Obama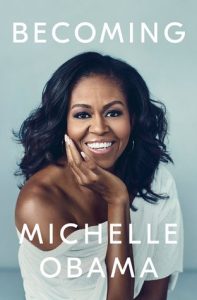 One of the things I've been deeply lacking for the last ten months was hope. Enter Michelle Obama. I knew regrettably little about her before reading this book. The fact that she seemed kind was more than enough to pedestalize her in comparison to our current reality. I had no idea when I opened the book that she'd help me reengage with so many things that matter dearly to me:
The way she wove together the story of her childhood with the changing nature of her neighborhood reminded me how much I care about the structure of cities and communities and how they changed over time. Within a week my husband had me watch the Theaster Gates episode of Home and because of this book I had ideas and opinions and things I wanted to discuss.
Reading about the ways she fought to be seen for her achievements and how that conflicted with her people pleasing reminded me of how hard I've fought in the #metoo era to take myself seriously and to be taken seriously.
Her respectful yet honest insights into the sweetness and challenges of her marriage with Barack reminded me how much I cherish my own husband. Something I needed when we have all the time in the world together and what feels like no minutes at all to enjoy that.
Likewise on the friend front, Obama wrote about the strength her female friends have given her over the years and reminded me how much I've let fear separate me from the women I love (and that I need to reach out as I can).
She wastes no love on Trump, which was refreshing to read in this era of great enablement. Also refreshing was the detailed personal insight into what a normal presidential transition looks like. As a former Poli Sci wonk reading this book after the 2020 election, anything that felt like normal was helpful and gave me hope for other futures.
She generously writes about her experiences as a Black woman. In this year of reckoning, her personal stories about the Black community she grew up in, what it was like to be a Black woman at an ivy league school, how disconnected her neighborhood was from major local institutions (and what she did to fix this divide) provided gateways to better understand experiences beyond my own.
Becoming is a beautifully written book and very much worth the read.
Animal, Vegetable, Miracle by Barbara Kingsolver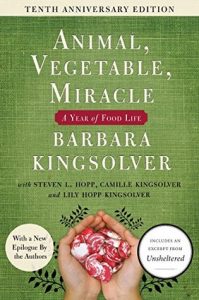 I'm not very far into this book yet as it was a much-longed-for Christmas gift, but already Kingsolver is helping me think about the kind of life I want to lead, particularly when it comes to food.
Thanks to the pandemic, we're already buckled down with a storehouse of pulses and legumes. I've learned to cook dried chickpeas and we have four kinds of lentils in store (though we only like three of them). I felt justified in this as Kingsolver educated me on the massive consumption of fossil fuels caused by our eating habits as we buy our chickpeas and lentils direct from farmers who live not terribly far away. Reading this book last night, I pretended not to think of the mangoes, pomegranates, avocado, grapefruit, pineapple and coconut we've consumed to brighten our holiday and how far they traveled to get here.
This book was recommended to me by a dear friend (who's always washed and reused her Ziplocs) as we picked the bounty of plums from my backyard and discussed how Kingsolver had to schedule family travel around an unexpected harvest. I'm looking forward to reminders about the importance and costs of eating better. I've already learned about how many calories a day our farmers produce and the ways our food is being changed to get those calories into my body. It's an older book, so some of the information has (thankfully) permeated the zeitgeist (at least a little), but just seeing the numbers made me think hard about all the things I'd eaten in the last two days and about the massive amount of meat I've started eating again as plan-ahead cooking started to feel harder this fall.
The real test of this book will be if I actually eat all those (too-bitter) plums I dried before they'd completely ripened. Regardless, I'm looking forward to learning how my family's food habits can make a lighter impact on the planet. Maybe I'll even learn how to get more than one carrot harvest a year.
Habitat Threshold by Craig Santos Perez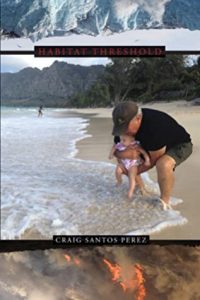 It's never too early to start working on the future, even when it's too late (Gabbert quotes a statistic that the climate effects we're experiencing now were actually instigated 40 years ago). Perez's book of poetry hit me hard in the face with all the climate facts that I mostly want to ignore, and while we're hunkered down seems like a good time to start changing some of our habits. Even the ones that have sustained us until now (like the almost daily boxes that help us mark time with goods we do not need).
Written after the birth of his daughter, Perez's frank poetry puts us in that new-parent place of caring more deeply about the whole world than you ever imagined possible. He writes of everything from rising oceans to fossil fuels, our use of plastics to animal extinctions. And while I felt (deservedly) scolded by these poems, they were artful enough to hold me close.
… "In the oceans,
one tone of plastic exists for every three tons
of fish"… – "Age of Plastic" by Craig Santos Perez
The way Perez emphasized the word "plastic" in this first poem of the book (which is black in the text while the rest of the poem is gray) helped hammer the omnipresence of the material through one part of my brain while the rest was focused on the stories and statistics about plastic he divulges. I think of this poem every day as I pour more Playmobil into my son's room and of the future I am making for him versus the one I need to.
With lines like "America, you were never great" the book is a timely reminder that we have to change how we view our place in the world and the impacts we make upon it.
Other Transition Thoughts
The weird thing for me about this list is it's completely devoid of fiction, the genre that normally sustains me. Maybe this is related to the empathy drain I've felt during the pandemic where I'm putting everything I can into the people within (literal) arms' reach, maybe it's because I need concrete rungs on the ladder to whatever's next. I don't regret where my reading tastes have taken me, but one casualty has been my own writing. Fiction has always been the doorway for me to inhabit worlds beyond my own without having to caretake anyone else's experience. This allows me to dream. To enter that headspace where my creativity comes from. Another casualty is that nonfiction does not lull me to sleep like fiction does, so I'm staying up late with big ideas and waking up not at all ready to do anything about them.
While I have been writing a lot during the pandemic, I've been almost entirely focused on poems and essays that help me unpack the experience of these strange moments as I live them. A favorite project is "The Tale of Benjamin Bunny," a collection of poems about the bunny in our back yard who saved my life this spring. I love these pieces (especially the poems) and I'm grateful to have been able to do anything productive with this weird time, but I miss writing fiction. Maybe my next pandemic reading list will be all fiction focused on the future. I should be so lucky.
We're currently planning for seven more months of this. I think February, March and April will be the hardest at our house because we'll have hit the year mark. Depending on vaccine timelines (adult and kids), I'm currently crossing my fingers that May and June will be filled with hope and maybe we'll get sprung from this hoosegow with some summer left.
I'd love to hear about the books that are sustaining you through whichever stage you're at. Please share your recs and stories in the comments.