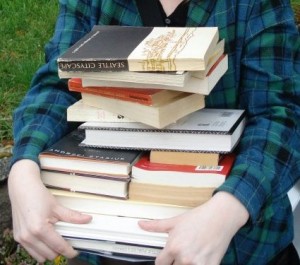 Awhile back (longer ago than I'm willing to admit), a dear friend, Natasha Oliver, asked me how I find out about new authors. And I didn't know how to answer her because sometimes it feels like they just materialize from the noise of our digital zeitgeist. But then Icess Fernandez Rojas posted on Facebook this weekend asking for recs of new Latin American authors and I realized it's time to look deeper into my sources and see where that information really comes from.
I hope this post will help you find some new avenues of discovery. It will also probably help me stock my shelves with something beyond the latest Murakami (who I love, but if I still haven't read the last one, then maybe it's time to look for some new voices).
Friends
This is always my choice when looking for a new book to read, especially a new author. It's especially helpful because you know your friends well enough to know who to ask for what types of books. Gwendolyn Jerris loves the sound of language in the same way I do, so when she recommended recommended Jenny Boully and Eva Sjödin, I bought those books immediately. I trust Rebecca Bridge to tell me about contemporary poetry that's going to stretch the way I use language, and her recommendation of Blueberry Morningsnow was just what I needed at that moment.
I reciprocate by being a good resource for Eastern European and Latin American authors because those are my loves. I also know more about literary authors every day.
Goodreads
This is kind of like asking your friends, but there are a lot of strangers on Goodreads who are equally good resources, even if you don't know them all that well. They have a recommendation engine based on your shelves. It's not at all foolproof but it knows me better than Netflix does. There are also tons of discussion groups. What I most love about Goodreads (besides spying on my friends' bookshelves) is reading through the reviews of a book. You can usually get a good idea of who was just the wrong reader for a particular book and whether you'll be the right one.
I lied. My most favorite section of Goodreads is the giveaways. Because free books. But really it's a low-ish cost way for publishers to reach actual readers, so a lot of smaller presses use this function. Input your category (I always type "literary" in the search because for some reason that isn't a category) and request away. Over time you will likely win a giveaway or two, but more importantly you'll be learning about all kinds of new authors. I found Donna Lynch this way. And then the press contacted me and offered me more books.
Anthologies
My husband taught me to find music through soundtracks because invariably someone you've never heard of is on the list. Anthologies work the same way. For some reason poetry is more enjoyable for me to read in collections than fiction, but in the last little bit I've "discovered" the poetry of Anna Swir, Kim Addonizio, and Carol Muske in this way.
Lit Mags
Like anthologies, but probably a better resource for the newest voices, lit mags can be a great resource. I have to admit I don't read most lit mags, but I found Heidi Julavits (whom I have reviewed at least three times) in BOMB. I also read The Paris Review and Harper's.
The key with lit mags is to find the one that resonates with you. I read BOMB because it covers a wide spectrum of arts (often just a step back from the cutting edge) and features artists interviewing each other. If you like quieter stories, Glimmer Train is a great resource. McSweeny's is full of great contemporary voices, and if you're hipper than I am, you might relate to Tin House.
Facebook
The latest algorithm shifts have kind of screwed this up, but there was a time that every new press got straight on Facebook because it was cheap and their interns understood it. I think I found Matt Betts this way. You can still "like" all the small presses and go directly to their pages to see their stuff, but unless the algorithm changes again or small presses suddenly have tons of cheddar to drop on ads, this might be a dying method of discovery.
Industry Publications
I subscribe to Shelf Awareness and The Review Review because I like to know what's the haps with the industry and oftentimes there are new voices included in both. Shelf Awareness in particular will highlight the long list of the latest award and when I haven't heard of someone, I go back to Goodreads and learn more about them. I found Neel Mukherjee in this way just this week. These are not necessarily going to be debut authors, but they are new to me and that's enough to get me started exploring.
Intertextuality
When authors recommend or reference other authors inside their books, I'm in heaven. It's an academic tic, but I want to know who all the predecessors are of whomever I am reading so I write down any name that's unfamiliar and investigate that writer. Not as many contemporary writers use intertextuality, unfortunately, and sometimes (Borges) you can find yourself looking for books that do not actually exist. But when you do find a book this way, you have so much more context for it which adds to the pleasure of reading. For example, both Umberto Eco and Italo Calvino were huge fans of Jorge Luis Borges. That adds a new dimension to all of their works. And Calvino led me to Cesare Pavese…
If you think Wikipedia dips can last forever, I'm still investigating predecessors of Eco.
AWP and Other Book Fairs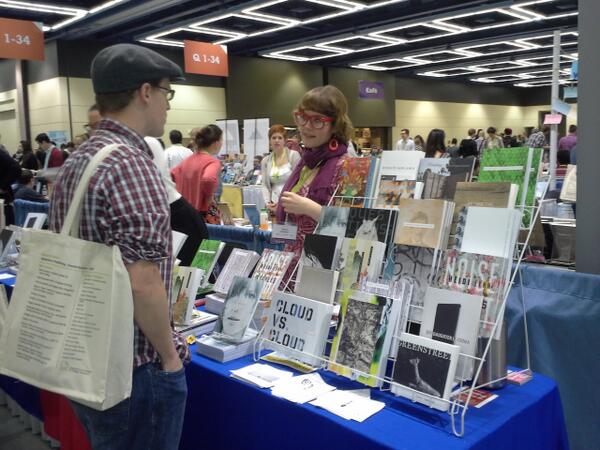 Sometimes the books come to you. There were not a lot of big name publishers at AWP this year, but that made me pay even more attention to the smaller publishers who were there like Ahsahta Press (above) who has some of the prettiest book design in the business. Kim Addonizio's book called to me off one of the shelves. Actually, enough books called to me to fill my very large coffee table.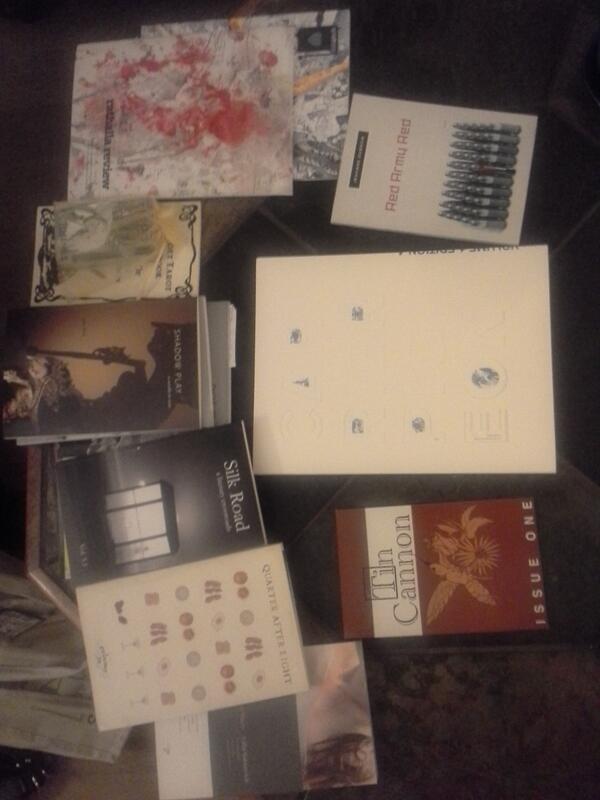 Browsing at Bookstores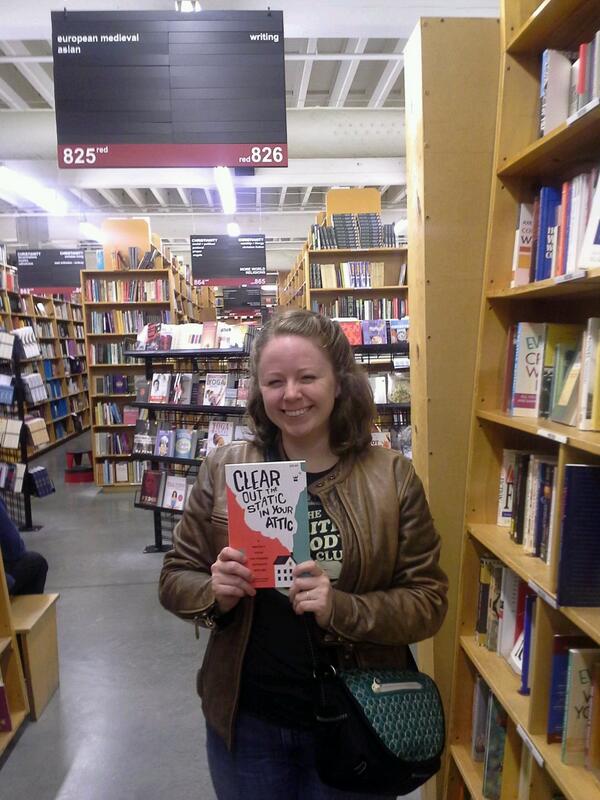 Sometimes a book just jumps off the shelf at you. I rarely go to the bookstore with something in mind. Instead, I try to allow myself a lot of time for the books to call my name. If Serendipity is not responding, try browsing by color or imprint or any other way you don't normally categorize books. You'll be surprised by what you discover.
Take Notes While You Query
As writers we're supposed to be querying, right? And we're supposed to have read every book ever published by the press so that we can support them before they ever support us… yeah, I can't afford that either. But the internet makes it really easy to browse their books and see what press feels like home. But the secondary (and most important to this post) benefit is that you learn about so many great books this way. It's how I found Edan Lepucki before Colbert did (and I still recommend that novella today).
Start a Book Review Blog
Debut authors are hungry for reviews and they will find you if you put a call out into the world. This is how I got to read Richard Clark, Karen Rigby, and Matt Pine. And if you start a book review blog, please let me know, I'm a little behind with my own marketing 😉
Hug a Librarian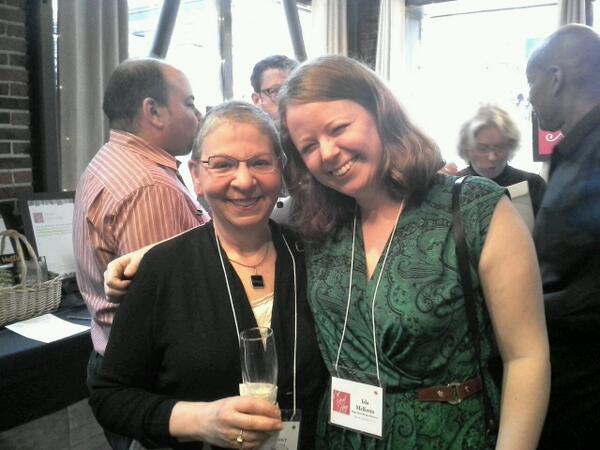 I actually never go to the library because I prefer to write all over my books, but librarians are treasure troves of information. These wonderful people have read more books than I'll ever see and are trained to think about information from a variety of perspectives so they can recommend exactly the right book to you at exactly the right time. When I grow up I want to be Nancy Pearl.
Twitter
Perhaps the biggest trove of information, if also the most cluttered, is Twitter. I follow everyone I can on Twitter: presses large and small, new writers, established writers, industry publications, readers, and reviewers. I do not read all of their tweets, but I do dip in and see if Serendipity is smiling on me that day.
Curating a reading list is a lot of work, but it's also super rewarding. Especially since it means you don't have to rely on one reviewer's tastes. Because as much as I love sharing what I'm reading with you all, I will admit that I think first about what book calls to me and second about how it might help someone else. When you're on your quest, try to look beyond the names you already know and for the ones you don't. It's harder than you think, but it's worth the effort.
I'd love to know how you find new authors and if there are lit mags and anthologies (and more) that you recommend. Please share your latest discoveries in the comments.