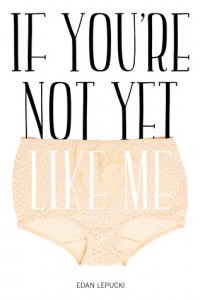 Reading Edan Lepucki's If You're Not Yet Like Me this weekend reminded me why I love reading novellas. Many of my favorite books are novellas (The Lover, Franny and Zooey, Cheri, The Awakening, A River Runs Through It). And though some stalwart presses (Melville House and Nouvella) are trying to keep novellas alive, most treat them like the bastard children of short stories.
In honor of Novella Month this June, let's take a look at some reasons novellas rock.
Quick to Read
I love long books, but sometimes I need to know that I won't get sucked into something that keeps me up until four in the morning. I read Lepucki's entire book on a Saturday morning before my husband even woke up. It was engaging, I felt inspired, and I had the whole day left to mull it over.
Concise Writing
One of my favorite things about novellas is the adherence to (and fleshing out of) one theme. The narrator of If You're Not Yet Like Me, Joellyn, is having some trouble finding the love of her life. Sure, her job probably sucks and her aunt may have cancer, but by focusing solely on Joellyn's love life, Lepucki lets the reader fully experience the ups and downs of dating a nice guy without all the distractions we face in modern life.
Vivid Characters
Do you remember how many characters there were in Les Misérables? I don't. You practically need a map to sort them all out. A novella usually has 2-5 characters and you can get deeply involved with each of them. Again, that narrowing of focus brings amazing detail to what is revealed, and a novella gives you the time to get to know those characters in a way you don't have time to with a short story.
Size Matters
Whether you read on your back or your side, long books are heavy. Most of us spend all day on the computer—why make the carpal tunnel worse by reading tomes in bed? Plus, I love a book I can fit into my purse—it makes the bus ride so much more pleasant.
My first book, Polska, 1994, is a novella, but it didn't start out that way. I found through revision how much I liked paring the story down to its essential elements. I liked taking out extraneous characters and finding the essential themes. It's been awhile since I finished writing that book, and I'm grateful to Lepucki for helping me remember what I loved about writing it.
What are your favorite novellas?
If this review made you want to read the book, pick up a copy of If You're Not Yet Like Me from Powell's Books. Your purchase keeps indie booksellers in business and I receive a commission.
Summary
Reviewer
Review Date
Reviewed Item
If You're Not Yet Like Me
Author Rating