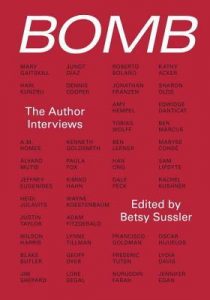 The first clue (or at least an early one) that I wanted to be a writer should have been when I started reading, then heavily underlining, author interviews in
The Paris Review
. I loved reading about the writing lives of major writers like Joan Didion and William Faulkner so much that I collected every edition of
The Paris Review Interviews
and then started putting the editions of
Writers at Work
(an earlier collection of interviews from
The Paris Review
) on my Christmas list.
I still love reading author interviews, but the ones that get me most excited these days are in BOMB, so when I saw an advance sampler of BOMB: The Author Interviews at AWP, I had to have it.
The Difference Between BOMB and The Paris Review
I flat-out love both of these magazines and the interviews therein, but I read them for different reasons. Where The Paris Review is polished and full of names that have been accepted into the literary world (and often elevated to the canon) and often focuses on the craft of writing, BOMB is edgier–frequently introducing me to people I haven't yet heard of–and can veer into whatever the writers want to discuss. Many of the writers interviewed in BOMB are well known in some circles, but they haven't broken through the mainstream for whatever reason. That's true of the interviewers too.
What I mean is that in The Paris Review Interviews, especially the collected interviews, you're likely to learn more about the best writers you encountered in high school. In BOMB, you're more likely to encounter writers that your really in-the-know college lit professor talks about. BOMB is where I first heard of Heidi Julavits, who I've gushed about here and here.
One of the things I love about both magazines is that they cross artistic genres. And I don't mean poetry vs. fiction (although they do that). Both thoughtfully incorporate visual art too. BOMB takes it a step further by going into performance art, sculpture, and video, and one of my favorite things is reading interviews between artists who work in media I'll never attempt. I like to see in what ways their discussions of art and process are the same and different as the ways writers talk about their work. And it's all edgy and I hate (don't understand) 80% of the artwork, but I learn from what they're doing and become a more thoughtful artist as a result.
"Reading BOMB interviews was one of the ways I began to conceive of myself as an artist." – Miranda July
Discussions Between Writers
Where The Paris Review seems to send an up-and-coming writer (who is often barely present in the interview except in the shape of the questions) out to focus on the writer they are interviewing, the interviews in BOMB: The Author Interviews are a collaboration and a discussion. I think that's part of the reason I like them at this stage in my writing life.
Watching Edwidge Danticat riff off of Junot Diaz (or was it the other way around) teaches me so much more about life on Hispaniola (the island that contains Haiti and the Dominican Republic) than I could ever learn if one or the other was being interviewed by someone who was expected to facilitate the interview instead of being part of the conversation. So you often get introduced to two great authors at once and to see them in context.
Danticat's first question of Diaz is "What the heck took you so long?" in writing The Brief Wondrous Life of Oscar Wao, and he responds, "I'm a slow writer. Which is bad enough but given that I'm in a world where it's considered abnormal if a writer doesn't produce a book every year or two–it makes me look even worse."
"I'm a crazy perfectionist. I suffer from crippling bouts of depression. I write two score pages for every one I keep. I hear this question and want to laugh and cry because there's no answer." – Junot Diaz, BOMB: The Author Interviews
The conversation feels real and revealing. Diaz talks about everything from his use of the N-word (which I know is a question he speaks to often) to the relationship between writers and dictators.
Meanwhile, when Mark Magill interviews Kathy Acker, the short, almost bullet-like back and forth comes off like performance art. He asks her about everything from her biographical facts to quotidian things like how often she brushes. It could be (and is) really weird, but it works and it speaks to the experimental nature of Acker's work. At one point Magill gives her multiple choice questions on preferred dinner table discussions and what to do with the last bit of pie. The interview is revealing in an unexpected way.
A Writing Community on the Page
The thing about being a writer is that it's lonely. You both need people and you need to be alone. BOMB: The Author Interviews lets me poke my head up on a writing break and learn about what other writers are thinking and how they approach their art even when my writing friends are holed up creating their masterpieces. It's not a substitute for an actual community, but it's a fantastic addendum.
I'm only reading a sample copy of BOMB: The Author Interviews right now, but the full edition will contain interviews by and with writers like Chris Abani, Oscar Hijuelos, Ben Marcus, Heidi Julavits, and Amy Hempel. I can't wait to get the full book when it comes out in November and highly recommend it to anyone who loves author interviews as much as I do.
If you want to commune with some fantastic authors, pre-order a copy of BOMB: The Author Interviews from Powell's Books. Your purchase keeps indie booksellers in business and I receive a commission.