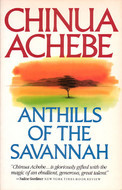 When novelist Chinua Achebe died late last week, I remembered that I had several of his books sitting at home and had still not read any of them. I thought for a few minutes about why I hadn't. Faithful readers of this blog will know that I often read geographically. Last spring I have to have gone through 10 or more Balkan Books in anticipation of a trip to Croatia. And the blog wasn't extant when I went through my summer of Africana a few years back. But even that summer was mostly filled with non-Africans writing about Africa including Beryl Markham, Isak Dineson, Alexander McCall Smith and V.S. Naipaul.
What Defines an African Writer?
Why, of all the African writers I've ever read, is only one Black? Okay, two, if you count Dinaw Mengestu, but The Beautiful Things that Heaven Bears was set in the US and was more about the immigrant experience here than it was about Africa. The only Black African writer I've read, until this weekend when I finally opened The Anthills of the Savannah, is Chris Abani.
Is it About Race?
It should tell me something about my own relationship with race that I'm unable to decide whether to capitalize "Black." I'd love to fall back on the PC comfort word of "African American" but although that fits both Dinaw Mengestu and Chris Abani to certain extents, it really doesn't fit Chinua Achebe.
Maybe it's Cultural Differences
I want to excuse myself and say that cultural differences make everyone uncomfortable. But that's not good enough. I preach community and togetherness and world peace, and yet there are wide swaths of the world I have failed to adequately explore, even through literature. Instead, I read books about places I have a relationship with. I've lived in both Latin America and Europe and I've traveled to Asia. Reading books about those places helps me uncover new layers of the experiences I had abroad. And books, even in the quantity that I read them, are cheaper than a plane ticket. But if I only read what I know, I am only reinforcing my own stereotypes.
Reading Like a Colonizer
My dad always loved Africana while I was growing up, but his books are mostly (because of his interests) the Great White Hunter type. And when I was a kid and my dad and brother went on safari in Africa, I wasn't interested to go. I could blame it on the weather (I love dreary, damp Seattle). But I have this sneaking suspicion that the place was so utterly foreign to me that I got scared. It was truly the dark continent because I don't have a relationship with Africa. I think by reading mostly African books written by white Europeans, I was looking for a way I could relate to this place that is completely foreign to me.
All of that is to say I don't know what makes a writer African. There are numerous experiences of Africa that are all valid, but I have failed to really explore them until now. My failure might be about race. It might be about culture. But it doesn't matter why I haven't been reading widely enough about Africa. What matters is that if I want to be the person I think I am, I have to start.
Back to Chinua Achebe and Anthills of the Savannah
Anthills of the Savannah follows school chums Ikem and Chris as they navigate their country's first post-colonial government, a military dictatorship headed by another friend of theirs. The book starts with this obsequious tone as Chris, the Commissioner for Information, tries to appease the dictator. The language is also florid and bureaucratic as Chris talks around whatever offense His Excellency perceives at the moment. This portrait from the inside is an elegant way of showing the fear and instability of a new government.
One of the things I enjoyed most about the book was how Achebe portrayed the power of women. In many, many literary traditions, women are soft spoken or working the only power they have—their sexuality. In Anthills of the Savannah, the women, even the uneducated Elewa, are equally savvy as the men and it's Chris's girlfriend Beatrice who first sees the danger brewing. Throughout the book, men and women complement each other and learn from the way the other sees the world.
The tension builds quickly in the book and soon Ikem, the editor of the paper of record, is in trouble and Chris has to figure out whether to help him and how. In the US, a political circle this tight would feel like a contrivance (although it's more true than I'd like to admit), but in the fictional country of Kangan, it's a genius way of illustrating how much power changes people. I won't spoil the plot for you, but I particularly liked the way Achebe worked in comments on dictatorship throughout the book:
"Worshipping a dictator is such a pain in the ass… The real problem is having no way of knowing from one day to another, from one minute to the next, just what is up and what is down."
He also writes about some of the subtler effects of colonization:
"Beatrice smiled wryly. So, two whole generations before the likes of me could take a first-class degree in English, there were already barely literate carpenters and artisans of British rule hacking away in the archetypal jungle and subverting the very sounds and legends of daybreak to make straight my way."
I lived under a dictator in Chile, but I was one of the privileged classes and I was a child. By finally opening up a book by Chinua Achebe and reading outside my comfort zone, I gained an entirely new understanding of this form of government. I also learned that gender relations are also a product of culture. I have much to understand about Africa and the rest of the world. I hope all the writers I encounter on my journey are as gifted as Achebe.
Do you challenge yourself with your reading better than I do? What have you learned about the world that's surprised you?
If this review made you want to read the book, pick up a copy of Anthills of the Savannah from Powell's Books. Your purchase keeps indie booksellers in business and I receive a commission.
Summary
Reviewer
Review Date
Reviewed Item
Author Rating