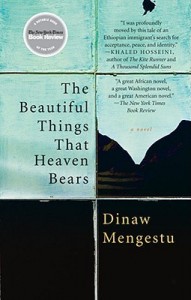 One of the things I like most about a book is the possibility of completely inhabiting a new culture or rediscovering a familiar one. Dinaw Mengestu gave me that gift this morning in the novel The Beautiful Things That Heaven Bears by allowing me to explore DC and Addis Ababa through the eyes of his narrator, Sepha.
Changing Landscape
Stories are supposed to take place during times of change, and Mengestu takes that adage all the way to his setting. Sepha has lived and run a small store in the Logan Circle area of Washington, DC for nearly two decades. It was cheap when he moved in and it's cheap now, but signs of gentrification are appearing and the longtime residents are not pleased.
It would be far too simple to call this a novel about a poor neighborhood being fixed up by newer, whiter residents. Instead, Mengestu has beautifully woven the social and economic changes of gentrification into the storyline so that the pulse of change in the neighborhood becomes an important element of the setting.
Juxtaposing Cultures
Sepha immigrated to the US from Ethiopia after his father was brutally killed by rebel forces nearly twenty years before, and Sepha's closest friends are two other African immigrants of a similar vintage from the Congo and Kenya. This setup allows Mengestu to create a world where Sepha is living the American experience (whatever that is) at the same time as he reflects on an almost shared history with his friends. Though they each come from different countries, the game the friends play of naming a coup leader and then coming up with the details speaks to the commonalities of their background, even as they experience the US in very different ways—shop owner, businessman, and waiter. The genius of having the friends not quite share an experience is that each notes and reflects on the differences between them, e.g. the Ethiopian way of kissing as a greeting.
"This country is like a little bastard child. You can't be angry when it doesn't give you what you want… But you have to praise it when it comes close, otherwise it'll turn around and bite you in the ass." – Dinaw Mengestu
Both the US and Africa are ever-present in the novel as they are in Sepha's life. My favorite example of this is when he wanders into a park in DC and remembers a park in Addis Ababa that he visited with his father a few days before his father was killed. Sepha's memory of seeing "traitors'" bodies that day shapes and colors how he sees his current neighborhood and it gives the reader an amazing wealth of depth to read into.
Writer as Observer
It is often said that writers are observers. I am so pleased that Mengestu devotes so much of his observation to how culture makes place. The novel is often quiet, but there is much happening beneath the surface and his characters are setting in place the events that will create the change in their lives (as should be). What is special about The Beautiful Things That Heaven Bears is how Mengestu observes the relationship between macro-scale events like gentrification and the micro-scale of people who are both causing the events and experiencing their aftermath.
I wondered at times if Mengestu's experience as an immigrant helped him see so clearly the cultures of these places. Though his story is very different than Sepha's—Mengestu came to the US as a very small child—I wondered to what degree his family integrated into their new community and how that shaped his powers of observation or whether he was a born observer. I know my experiences living in Chile as a child and Poland as a teenager enhanced the observation skills I developed as a shy child. Recreating that jarring and unmoored memory of seeing a new culture so quickly for what it is and yet never quite understanding it is why I seek a strong sense of place in a book. It is also a sensation I aspire to create in my own writing.
What experiences shaped you as a writer and how do they show up in your work?
If this review made you want to read the book, pick up a copy of The Beautiful Things That Heaven Bears from Powell's Books. Your purchase keeps indie booksellers in business and I receive a commission.
This post was amended on July 2, 2013 to correct a factual error.
Summary
Reviewer
Review Date
Reviewed Item
The Beautiful Things That Heaven Bears
Author Rating