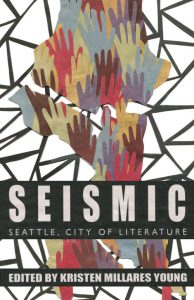 It's the last day of National Book Month and I have a confession for you: I believe in the power of books to change the world. Not just to give us the chance to retreat to more palatable worlds in our heads, but to open our hearts to the greater world and help us find the courage to be better. Courage being the key word. Courage is what attracted me to join the board of Hugo House years ago because of the way they opened themselves up to ideas from the community during a difficult time (and really listened to the responses). And courage is what I'm excited about in the newest project from Seattle City of Literature (where I'm on the board now). Seismic is a collection of essays that looks deeply and frankly at Seattle as a City of Literature and I'm proud of the conversations it's starting—for me personally, for the board, and in the community at large.
It's easy to imagine that a collection commissioned by a City of Literature would be filled with fluffy, soft words about how wonderful our city is. There is some of that in Seismic, we do live in one of the most beautiful places in the world and have a vibrant literary culture, but this book is also filled with deep introspection about the ways we're failing. This is where the courage comes in, because speaking truth about our failures is the first step toward addressing them. In this way Seismic is an act of love as much as courage. Let me tell you about what Seismic made me think about…
Seattle is a Destination
As the nearest big city, Seattle was the next best step for me and many of my high school classmates. For my part, I wrote some (really crappy) poetry about my dreams of this emerald city during a visit in my senior year (which I promise to spare you). Like Rena Priest, I sought "the creative sanctuary of Seattle." I craved the natural beauty Timothy Egan praises in his Seismic essay. And when I arrived, the city felt fresh, because as Jourdan Imani Keith writes, "No one is from here. No one knows where things are." Which is kind of a big deal coming from a town where your eighth grade science teacher fondly remembers (out loud, for the class) your running down the street in nothing but a diaper. The idea of Seattle gave me comfort as someplace I could recapture the cosmopolitan feeling I experienced living abroad without giving up the Northwest that I love.
"If I had to tell you why Seattle is a literary city, I would say it is because I was able to become myself here. I learned how to inhabit my mind in this place. To hold space for your own story can be a revolutionary act." – Kristen Millares Young, Seismic
Wei-Wei Lee writes, "Seattle has given me freedom. It has afforded me the luxury of writing for the sake of feeling, without expectation or the pressures of succeeding, with my friends, classmates, school writers' club and the Youth Poet Laureate Cohort."
Reality is Always More Complicated (and Interesting)
Mattilda Bernstein Sycamore writes of the end of Seattle, a city she has returned to again and again because it is "the city where I first found calm." I, too, moved to Seattle because it was a place I felt I could be myself. On the best days, when I could stomp around Capitol Hill in my green patent-leather Docs and vintage dress, that still feels true. But even before the pandemic, I started to see that my best days in this city were the days I was projecting beyond what I actually felt.
The longer I lived in Seattle, the less of a dream it became and the more of a reality as I got to know the underpinnings of the place, the Seattle process, the people behind the Seattle freeze. As with any home, some of this was endearing, some frustrating. What I barely ever got to know, however, was anything tangible about the indigenous cultures here. Seismic started me on a better path, from Priest's insight into the indigenous mythology of our region to Ken Workman's reminder that the Duwamish are all around us (literally).
"Writing about anywhere in the Salish Sea bioregion is a challenge because in order to keep from alienating people, I have been taught by polite society never to publicly acknowledge the true story of the people who belong to this place. We don't say "genocide." We don't say "murdered, cheated, displaced and starved." We don't say those things. Tell a different story, sing the people a song. So I tell you how nice the people are in Seattle's literary community, which is certainly true, but it omits this other story. Please don't be alienated. " – Rena Priest, Seismic
What I'm Afraid We're Losing
"I walk around Seattle looking at houses I'll never own." – Dujie Tahat, Seismic
"If literature and art are an effective antidote, we must attend to how so many artists have been pushed out of Seattle as the city's economy "soars." My family still might be. When our art spaces refuse to acknowledge or address this ever-growing loss, they become complicit in the marginalization of the very culture these spaces claim to cultivate." – Dujie Tahat, Seismic
Part of my dream of Seattle has always been of being in a place where I could be myself and be surrounded by likeminded people. As I grew, it became more apparent that that dream included being a writer. Married to a visual artist, we are nourished by being around other creative people. And while Seattle is full of creative people of various types, I ache for how many of my friends have left because the city is no longer affordable. The city is also less livable as increased traffic divides us from the friends who have stayed. Maybe a city kid would know what to do with this, but my small-town heart still craves having the people I love no more than 20 minutes away.
"Seattle is now a city of displacement and desperation, where rent has basically doubled in seven years and we have no meaningful protections, where even people against gentrification say of course they support increasing the density. But what kind of density are they supporting? A density of overpriced crap; a density of bland homogenization; a density of corporate exploitation masquerading as necessary growth." – Claudia Castro Luna, Seismic
And I often wonder, if we'd left too, if my husband and I could live the artistic lives we dreamed of instead of cobbling it all together between a series of service jobs until being driven into tech to afford day care. As a white woman, I say this from an incredibly privileged place that includes having a home, a livable income, a family, health. But I've never wanted a circle of friends that was solely white and upper middle class. I had that bland uniformity in my hometown and I think I unconsciously recreated it by choosing to live in northeast Seattle. But I came here because Seattle offered more than that. And as a city and as humans we can be better about racial equity and inclusion, affordability, and livability, but we have to start trying now—on all levels.
"Everyone talks about the need for affordable housing, while the city shuts down the largest public housing project, displacing hundreds of families and destroying the country's first mixed-race housing project to make way for a billionaire to build luxury apartments. How did they do this? By changing the zoning to increase the density. When developers control the language, everyone else loses." – Mattilda Bernstein Sycamore, Seismic
In Seismic, Claudia Castro Luna notes the delicate balance between the image we want, "a world-class literary city" and the reality that we are failing at engaging people of color as artists and even as audience members, where the key question is "literary programs for whom and by whom?" She bears witness to the extraordinary diversity this city does possess and that we could build on, if we try.
"When I hear the phrase that Seattle is a great literary city, I want to scream. Because when people praise what Seattle is now, it feels like they're praising displacement, homogenization, the streamlining of the imagination to become a tool of social, cultural and political obliteration. I don't believe that literature is automatically a force for good, especially if it participates in the self-congratulatory boosterism that celebrates Seattle as it is now. If we cannot critique what we love, then we don't really love it." – Mattilda Bernstein Sycamore, Seismic
Change Comes from Within
"Seattle is experiencing unprecedented transformation with profound implications for the future. Yet in the strict confines of high art and cultural discourse, many institutions remain unwilling to reckon with the ways culture is displaced from the city. It cannot be because cultural institutions are apolitical—not only because there's no such thing but because many of these organizations willingly come together to fund electoral campaigns when what is on the ballot are public subsidies. What becomes clear is that it is not the city's culture being curated but rather institutional balance sheets." – Dujie Tahat, Seismic
I was so heartened when, during a Seattle City of Literature board meeting at the beginning of the latest peak of #BlackLivesMatter protests, we were presented with Tahat's essay and asked to imagine how this organization we're shepherding should work to help create the kind of city we want to live in. I won't name names, but I was so heartened to be in a (virtual) roomful of people who also saw where we were failing. People who wanted as badly as I do to change it.
"Philanthropy, which is the predominant model of literary and cultural organizations in our city, is failing us. If one builds an organization centering wealthy white landowners, then that is the culture being curated." – Dujie Tahat, Seismic
We have a lot to build on. Charles Johnson recalls Seattle's "distinguished history of supporting progressive causes" and our civility even as he cautionarily compares Seattle to San Francisco and Rome. We also have a lot of work to do. At Seattle City of Literature, one first step was to this statement on racial equity and the literary arts. I'm very excited to see how we'll take this energy forward to help build the city I still dream of.
The Work Ahead
I've over-quoted from Seismic already, but some of the best, most inspiring words I can think of about what's next come from the contributors, so I'll leave them to speak for themselves:
"It is praiseworthy for Seattle to be recognized as a UNESCO City of Literature—an important and vital achievement that recognizes the hard work of countless artists that made this city what it is….It represents an opportunity for Seattle to partner and learn from our sister cities how best to employ literature and this designation to improve the material lives of those at the margins. As far as I understand literature to have a purpose, it is meant to reflect back to us our fullest selves, to speak truth to power, and to be a site for greater individual and communal reimagining. If we don't take this task seriously, the honor serves simply as a laurel hung from the drawing room walls of those of us living in safe, material comfort." – Dujie Tahat, Seismic
"If this is a great literary city, how do we expose all the layers of violence so we can imagine something else? How do we write what we really feel, so we can feel what we really need? How do we use language to expose hypocrisy rather than camouflaging harm? I want to live in a city that doesn't destroy the lives of the people who are already the most marginalized by systemic and systematic injustice. This may be too much to ask of literature, but it's not too much to ask." – Mattilda Bernstein Sycamore, Seismic
"I view the Creative City designation not as an arrival but a portal to discover new ways to engage many more residents in the literary life of the city. What is at stake for Seattle is not guarding a literary legacy but envisioning one. The UNESCO designation is an invitation to redefine what a literary city looks like. Seattle could have the makings of a literary renaissance that inspires cities around the globe to reframe what constitutes literature and who has a right to create it." – Claudia Castro Luna
"If I could make a wish upon a book or ask "the Lorde" Audre for a blessing for this city, it would be to add more platforms, avenues, megaphones and bridges for voices who live between the lines, in white spaces and in the margins. I feel hope for the direction that Seattle is moving. We are remembering that without community there is no liberation." – Anastacia-Renée, Seismic
"We each have a little magic, and the city brings it out in us. We are capable of creating such things as no one has ever done. We are more than what people want to see, sometimes more than even we ourselves expect to see. We are not bound to the lots we draw." – Wei-Wei Lee, Seismic
Your City of Literature
I'd love to know what your City of Literature looks like. Seismic is free for download or you can ask for a free copy at your local bookstore (while they last). Please read it and share your dreams for our city with me, with your community at large, with your legislators.
I'm hugely grateful to editor Kristen Millares Young and to Stesha Brandon for their vision and collective work to bring this important book to life. They, together with the contributors, have definitely inspired me to be more courageous in building my City of Literature. May this be the book that changes our small corner of the world for the better.