Sometimes the books we need find us. This week I had two of those little miracles in my life as I found All About Love: New Visions by bell hooks in my to-read shelf and managed to convince my son to read The Miraculous Journey of Edward Tulane by Kate DiCamillo instead of another edition of the I Survived series. Those books have had their uses lately, injecting hope as we navigate what feel like dark times (and my son loves them), but in this week of all weeks I needed something that wasn't about an earthquake, tsunami, or hurricane. I needed to know how I am going to survive the much longer (and sometimes insidiously quieter) descent of my country into fascism.
Love as Nurture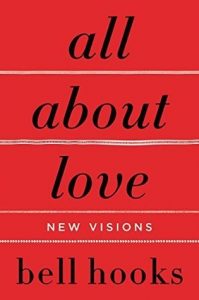 Child of the 1980s, I grew up with a very particular view of love. If you were worthy (which as a woman meant being both beautiful and not too powerful), you would be placed upon a pedestal and cared for and worshiped as an object of great value. You would also, of course, be looking for someone to worship on a pedestal of your making. Sometimes those objects of worship needed to be reminded how lucky they were that you worship them, so you brought them down a peg (I now know to call this abuse), but as long as everyone followed these rules it was fine.
"To truly love we must first learn to mix various ingredients—care, affection, recognition, respect, commitment, and trust, as well as honest and open communication." – bell hooks, All About Love
Fine and empty, unrealistic and inhumane. The first realization for me in All About Love was when hooks delineated the difference between love and cathexis (the "process of investment wherein a loved on becomes important to us"). Cathexis can look like love but it doesn't preclude hurting or neglecting the object. She separates love from simply caring, insisting that love involves nurture and that "love and abuse cannot coexist."
"When we understand love as the will to nurture our own and another's spiritual growth, it becomes clear that we cannot claim to love if we are hurtful and abusive." – bell hooks, All About Love
The most shocking part to me about this reflection was how ingrained my acceptance of abuse as part of love was. Sometimes small abuses (remember when we thought "negging" was funny?) and sometimes large. I'm still grappling with this realization, because I can see in it how often I have not acted with love, even in the relationships that matter most to me. I can see how rarely my country (the government and citizens) acts with love toward our neighbors and compatriots. More on this later.
Patriarchy Doesn't Work
"When we are loving we openly and honestly express care, affection, responsibility, respect, commitment, and trust." – bell hooks, All About Love
It took me more years than I'll admit to see the patriarchal underpinnings of our culture. It was what I was born into and I didn't question it (and when I did question it, my concerns were dismissed). All About Love helped me see some of the damage this system has done to me personally and to our society as a whole. When hooks references Harriet Lerner, saying "women are encouraged by sexist socialization to pretend and manipulate, to lie as a way to please… constant pretense and lying alienate women from their true feelings… [leading to] depression and lack of self awareness," I can see the underpinnings of the quiet desperation suffered by so many women I know, even the strongest. When hooks writes "Patriarchal masculinity requires of boys and men not only that they see themselves as more powerful and superior to women but that they do whatever it takes to maintain their controlling position," I see the hollowness of the structure on which it's all built and why they are so desperate to keep us from questioning it.
I also see how difficult it is to build healthy relationships with anyone who is not questioning these frameworks. How can we love each other, in the way of nurturing, if we can't even be who we are? Culture is a very strong force, but it is not immutable. We make culture every day with the decisions we make. We choose what we subject ourselves to and what we question. We choose how we let people treat us. We choose how we treat others.
"Individuals committed to advancing patriarchy are producing most of the images we see, they have an investment in providing us with representations that reflect their values in the social institutions they wish to uphold." – bell hooks, All About Love
Again, the time I grew up in was rife with patriarchal imagery. There were glimmers of other possibilities, but they were too often extinguished. One of the choices I'm making for myself (and my kid) is about what media we're exposed to. We can't avoid all of it, in fact I don't think we should, but we can make concerted choices and have the kinds of conversations that let us understand what we are really seeing and reading. Which brings me to Edward Tulane.
Love is Work
"In patriarchal culture, men are especially inclined to love as something they should receive without expending effort." – bell hooks, All About Love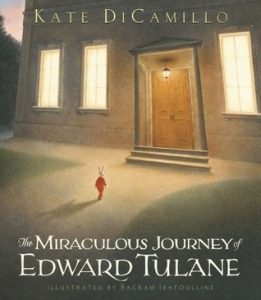 I had no idea what to expect when I opened The Miraculous Journey of Edward Tulane. I'd bought it because our (wild) backyard bunnies are one of the things that have sustained me through the pandemic. I did not know the book was about love. I did not know this was the exact right book to read with All About Love. Edward is a ceramic rabbit who is loved and doted on by a little girl. He receives this as his due until her grandmother tells them a story about someone who could not love and Edward is very quickly thereafter lost. Edward sees many kinds of love in his journey and eventually learns how privileged he was to have been loved and have had the opportunity to love at all. He grows and he changes, he suffers and he is redeemed.
I love my little boy deeply. Both his father and I are committed to nourishing his spirit until he becomes the wild free adult he will probably grow into. I am also committed to the work of undoing some of the programming he will get from our culture and this book was a part of that. Because I adore him and I dote on him but I also want him to grow into a person who knows the work of love—the energy put into seeing himself and the people around him for who they are and nurturing those he chooses to love. And to let them love and nurture him.
Hooks writes about "how little support men received when they chose to be disloyal to patriarchy" and I have seen how in generations before mine this knee-capped the men who may have wanted to change. I see more men in my generation trying to do things like be primary parents and treat women as equals and how hard our culture (including the people around us, intentionally or not) work against them. I see men still younger having some success with allyship and personal growth but I fear for how fragile that could be without a larger movement. So I'm trying to give my son the strength to be part of that next generation who maybe, I hope, can live in a world where equality across genders, races, orientations, ability, and anything else you can picture is normal. A world filled with love.
The Aftermath of the Dobbs Decision
Yesterday was not a good day in many ways. We knew the decision was coming, but I still felt disbelief and paralysis that my human rights were wiped away with one decision by an institution I'd been brought up to revere. This is abuse. This is not love. And I know this is not out of character for our country, but I want it to be.
"Changing our thinking so that we see ourselves as being like the one who does change rather than among [those] who refuse to change." – bell hooks, All About Love
I do not have a lot of power in this world, but I can take responsibility for what I do have. Yesterday I made some choices. I sat with my feelings rather than trying to push them away. I reached out to a dear, loving friend for the community I needed. I invited someone I wanted to get to know better over to my home, again to build community. I spoke up when someone was treating me as less than equal (no matter how inadvertent the gesture). And I gave money, because I could.
I don't know what happens next. I hope that this cannot stand. I see how far we've slipped toward fascism in the last decade. I see the people who have worked hard against it. I wish the Democratic Party made up more of that group. I see how much work there is yet to do, not to get back to where we were, but to get to where we could be if we choose to believe in the inherent value of others.
How I'm Moving Forward
"When we hear another person's thoughts, beliefs, and feelings, it is more difficult to project on to them our perceptions of who they are." – bell hooks, All About Love
I am trying to move forward in love.
I will continue to speak up for my rights and the rights of others. I will continue to listen to the stories of those others, including reading and rereading books about the radical power of love by bell hooks and Alexis Pauline Gumbs.
"While emotional needs are difficult, and often impossible to satisfy, material desires are easier to fulfill." – bell hooks, All About Love
I will build community where I can. I will donate as much money directly to abortion funds as I can rather than spending it on useless items that do not actually salve my pain.
"The essence of true love is mutual recognition—two individuals seeing each other as they really are" – bell hooks, All About Love
I will try to know and love myself because I deserve it and so that I can love others better. And I will especially work to be a more loving parent and partner.
And you? How are you getting through? Are you ready to change the world through love?