Now that Christmas is over, I can safely reveal which books I loved the most during this past year without ruining any gift surprises. Reading is always an escape for me, and in 2021 this escape was especially welcome. I found myself using books as a way to explore other realities in a way that was both unintentional and also much needed. Of the 106 books I've read so far in 2021, here are the five I most loved, books that I think you might enjoy if you need a new reality for a few precious hours or days at a time.
The Thirty Names of Night by Zeyn Joukhadar
"[D]eath and time are both illusions because we and every stone are made of the same ever-shifting particles. If we live, it's only because some distant galaxy lent us its dust for a while." – Zeyn Joukhadar, The Thirty Names of Night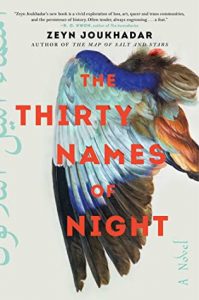 This is the book I've most recommended on Twitter threads this year because reading The Thirty Names of Night was such an immersive experience. This gorgeous book slides lyrically between locations (Syria, New York and Michigan), time periods, and genders as it explores themes of identity and belonging as a trans boy seeks answers about the fire that killed his mother and about a Syrian artist who disappeared. Joukhadar's language is stunningly poetic, the characters are rich and compelling, and the action of the story is well-paced. I was a little hesitant about finishing this book because I'd loved it so much that I wasn't sure that the ending could live up to the rest of the book. Reader, it did. If you want to get lost in a beautiful book, The Thirty Names of Night is my top recommendation for the year.
"[H]ow a person is supposed to know what they love to do by how time blurs when they're doing it." – Zeyn Joukhadar, The Thirty Names of Night
Where the Mountain Meets the Moon by Grace Lin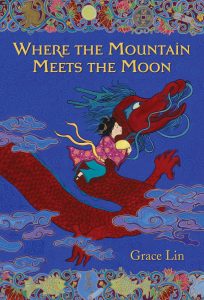 My six-year-old son also loves getting lost in a good book. And while we enjoyed Beyond the Bright Sea by Lauren Wolk and the Vanderbeekers series by Karina Yan Glaser very much, Where the Mountain Meets the Moon is the perfect book for him right now, which makes it one of the most enjoyable books for me, too, because (when he isn't bouncing back and forth on the bed) he'll lean in close to me and put his hand across my wrist as I hold the book, an intimacy that's already becoming rare.
He's been obsessed with the Marvel character Shang-Chi since he found a Lego set at the toy store earlier this year and that led to a general fascination with China. This book, which my cousin picked out for him, details a journey by a young girl to find and consult with the Old Man in the Moon. The story arc and characters are strong, and it's also filled with short renditions of Chinese myths. Some of my favorite moments so far are when we found the story of a goldfish trying to reach the top of a waterfall to become a dragon (a story that he'd had emblazoned on a shirt he wore for years) and the moment he told me the critical detail about why a dragon's eyes weren't painted in—something he'd learned from a series he'd been reading on his own.
The illustrations are beautiful, the print is mercifully large and the quality of the paper lends a tactile pleasure to reading this book. If your kids are as curious about the world as my little guy, particularly China or mythology, I highly recommend Where the Mountain Meets the Moon.
The Book of Form and Emptiness by Ruth Ozeki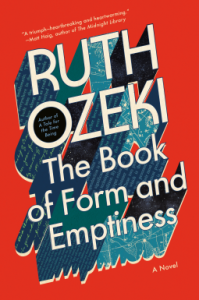 My own interests in Asia tend more toward Japan and Zen Buddhism and I am a longtime fan of Ruth Ozeki regarding both. So when I found myself in a fiction drought toward the end of November, my husband mercifully and lovingly laid this tome on my bedside table to tide me over until Christmas.
Ozeki's books are getting more and more mystical and I'm very much enjoying following her on this journey. At first The Book of Form and Emptiness broke my heart, reading the story of a family of three trying very hard to make it by when the father dies terribly may not have been my first best choice while my husband was healing from an injury during a pandemic, but maybe I needed that cry. I also needed the fantastic way Ozeki wove the different points of view together, from an adolescent boy trying to mourn to his mother who's doing her best to cope to the voices of the books themselves, everyone had a different contribution to this story and every word contributed to the delicate balance of this wonder-filled book.
"'Let me tell you something about poetry, young schoolboy. Poetry is a problem of form and emptiness. Ze moment I put one word onto an empty page, I hef created a problem for myself. Ze poem that emerges is form, trying to find a solution to my problem.' He sighed. 'In ze end, of course, there are no solutions. Only more problems, but this is a good thing. Without problems there would be no poems.'" – Ruth Ozeki, The Book of Form and Emptiness
The Book of Form and Emptiness delves into grief, hoarding, mental illness, and the process of healing torn books and I'll gladly read it all over again the next time I need a reminder that suffering is only part of the story.
Appleseed by Matt Bell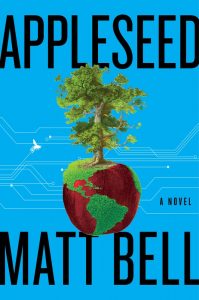 I don't always read the right books at the right times (or do I?), having read Station Eleven in the weeks immediately preceding the pandemic's early days in Seattle and Matt Bell's In the House Upon the Dirt Between the Lake and the Woods while pregnant, so you might want to find your own right time to read this post-apocalyptic delight. But I do think you should read it. I liked it enough to buy out the copies at my local independent bookstore (in hardcover) and send it to the people I most wanted to read it. Like The Book of Form and Emptiness, Where the Mountain Meets the Moon, and The Thirty Names of Night, Appleseed weaves several stories together to create one greater whole. In this case it's the story of a fawn who helped bring apples to homesteads across the U.S., a man who is fighting to wrest the country from a company controlled by his ex during a global climate disaster, and a creature who is exploring the icy surface of what used to be this country many years after the culmination of that climate disaster. The luscious characterizations and world-building recalled the best of Ursula K. LeGuin and the fully imagined ramifications made me look hard at dangers percolating in the world right now, politically and scientifically.
I wish I could share a particular quote from the book, because Bell's sentences are so well constructed, but I was so wrapped up in the plot that I failed to underline a thing.
Undrowned by Alexis Pauline Gumbs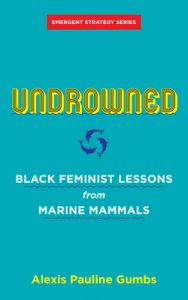 I already wrote about Undrowned here, but it's the perfect real-world counterpart to Appleseed and the focus on the radical power of love and the importance of caring for ourselves and our environment is a good step forward into the future, whatever it may bring. Read it for yourself, read it for the ones you love and the ones you don't. This book can only enrich your life and your relationship to humanity as a whole.
"What are the boundaries that we choose and do not choose? What are the distances we need and what are the walls that will isolate and destroy us? How can we discern the differences between generative boundaries and destructive borders? Are we ready to move towards nourishing forms of adaptation?" – Alexis Pauline Gumbs, Undrowned
I'm hopeful for 2022, not because I have any idea what will happen next, but because hope is my coping mechanism and because I'm sure (at the very least) I will find new books to love. What did you most love reading in 2021 or what's on your list for 2022? Please share recs in the comments and help me build my birthday list. In the meantime, I'll be over here shoving books at my shelves during an end of year cleanout, hoping I don't actually have to let go of any of them.