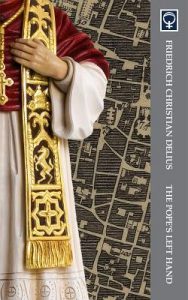 Phillip Lopate once said, "The reason I read nonfiction is to follow an interesting mind." The best nonfiction example I've ever seen of this travel is Virginia Woolf's "Street Haunting" in which she goes out in search of a pencil and we learn everything there is to know about everything she sees along the way (along with all the associations those things bring up). This meander through an interesting mind is less common, though, in fiction, especially in book-length fiction. This is likely because it's very hard to sustain over a long period and also because most fictional characters don't have the breadth of knowledge that makes a mind truly interesting. The Pope's Left Hand by Friedrich Christian Delius is a wonderful exception.
A Back-Alley Tour of the Corruption of Rome
An 88-page novella about the five to eight minutes that a German tour guide in Rome watches the Pope during a visit to a Protestant church, this book races rather than meanders through topics as varied as "the complete fabrication of the life of St. Francis of Assisi," the Numidian stallions, and why a Roman police car might park empty in front of a fashionable store. While many of these tangents have corruption at their core, each digression is diverse and detailed enough to be fascinating in its own right (and would have led me on countless Wikipedia dives if I had been anywhere near a computer).
Reading The Pope's Left Hand is like having a drunken dinner with a disgruntled and wildly intelligent tour guide as he goes off on a city that he's grown weary of but can't get off of his mind. It is both fascinating and entertaining. I learned countless things about the personalities attached to the Catholic Church, the Roman Empire, and the Nazi invasion of Rome. None are subjects I would have considered myself ignorant of, but Delius took me deeper and tied the stories together in waves that enhanced my understanding. There are remarks on tourists, a history of the relic of Jesus's foreskin, and more than a few pokes at Augustine.
Grounding the Reader in a Non-traditional Narrative
One of the things I have hated about Roberto Bolaño is the feeling that I'm trapped next to him at a bar and he just won't shut up. Which is to say that I'm not always down for a chatty narrator who thinks I should be interested in what he has to say. In The Pope's Left Hand, though, Delius draws me in with his careful observation, applying an archaeologist's eye to every detail of the few minutes the narrator is in the Pope's presence. This gives the reader something concrete to hold as the diversions start. Most importantly, Delius returns us again and again to our close observation of that hand. It's these loops that give the book a strong enough structure to hold the digressions together.
"There are sights more exciting than the pope in profile, and I felt little inclined to stare at one side of a milky, careworn face. I just peered over at the partially shaded hands, hanging, resting, supporting, on their fingers no sign of the ring that his subordinates and the devout are wont to kiss. Turn on your brain camera, I commanded, point the zoom at the hands." – Friedrich Christian Delius
In the beginning it's necessary for Delius to intersperse these observations more closely to build the groundwork for us to return to. As the book continues, though, he's free to wander farther and farther because the moment is built and we know already what we'll be coming back to.
My only advice when reading this book is to find a place where you can sit with it uninterrupted for a couple of hours. That's the closest you're likely to get to the full feeling of spending the evening with Delius's fascinating narrator.
To tour millennia of Rome's corruptions with Friedrich Christian Delius, pick up a copy of The Pope's Left Hand from Powell's Books. Your purchase keeps indie booksellers in business and I receive a commission.