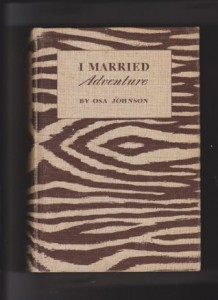 When I pulled I Married Adventure with its rough, zebra-printed cover from my rapidly-thinning to-read shelf this week, I did it because I remember my dad loving the book. I remember how he'd buy copies and sell them along with his other Africana at gun shows. I remembered entering and re-entering that book into his sales database back when Lotus 1-2-3 was a thing.
But on opening the book, I found torn pages held together since long-ago with cellophane tape. This could not have come from my dad's inventory. I flipped to the inside cover and saw this: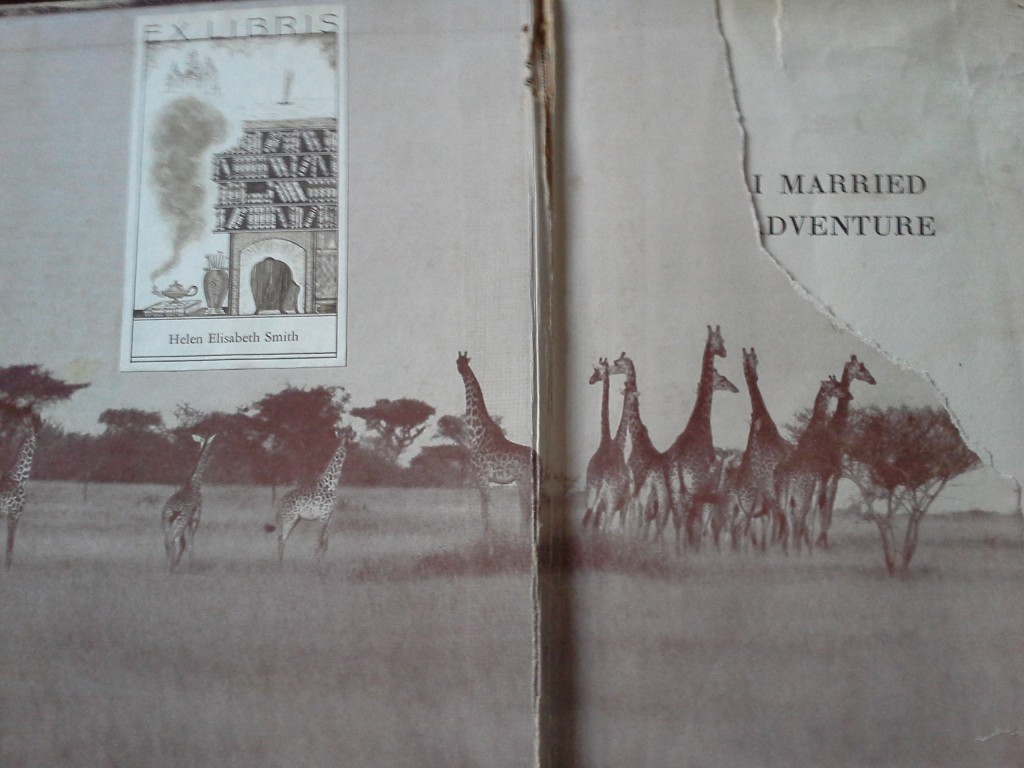 That's my Baba's (my father's mother's) bookplate. In her maiden name. It had never occurred to me that the love of this book could have had a deeper origin. I started thinking about the quiet, gentle woman my Baba was and how once when I told her that a picture of my Djiedo (grandfather) looked like trouble, her eyes glimmered.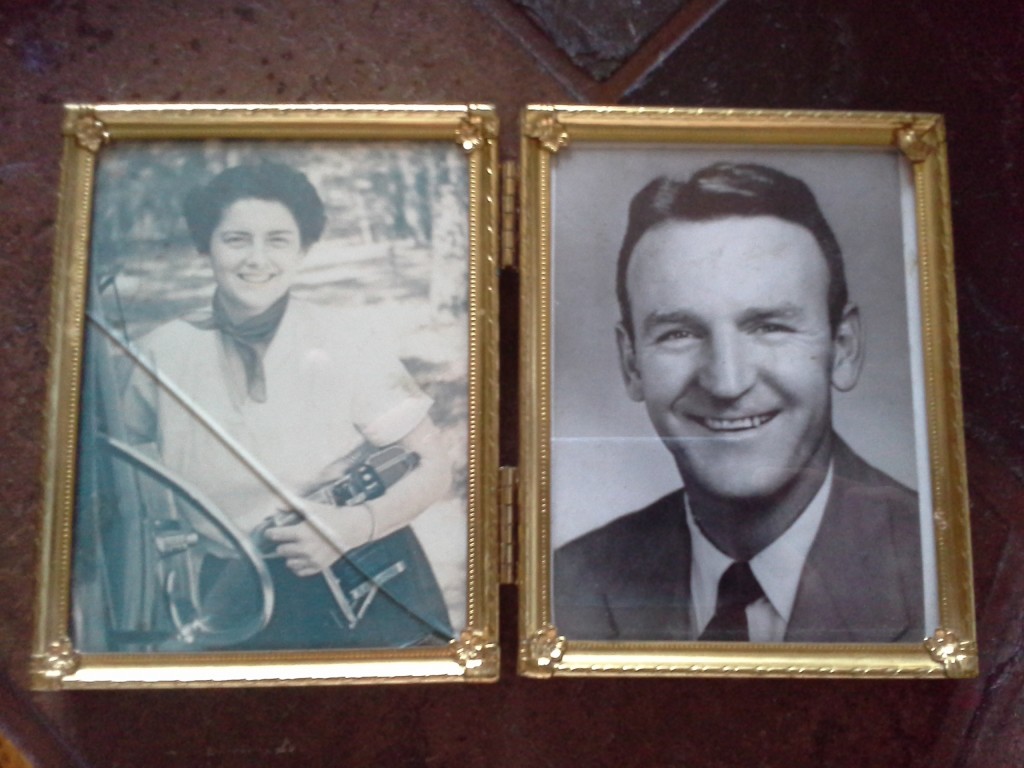 As ever, there was so much more to her than she showed on the surface, and suddenly the image of her reading about a small-town Kansas girl who marries a small-town Kansas boy and sets on a life of real adventure made a lot of sense. I kept this feeling throughout the book and so I felt like I was rediscovering my Baba as I was discovering Martin and Osa Johnson.
A Loving Memoir
I confess, part of the reason I'd avoided reading this book all these years is a niggling fear that the book would be filled with doting accolades from a wife who never felt like she could equal her husband. I'm all for sweetness, tenderness, and love, but overt fawning and the failure for a woman to see her own value make me uncomfortable.
This is not that book. Instead, while Osa Johnson clearly loves and admires her adventurer husband, she devotes equal energy to telling of her own exploits and triumphs. Although Martin was a world traveler before he met her, you get the sense that much of what they achieved together was due to the magic of them as a pair. I loved that. I loved how much they loved each other. I loved what each of them contributed to their adventures from the South Pacific to Africa.
Undiscovered Savages
The one part of this book that's harder to read in the "modern" age is the way other cultures and races are viewed. This book, although very much of its time, is far less offensive in that way than say Travels With Myself and Another. The Johnsons do traipse into almost undisturbed tribes and they have some uncomfortable adventures along the way. The language is not always politically correct, but she does have respect for the cultures she encounters. And it's educational to read into how much our perspectives and the way we talk about things have changed in the last 100 years.
There's also a tension in the book between the Johnson's love of the animals they are filming. Although they want to educate the world about these animals so they can be preserved, there are moments when they must kill them or be killed and others when they bring friends in to "complete a museum's collection" with a few key trophies. But Johnson's un-glossed look at survival among large and sometimes dangerous beasts like elephants and lions helped me realize how complex some of these issues are and the meat from the animals they killed was never wasted like I throw out a steak left in the fridge for too long.
My Father the Adventurer
It felt wonderful to read this book in the few days leading up to Father's Day. Partially because I finally got to see what he loved in this book. Partially because I gained this warm vision that maybe my quiet, unassuming Baba had encouraged him to become the man he is. And partially because I realized I might be able to do the same for my own son.
My dad has always been a bit of a restless adventurer. When I tell people what he does, I sound like a liar because I say only the part that is relevant to the (always shifting) conversation. While all true, that means I sometimes call him a pilot, forester, economist, woodcarver, bookseller, and more. He took my family to Chile for a year when I lived in second grade. He threatened to take us to Rome when I was in high school. His stories are as big as his laugh and most of them are at least partially true 🙂
My Son, the ?
In contrast, while I've traveled extensively on four continents and lived on three, I feel like a homebody. Like my Baba, I do most of my exploration through the pages of books. She visited over 100 countries in her life and saw many things, but I think she was most at home at her melamine breakfast table in Austin, Texas watching the birds, squirrels, and deer feed off the treats she left for them.
So although I am most at home on this couch in our living room snuggling with our dog and listening to the neighborhood birds (all while reading a book and wearing a sweater from Martin + Osa, a brand I only today realized was named for the Johnsons), I now have faith that I'm not limiting my son's opportunities. Together with my husband, we'll find new adventures and, I hope, provide a strong platform for this kid to become whoever he wants to be.
There are many ways to adventure, and there are many ways to raise an adventurer. I hope my son finds a life that excites and enriches him. I will take him abroad, eventually, but mostly I will try to emulate Martin Johnson's mom and just keep my worries about whatever explorations he undertakes to myself. I will trust him to find his way and trust that he knows he always has a safe place to call home. I think that's part of what worked for my dad as he signed up for the Marines at 17 and flew charters out of Santa Fe in the 1960s.
Conclusion
I Married Adventure ends far too abruptly, but such is life. After all of their adventures abroad, including small plane travel, Martin Johnson was killed in a plane crash on a flight from Utah to California. Osa intimates that they were about to start a new chapter in their lives and maybe settle down. I wonder what that would have looked like. I took comfort in thinking about the richness of their life, though, and the closeness of their connection. We should all be so lucky.
I'm feeling lucky this Father's Day to live a life filled with adventurers of all kinds. I am grateful to my dad for teaching me how interesting and exciting it is to be abroad in the world. I am grateful to my Baba for showing me that there is adventure at home. And I am grateful to my husband, on his first Father's Day, for sharing this adventure of life with me. It will be whatever we make it, and there's nothing more extraordinary than that.
Wishing you a happy Father's Day too.
If you want to explore the world with I Married Adventure, pick up a copy from Powell's Books. Your purchase keeps indie booksellers in business and I receive a commission.