I've been thinking a lot lately about living abroad and why I don't. I have plenty of international experience—from living in Chile and Poland to extensive travels on four continents. Despite my wanderlust, something keeps me on home soil, and a week spent with Magic, Science and Religion by Bronisław Malinowski, Travels with Myself and Another by Martha Gellhorn, and Dispatches from the Edge by Anderson Cooper taught me something about the kind of writer I want to be and helped me understand why I choose to live in the US these days.
Magic, Science, and Religion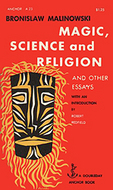 A random reference in another book led me to finally pull this tattered paperback from my to-read shelf. I have a cultural bias toward Poles and though I had no real idea what this book was about, I was in.
I wish I had known what the book was about. I have a degree in sociology, so observing cultures should be my thing, but Malinowski's book made me profoundly uncomfortable. I appreciated how he started out by validating more primitive uses of science (even though I hated the use of the word "primitive"). I did not like anything thereafter. Magic, science, and religion should be fascinating topics, but when a culture's most precious myths are told with complete scientific detachment, I'm out.
They tell how a malicious being of human shape, but not of human nature, went into a piece of bamboo somewhere on the northern shore of Normanby Island. The piece of bamboo drifted northwards till it was washed ashore near the promontory of Yayvau or Vakuta. A man from the neighboring village of Kwadagila heard a voice in the bamboo and opened it. The demon came out and taught him sorcery. This, according to the informants in the south, is the real starting point of black magic. – Bronisław Malinowski
It wasn't Malinowski's fault that I hated this book—he wrote a very classic anthropological study. He taught me that I am not interested in detached observers in life or in writing. I like narrative. I want my readers to engage with characters and details and story.
Travels with Myself and Another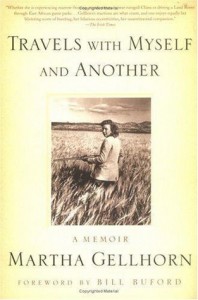 Ann Hedreen turned me on to Martha Gellhorn in a recent post about curiosity and one of my favorite travel companions bought the book for me for Christmas. I really enjoyed Gellhorn's independent spirit. She is famous for being one of Hemingway's wives. She should be famous for picking up and doing whatever she wanted all over the world. The book covers trips she took to China (while it was under attack from Japan), the Caribbean (while it was under attack from Nazis), Africa (during regime change), and the Soviet Union (where she visited a literary dissident). Need I add that she took these trips mostly for fun?
My favorite chapter was about her time in China. She visited many of the same places I have and I enjoyed thinking about how in such a large country we all end up in the same places. She was there before the communists were in power and it was interesting to see how much has changed and how much has not.
Though I hate to admit it, I am not a resolute traveler, and this is something Gellhorn and I have in common. But whereas I blame myself for a miserable few days spent in the wrong part of Bangkok (there's a reason western tourists stick to Khao San Road), Gellhorn seems to expect all of the world to live up to her standards. Perhaps Gellhorn and I are too much alike for me to love her. We have perfectionistic expectations and are disappointed when they are not met. Except that I would never have the balls to take off across Africa essentially by myself.
[Hemingway] considered me thoughtfully. "The trouble with you, M., is that you think everybody is exactly like you. – Martha Gellhorn
Reading Gellhorn's interpretations of the world made me crave the chance to form my own opinions in the way that you get to when you are seeing a new way of life for the first time. I think if Gellhorn had described some of her cultural interactions (especially in Africa) for me instead of sharing her reactions to them, I might have spent less time questioning her opinion and more time focusing on her story. I realized that this engagement is essential for me as a reader though I am sometimes guilty of trying to shape a reader's experience rather than trusting them to make their own.
Dispatches from the Edge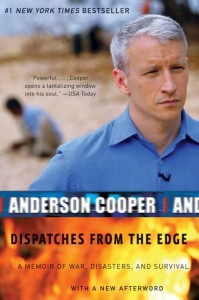 The highlight of this nonfiction binge was definitely Anderson Cooper's Dispatches from the Edge. Cooper found a way to marry a straightforward reportage of some pretty horrific war and devastation with a frank look at the trauma of his own life. For the majority of the book, he keeps his own emotion out of the narrative. He paints the scenes in enough detail that the reader can easily interpret and react to the facts on their own. This book hit exactly the right tone.
On the plane, a flight attendant asks a Sri Lankan passenger if she's comfortable.

"I just lost three people in my family," the passenger says.

"Oh, that's terrible," the flight attendant says, pausing for a moment. "No duty-free then?" – Anderson Cooper
This pulling back on reporting emotion during the most poignant and trying moments is something I learned in grad school, but it still strikes me how powerful omission can be. Cooper trusts his reader to experience regional events like the tsunami in the Indian Ocean and the genocide in Rwanda as well as personal events like his brother's suicide. By not telling us how to feel, he allows for a much more complex array of emotions.
Even as Cooper seems to come into his own emotions during his outrage at the handling of Hurricane Katrina, he carefully balances journalistic distance with the story of his family's relationship to the area. This is a deeply personal book and I found a deep respect for Cooper as a reporter, writer, and human being.
Why I Still Live in the US
I envy those living abroad, but I shouldn't. Living in the US has been my choice. All the things I love about living abroad—the fresh way of seeing, the deepened cultural understanding, and the special feeling of otherness—are transitory.  The heightened awareness that comes with living in a foreign country helped make me a writer, but when new countries become home, my observation curve plateaus until I pick up roots and move again. Settling in one place has helped me internalize those skills and turn them toward subtler contrasts.
In my life, and not always by my choice, the idea of moving to another continent was often tied to the idea of running away. As a result, my enduring feeling of living abroad is restless homelessness and transience—you cannot stop lest the adrenaline fade and all the feelings you are fleeing catch up with you. I don't want to live on that expat edge anymore.
I wanted emotion but couldn't find it here, so I settled for motion. – Anderson Cooper
Of course, escape is far from the only reason to live abroad. Opportunity and adventure have shaped migration patterns since the beginning of time. I am lucky to have had the chance to learn that home can be anywhere you make it, and I have friends who are  happily making homes on other continents on a more permanent basis who I can live vicariously through. But for me right now, the greatest challenge is learning to stand in place and face myself where I am. That happens to be in the US. I may move again someday (my husband and I still cherish that artistic dream of Paris), but when I do, it will not be because I am running away. It will be because I am on steady footing with myself—because I have learned all I can from home and am ready for the next adventure.
If this review made you want to read one of these books, pick up a copy of Magic, Science and Religion,Travels with Myself and Another, or Dispatches from the Edge from Powell's Books. Your purchase keeps indie booksellers in business and I receive a commission.
Summary
Reviewer
Review Date
Reviewed Item
Author Rating