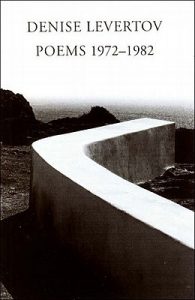 There are many ways I will fall in love with a book.
Mysteries
like
Fletch
wrap me up in their comforting blanket of action. Mind-bending fiction like
The Trial
make me question the world around me and help me learn to see. And then some books unlock the tumblers in my brain and make me want to write.
Poems 1972-1982
by Denise Levertovis one of the latter. This book hit me at just the right time and it's the first thing in a long while that made me put pen to paper on my own behalf.
The Wrong Poetry at the Wrong Time
The book of poetry I read just before Poems 1972-1982, Transfer by Naomi Shihab-Nye did not make me write. Recommended by a friend, I enjoyed some of Shihab-Nye's language. I even related to the way she looked at the world, but her work was almost too close to me. As I read her poems, I kept wanting to edit them, to give them that last gloss that would make them mine. And as I read about her grief, I wanted it to be more resolved. That's not to say that I'm a better poet than she–I'm a complete amateur in comparison–but I couldn't distance myself enough from her work to let it exist on its own. It was almost like that unhealthy relationship you get into with a friend or loved one–the one where you know they could be perfect if they were just a little more like you.
It's possible that Shihab-Nye's work would be perfect for me at a later date when I'm more secure in my own writing, but I was not able to enjoy the work the way I hoped I would.
The Rules of Poetry
Levertov, on the other hand, grabbed me immediately. I've recently finished reading The Body Electric: 25 Years of America's Best Poetry from the American Poetry Review to gain a better understanding of poetry, especially what I like, what I don't, and what I might like to imitate. I annotated the book heavily with little rules about what makes a poem "good" in my eyes. I don't like poems composed mostly of full sentences. I like language that isn't too highfaluting. I like poems that are aware of themselves as poems.
In Denise Levertov: Poems 1972-1982, Levertov breaks every single one of those rules and shows me just how silly I was being. In the first poem of the collection, "From a Plane," she uses the phrase "alluvial silvers" and I wanted to react and say that there's a simpler word, but it was perfect. It was the perfect word for me. I had created some system for an imagined poetry I would someday write that negated all the things I like about me, and here is Levertov just doing what she's doing and blowing my mind along the way.
Fanaticism for Beginners
Of course rules are something that many beginners cling to and proselytize–alcoholics, religious converts, and writers alike–but I'm excited to get beyond that "judging myself and others" phase and into the "judging my work for its own effect" phase. I'll be a little patient for now because poetry is in many ways new for me. I haven't devoted real time to writing poetry since high school and am still trying to shake some of those teacher-imparted rules (start your line with an active word and be sure to capitalize it) out of my head.
Imitation as Flattery
Levertov gave me a good start to writing my own poems in "Metamorphic Journal." She writes:
Let me say
it is I who am a river.
Someone is walking along
the shore of me.
And that phrase, "I who am a river" struck me and stuck with me in my twilight sleep. The metaphor and how she develops it in the following lines wouldn't let me go. Although it was far too late at night, I found a pen and wrote the words, "I who am an ocean" and several lines to follow. My poem–even in its raw state–is and is not like hers, but we are separate enough and close enough that I can see parts of who I might be in her without trying to make her me.
For some lovely synchronicity on this, read Levertov's "Writing in the Dark" halfway down the page here.
Retreating to Write
I'm going on my first writing retreat in a couple of weeks. I swore to myself that I'd use that time to finally piece together the first draft of my next novel. But poetry is calling me and I have a project that I might be feeling brave enough to finally make some progress on. In this moment, in my writing chair where I've spent most of the morning looking for answers in my phone, the idea of delving into any kind of writing for myself seems pretty delicious. Maybe I'll curl up with the rest of Poems 1972-1982 to get a head start.
Will you be celebrating National Poetry Month in April? Please share your plans–reading, writing, or avoiding–in the comments.
If you want to see if Levertov is the right poet for you, pick up a copy of Poems 1972-1982 from Powell's Books. Your purchase keeps indie booksellers in business and I receive a commission.