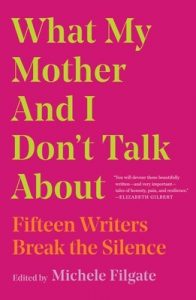 Mother's Day is nearly here and whether you're of the group that posts adorable tributes to their mothers or the one that cringes (or openly shames those posters) because their reality doesn't reflect yours (or you live somewhere in between), this might be a good year to read What My Mother and I Don't Talk About. It was for me. While I especially loved that the experiences represented in the essays therein were diverse enough to reflect mine and also to challenge my thinking, I was also grateful to get new angles on my relationship with my mother and with myself as a mother.
"There is a gaping hole perhaps for all of us, where our mother does not match up with 'mother' as we believe it's meant to mean and all it's meant to give us." – Lynn Steger Strong
Maybe "motherhood" is such a loaded concept because so much of who we are and who we believe ourselves to be is tied up in our relationship with the woman of whom we are borne. For too many of us that concept becomes something we have to work on for the rest of our lives as we grow from infants to children to adults and maybe even parents. It is for me. I think it has been for my mom, too. This complexity made me appreciate the ways in which the writers in this collection worked to understand both themselves and their mothers as separate beings in addition to examining the deeply close relationship between individuals.
"Our mothers are our first homes, and that's why we're always trying to return to them." – Michele Filgate
Individuation is a Bitch (and So Was I)
It took a therapist to teach me the word "individuation" and it took my son to really teach me what the word means. At three and a half he's stretching that individuality in all the ways he's meant to. I can see how it hurts him to rip himself from me and how much he needs to know he's welcome back. I can see how deeply he needs to have that space to become and how much he has no idea that his own actions can hurt, too. It reminds me of both the teen years to come and of my own teen years. I don't think it's fair to call myself a bitch (beyond even the patriarchal implications of that word) but not only was my own becoming hard on me, it was hard on my parents. I was hard on my mom. Our relationship now is not what I think either one of us wants it to be but I don't think either one of us knows yet how to bridge the hurts.
"In their company I find myself turning mute, surly, rude. I become a different person than I know myself to be, a different person than my close ones know me to be. The burden of the unsaid turns my heart into a balled fist." – Nayomi Munaweera
Nayomi Munaweera's essay "Her Body / My Body" about her mother's inability to separate her idea of herself from her daughter hit close to home for me. The conflict is neatly summed up as "she saw no difference between her body and my body," except if you've been in this kind of relationship you know how much that "neat" sentence conceals. While my mom did not wipe my ass until I was 12 (thank God!), I've struggled at times to feel like my mom sees me as a separate being. The push-pull of individuation is so necessary and yet it can be so painful for everyone, it's no wonder that so many relationships break down along these lines. I hope I can do better with my son. Most days I am not doing better with my son.
Mothers are Humans
News flash! The fact that our mothers are human should not be surprising and yet the idea sort of rubs. When we are infants mothers seem purpose-built to meet our needs. As we grow up we grow into meeting our own needs many of us (guilty!) never really turn around and fully look at our mothers as people too.
"I felt so much like her and I wanted to tell her how. But I have made that phone call and it has failed me too many times." – Lynn Steger Strong
Although Leslie Jamison's relationship with her mom is wonderfully close—so much so that she writes how her friends never want to hear about the joy of that relationship, even in closeness there are things to learn. Jamison's essay is about connecting with her mother's former husband so that she can be even closer to the idea of her mother. When Jamison writes "How many times has my mom picked up the phone to hear my voice cracked with tears, only letting it crack once I knew she was there?" she is realizing new depths to her mother and that even the advice her mother has to offer isn't something she's fully inhabited herself. Instead that "wisdom" can be "a kind of muscle memory—something she might have wanted to tell that version of herself."
This is tricky, because if our mothers, the women who represent the pinnacle of humanity, aren't perfect, than how can we ever hope to be?
Brandon Taylor's essay, "All About My Mother" left me with excellent homework. The essay is filled with a gorgeous back and forth about the ways his mother loved him and the ways she hurt him. He's clearly grappling with understanding how both could co-exist, but in the final page of the essay he writes a slew of declarative sentences to describe his mother. I'd say they're simple but they aren't—the ideas are complex and the sentences contradict each other, but they are free of judgment and bring us closer to seeing her as a full human. I know that I can get closer to my mother by trying to see her in the same way. Maybe I'll discover something as remarkable as André Aciman's observance that his deaf mother could understand his masked conversation simply by following the movement of his eyebrows.
I was once my mother's confidante in ways that I did not want to be. In this I related to "Nothing Left Unsaid" by Julianna Baggott which gave me a new lens to view that experience through… Baggott's own examination and growth took me from feeling victimized by TMI to seeing my mother as a woman who might not have had anyone else to talk to.
"It's the fear that I've learned less from my childhood than I should have, that I am more like her than I want to be." – Carmen Maria Machado
The Strength to Mother Ourselves
I first heard of this book during a panel at AWP entitled "Writing the Mother Wound" where a couple of these essays were read. I learned a lot from that panel, not just about writing about motherhood but also about living with my own mother wound. One of the lessons that hit home was from Vanessa Martir who said, "I may be unmothered, but I will always want my mother's love." I realized then that I needed to look into this experience and not run anymore from what isn't working. Because I do love my mom and I want her to love me. I think she does, but there are still voids between the love she gives and the love I want to receive… voids I have to learn to fill myself.
"To grasp that which has hurt you, you must trust it not to hurt you when you let it inhabit you." – Brandon Taylor
In some ways I dream of having Alexander Chee's grown-up experience… the one where he talks to his mom about some really hard things and she helps him rewrite his narrative more fully. It's a door that opened for me this winter when my maternal grandmother (a well of toxicity) died and I finally had a long overdue conversation with my mom. I heard some of the things I needed to hear that day, but I'm still having trouble trusting that our next conversation will build from there. And I fear that this next quote is optimistic.
"There is a difference between the fear of upsetting someone who loves you and the danger of losing them." – Melissa Febos
Other Things I Loved in This Book
There were so many moments in these essays I related to in ways that were not about my mother. From Jamison's description of writers as vampires to Machado's love/fear of toddlers and how children destroy writing to Kiese Laymon's observations that "the folks I've been most harmful to in this country are people I thought I loved." The stark patterns in "Fifteen" by Bernice L. McFadden broke my heart hard and I felt deeply for the woman Dylan Landis's mom could have been (even if only romantically so) in "16 Minetta Lane." I recognized the woman Cathi Hanauer's mother is in "My Mother's (Gate) Keeper" and am still learning from the idea of living with the itch of a mosquito bite. The way Melissa Febos inhabits her mother's lexicon in "Thesmophoria" is pure magic and Michele Filgate's reminder that sometimes the deepest hurt is betrayal was illuminating in ways I won't go into now. The book is rich and the experiences varied. I think readers of all kinds of backgrounds will find something in it to relate to.
What I Really Want for Mother's Day
Since becoming a mother I haven't been the best celebrant of Mother's Day in regards to my own mom. I've wanted to soak up the time and love of my son and husband. I've wanted to enjoy the cupcakes and flowers and uninterrupted baths. This year I've asked them for a trip to the garden store and a planting-a-thon in our gorgeous back yard—my safe haven from the world. But this year I also want to talk to my mom. I don't know what I want to say and I don't know what I want her to say, but I do know that the cord between us is not completely cut, nor do I want it to be. So I'm going to sacrifice some of my guaranteed bliss for a shot at the bliss of mending fences. Wish me luck!
I don't recommend you send your mom What My Mother and I Don't Talk About for Mother's Day, but I do recommend you send it. Start a conversation about something you've never said or about something you've never asked. Talk to her like a human you love, one who you may not have fully recognized as a separate human. I'll bet money hearing from you is what she really wants on any given day.
Your homework is to pick up a copy or two of What My Mother and I Don't Talk About from Powell's Books. Your purchase keeps indie booksellers in business and I receive a commission.