Pregnancy is a time full of joy and wonder. It's also full of terror and anxiety. If you're a writer, add to all that the fear that you may never write again. So many famous women writers chose never to have children and I worried I couldn't balance my all-consuming creative self with creating a whole new life. Sarah Manguso expresses some of this anxiety better than I could in a fantastic essay in Harper's, but I wanted a baby badly enough to try to balance the two. One of the things that got me through the pregnancy and helped me nourish my creative self while transitioning from baby vessel to writer mama was surrounding myself with excellent and thoughtful books about pregnancy and parenthood by writers I respect and admire.
If you are pregnant, thinking of becoming pregnant, or know a creative person who is either, these are the books I recommend to nourish that creative soul while preparing for parenthood.
The Blue Jay's Dance: A Memoir of Early Motherhood by Louise Erdrich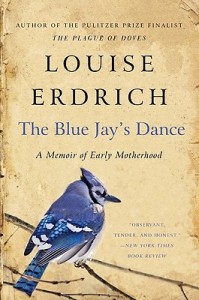 I've written more extensively about this book here. It's a gorgeous amalgam of thoughts and essays about parenthood and writing by Louise Erdrich. She weaves together narratives from her three pregnancies with glimpses of how this National Book Award winning writer manages to write and parent at the same time. The book is also filled with quiet yet poignant observations of nature. The Blue Jay's Dance is an excellent meditation and it's easy to dip in and out of the book as you need inspiration and the comfort of seeing how other writer-parents do it.
Of Woman Born: Motherhood as Experience and Institution by Adrienne Rich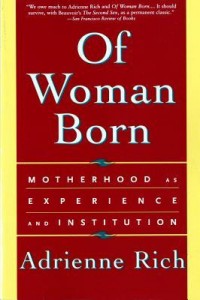 Most famous as a poet, Adrienne Rich is a deliciously rich thinker and this frank look at motherhood and the female experience from a feminist perspective helped me think more deeply about my own life experiences. It helped me understand how to inhabit myself as a woman and it gave me insight into my relationship with my mother. It was a healing book and one that made me think more deeply about the roles all of us play as parents, children, and fellow citizens. I will be a better parent because I read this book. I will also be a better wife and stronger in myself.
While looking at everything from literature to societal norms, Rich doesn't shy away from difficult topics like abortion, but she also does not thrust an agenda upon the reader. This is an excellent book for any woman (or interested man) to read, it's a must-read for any pregnant writer to find her own center and feelings about some very important issues.
Great with Child: Letters to a Young Mother by Beth Ann Fennelly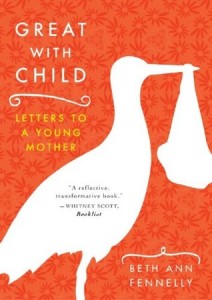 One of the blurbs on this book reads, "The best book ever to give for a baby shower" and I am so grateful that a writer friend gave me a copy at one of my baby showers. Originally written as a series of letters from Beth Ann Fennelly (then a newish parent) to a dear friend, it's easy to feel like you are the dear friend as you read Fennelly's stories about parenting and gentle advice. Advice is such a tricky thing for the pregnant woman (it's everywhere but so rarely does an advisor allow space for the advisee's experience rather than rehashing theirs) and Fennelly gets it just right. This poet writes beautifully about everything from conception to labor, with the occasional book recommendation along the way.
I actually read this book in the week following the birth of my son and in the reading rediscovered all sorts of memories from my pregnancy that might have gotten lost otherwise.
My Creative Work
He's not a novel or a book of poems, but my son, Remy Lucas, was (finally) born just over a week ago. I'm realizing that what everyone says is true—nothing I've read could have prepared me for this experience. But each of these books opened me up to the experience in their own way and helped me think more deeply about this amazing life change.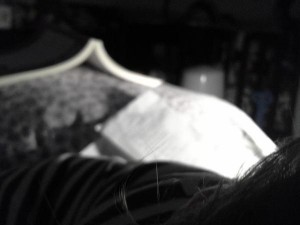 Oh, and I'm still writing. Even with an infant napping in my lap in the hours before dawn. I think, like Manguso, that becoming a parent has deepened the way I experience the world and will continue to do so. It's certainly changed what I write about for now as I'm working on a series of poems about pregnancy and parenthood. I think, with time, that I'll get better and better at incorporating the writing me and the parent me so that even when I write about other subjects, I can carry the things Remy teaches me into my writing.
What books have you read that blend parenthood and the creative life? I'm slowly rebuilding my to-read shelf and need your help…