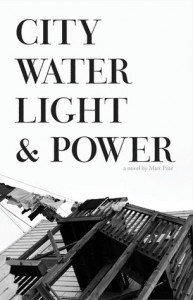 Matt Pine's first novel City Water Light & Power so clearly captures the experience of living in a modern day city that at times I wasn't sure I could go on reading it. The basic gist is that friends Jake and Michelle navigate the city of Chicago as it changes and they do. Touching on everything from urban renewal to mental illness, the book provides insight into what creates a lost generation.
Capturing a City (and a Life) in Transition
The central metaphor that pairs the changes in Jake's and Michelle's lives to the changes in Jake's neighborhood is strong. It's fascinating to read as Jake's neighborhood bar and everything he loves about the place he is living starts to give way to gentrification while he faces a personal struggle with how he fits in the shiny corporate world. You hope that his chances are better than that of his favorite bar, but it doesn't seem likely.
Meanwhile, Michelle seems as wrapped up in the opportunities of urban renewal as she is in her developer boyfriend. Wrapped up in, but also succumbing, albeit in a more socially acceptable way.
If you've lived in a city and worked too many hours just to pay too much money for the roof over your head and a bunch of trappings you're not sure you even want, this book will feel familiar.
Reading for Escape
At times, the book felt altogether too familiar. I don't normally consider myself an escapist reader. Sure, I spend the odd afternoon with Fletch, but usually I'm chasing big ideas from far away. Reading City Water Light & Power made me realize how much emphasis I put on the "far away" in my reading.
I started this book on the bus the morning after the time change. I was running late and feeling frustrated about rushing in to a day that I felt I had no control over. I wanted to meet expectations and be on time, but I wasn't sure what those expectations were and I wondered where I left mine along the way (or whether 20 minutes really mattered to anyone). As Jake works his soul-crushing job doing QA for a call center, Pine does an excellent job of showing just how hard we've all worked to take the meaning straight out of life.
At the same time, Michelle spends much of her time drunk or stoned enough to tolerate her job as a paralegal with a jerk of a boyfriend. There is a glimmer of hope as she gets accepted to law school, but given how much she hates the people she works with, you have to wonder what she's rushing toward.
Reading about the suffering of others gives me a way to think about the way the world works and how we can all work to improve it. It affords me a macro-level view because I can sympathize while maintaining my own experience. Reading about Jake and Michelle hit too close to home. The book is well written, but I found myself wanting to get away from it before I became mired in self pity.
This might be an excellent read if you have better boundaries with books than I do. It might also be good for a reader of a different generation or from a rural area or even another country who wants to understand why people who seem to have it all are so freaking miserable. But if you're in the rat race, it will likely hit too close to home.
A book has to be well written to elicit this kind of visceral response in me, but that doesn't mean that I'm going to read it again soon. Maybe I'll pick it up when I'm old and retired to see what ever I was whining about.
Passive Characters
Passive characters are a huge no-no in fiction workshops, but it often feels like they abound in modern stories and novels. At a panel I attended at AWP, a professor confronted the idea that passive characters can serve as a political statement–to show how oppressive a situation is. City Water Light & Power definitely wants to fall into this category.
And while this sense of oppression is well portrayed, the passivity (especially of Michelle) was absolutely maddening to me. That must have been the point. But the book did not incite me to revolt against my corporate life or the world around me. And for this passive character as political statement thing to have worked for me, I would have had to come out of the book feeling that rush to change rather than the urge to drink myself into oblivion.
What do you think about passivity as political statement? Did Pine succeed when he made me feel stuck or should the book have done something else? Please share your thoughts in the comments.
If you want to see if I'm being a wimp, pick up a copy of City Water Light & Power from Powell's Books. Your purchase keeps indie booksellers in business and I receive a commission.