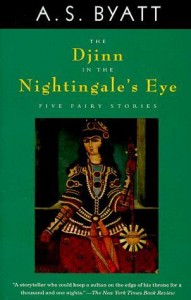 Lately I've been drawn to fairytales and myths. Perhaps I am trying to recover an ebbing capacity for storytelling in my suddenly busy life, and perhaps I'm looking to get lost in the wonder of stories the way I did when I was a kid. Perhaps I'm missing afternoons at Louisa's with Bob and Jack and their emphasis on the mythic journey. When I stumbled on AS Byatt's
The Djinn in the Nightingale's Eye
, I thought I wanted to read it because it spoke to the Arabian Nights, but what I fell in love with was the overall fairytale quality of the book and its five stories and what they told me about being a woman.
The Eldest Princess
In "The Story of the Eldest Princess," the girl who goes on the quest to renew her kingdom is not the most beautiful of the sisters, she is the eldest. Sometimes it feels like our stories are only about the fairest of them all with the idea that everyone else is background. In this story, birth order is more important and princess status is not synonymous with beauty. The princess is not a victim of her fate and is rewarded for trusting her instincts. What I most liked is how the relationship between the crone and the princess spoke to a continuity of femininity and female knowledge that is too easy to ignore.
"There is always an old woman ahead of you on a journey, and there is always an old woman behind you too, and they are not always the same." – AS Byatt, The Eldest Princess
The Djinn in the Nightingale's Eye
There are many things to love about this story and how it portrays women. From the honest lustiness of Gillian (without the silly virgin tremble) to the unveiling of the desires of the Middle Eastern female. What I most loved was Gillian's frank appreciation of her womanhood. When she is confronted with the opportunity to have anything she wants, she most wants to return to her body when she last liked it and that age is thirty-five. Perhaps this is vanity on my part as I am nearing that age and spend more time than I should worried about my "faults," but I liked how the idea of a perfect female body is the body of a woman and not a girl. The djinn echoes this assessment. Though I do worry about the days after thirty-five and I hope I will continue to love my body as it follows the natural course.
"All love-making is shape-shifting—the male expands like a tree, like a pillar, the female has intimations of infinity in the spaces which narrow inside her" – AS Byatt, The Djinn in the Nightingale's Eye
This book helped me appreciate myself as a woman. I loved that both the princess and Gillian are storytellers as I am. I hope my own stories will help future generations of women love themselves and to experience the infinite possibilities available inside the life the Fates assign.
If this review made you want to read the book, pick up a copy of The Djinn in the Nightingale's Eye from Powell's Books. Your purchase keeps indie booksellers in business and I receive a commission.