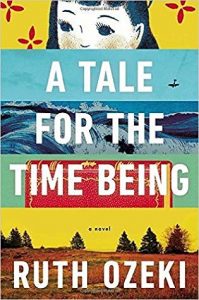 The idea that a book is brought to life by its reader is not new. A writer pours all of the details and plot that they can into a work and then the reader comes along and makes it their own by keying into the things that matter to them and ignoring the things that don't. This conversation and co-creation between writer and reader feels like magic when we allow ourselves to surrender to it. Yesterday, though, Ruth Ozeki took me beyond that magic to make me feel as though A Tale for the Time Being was not only written for me, but was being written for me as I read it. I wanted to go back and re-read it immediately to see if it changed. I also wanted to have you read it immediately to see if it was a completely different book for you. It probably isn't (not really) but it's very much worth a read either way. I'm going to delve into where the magic came from for me. Just go buy the book if you want to avoid my spoilers.
Metafiction Toys with Reality
A Tale for the Time Being is two books in one. The first is the diary of a teenage girl living in Tokyo in the nearish past. The second is the story of a writer, Ruth, living on an island on the west coast of Canada actively avoiding writing her next book, a memoir about her mother's death from Alzheimer's. Now if you look up metafiction, you'll see that the form of authorial insertion is often used as parody. Yes, if you're talking about Kundera. It's also used as a tool to "explore the relationship between literature and reality, life, and art." This is more what you see with writers like Paul Auster and it often feels like a stilted lecture. Weird, but stilted.
Ozeki, on the other hand, brings a rich humanity to metafiction that allowed me to bring my whole being to the book and not just my intellect. I've loved two other books by Ozeki before and I can't recall her ever using herself as a character before, but she did it brilliantly here and it was just the right effect for this book. Part of the reason it worked so well is that she engaged my emotions first. Granted, it was the emotion of annoyance as I met an angsty Japanese teenager, Nao, who I though was being glib about metaphors as she called herself a "time being." I pushed past that (thank God) and kept reading. Ruth's story drew me in more easily because it is, at this point in my life, easier to engage emotionally with a writer who should be writing her masterworks but isn't always. Ruth finds Nao's diary and some other papers washed up on a beach in Canada and begins reading.
Through the relationship of these two stories, A Tale for the Time Being effortlessly whisked me through major events like the Fukushima meltdown, 9/11, suicide, and what it was like to be a kamikaze pilot in World War II, hitting each from a deeply human angle. Because Nao is a Japanese girl who was living in America but then moved back to Japan we also get a Japanese perspective on these events and more which was incredibly interesting and humanizing. There's also lots of Buddhism. In gentle, washing waves that stretched my thinking and made me feel at home. The metaphor that had initially seemed pat expanded gloriously and this book wrapped around me and made me think deeply.
How This Book Wrote Itself for Me
At first it was easy to gloss over the details that were personal to me. Nao's great-grandmother, Jiko, is 104, wise and dying. This year I lost my Djiedo at 104. Like Ruth, I'm a writer living in the Pacific Northwest (and most days I'd rather be on an island). She's married to an artist (as am I). They're both trying to find their place in the world—worried about being too isolated, too in the mix of things, not making enough work or the right work. Ruth had some complicated health stuff with her mom, something I'm navigating this past month (and for the last 30 years). Nao is a complicated, unhappy teen-aged girl (as I once was). And Jiku, a pacifist Buddhist nun, has to navigate her son going off to become a kamikaze pilot in World War II while I've worried about sending my son to war ever since I first heard myself sing "Taps" after "Where Have All the Flowers Gone" in a night of misguided lullabies (that I couldn't seem to stop repeating for as many years as he still let me sing to him).
This is the spoiler part. There is a moment when Ruth opens Nao's diary and finds that what was once written is now blank. That was the switch that flipped for my tired, busy brain and made me think that maybe it was no coincidence that I picked up this book, the copy of A Tale for the Time Being that I was holding, this week, a terribly busy week near the end of a terribly busy eight months in which I find myself writing book reviews at 5am and all that Buddhist balance I've been craving isn't something I've even been able to look for. As Nao sat with Jiko practicing zazen meditation, I felt myself breathe. And it was everything.
I don't know that this book will write itself for you the way that it did for me, but I hope you do have that experience of magic someday. Either way, Ozeki's writing is fantastic, always.
Pick up a copy of A Tale for the Time Being from Powell's Books. Your purchase keeps indie booksellers in business and I receive a commission.