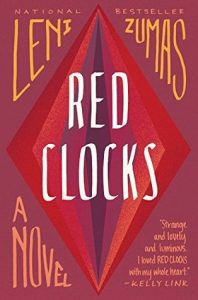 What a couple of weeks to be reading Red Clocks by Leni Zumas. The story of a world very much like ours, an America where nothing has changed except that abortion is suddenly, radically illegal turned from dystopia into reality as Alabama, Georgia, Mississippi, and Missouri began passing deeply restrictive anti-abortion laws. Red Clocks is not just a timely book, though, it's also a gorgeous and thoughtful read, one I'm glad to have had by my side as conservatives chop away at women's rights.
Interweaving Women's Stories
The best fiction is exploratory rather than didactic, and Red Clocks delivers a rich and thoughtful experience. Zumas explores a group of women and girls living life in an Oregon beach town. There's a Biographer and a Daughter, a Wife and a Mender. There's even a female polar explorer, a woman whose life the Biographer is researching and whose interludes beautifully shape the rest of the text. And a wide range of women's experiences with motherhood are illustrated in the text—from infertility to motherhood to unwanted pregnancy. All of this rubs up against a world where women have lost the power to make decisions about their own bodies. I especially loved the inclusion of the Mender as a reach back to the knowledge we used to have about our bodies before that power was given over to men in white coats.
Because the town is small we get to see the characters bounce off of each other in ways that feel real and not forced. We get the see the characters as they seem themselves and as they are seen by others. This adds a depth to the limited third person Zumas uses throughout the book. As a reader I was given just enough distance from the characters to form my own thoughts and emotions—something that made me feel for each of them all the more deeply.
I loved reading this book. I loved the characters and the story. I loved the writing. On any average day, Red Clocks would have made me more proud of my womanhood. Now, though, it made me want to stand up and fight.
Women's Rights are Human Rights
As a child of the 1980s I had no idea until very recently how much misogynist bullshit I had taken at face value and then perpetuated. Women (and only women) running around naked on screen because our bodies are art? That should totally be in every movie. Women doing a lion's share of the child rearing and housework? Yup (though luckily my husband's more progressive than I on that front). The fact that a woman like Anita Hill would get up and lie in front of Congress just to smear the name of a good man? We don't have much power, but when we do it's manipulative and we'll do anything to take a good man down.
In that way I'm grateful to the Trump regime. Because seeing all this crap as a grownup is making me reassess everything. Being pregnant had already taught me that while life is a gift, bearing and raising a child is work and the decision should not be taken lightly. Another way to say that is that I have never been more pro-choice than since I became pregnant and had a child. Even then, though, I failed to really look in the face the things that happen to me every day. The small ways I am ignored and dismiss and ignore and dismiss myself. The big ways that I fail to celebrate the power of my body to make life. Yes, sperm is a necessary ingredient, but sperm didn't cradle that growing creature for 40 weeks as it rearranged my organs and fed off of my body. Sperm can't pull forth the liquid of life to then feed that child for as long as they are willing. I'm not knocking males, I live with two of the best of them. But the fact that I have to even feel like I have to write that last sentence because celebrating women is taking men down says a lot about the baggage I'm still carrying.
While I have felt this awakening in my body, it took the Trump regime for me to open up my mouth and say, "No." My body is mine. Women bear the unique burden of pregnancy. Some women will not survive pregnancy. Some babies will not survive pregnancy or birth. I adore my son and the idea that I could ever have had to make the choice to abort a baby makes me well up with tears, but if a woman and her doctor decide a woman decides that she cannot carry a baby to term, that is her choice to make.
If you can, please help women who are being stripped of the power over their own bodies have access to abortions should they choose. Donate to the National Network of Abortion Funds. I have. And I will continue to.
Shedding Shame
As I raise a small boy, the research I read about how to make him and empowered little human who understands consent often begins with frankness about the body, with answering his questions and naming his parts. Which challenges me. I run around with what's probably an average amount of shame about my body, hating some of the changes maternity brought, unwilling to say genitalia-related words out loud in daily conversation, but I know I need to be better for him (and for me too). So when my neighbor saw me reading Red Clocks with Lauren Harms' wonderful illustration on the front at the bus stop and said, "Is that women's genitalia?" I smiled big and said, "Yes, it's a vulva."
To read about what might happen next, pick up a copy of Red Clocks from Powell's Books. Your purchase keeps indie booksellers in business and I receive a commission.