Elissa Washuta, author of the forthcoming My Body Is a Book of Rules, tagged me to respond to ten questions about what I'm working on. Elissa is a memoirist and member of the Cowlitz Indian Tribe. Elissa is deeply involved with Seattle's writing community including Richard Hugo House. She reminds me always of the importance of community and how very welcoming and generous other writers can be.
1. What is your working title of your book?
It was Murmurs of the River, and the final title is Polska, 1994
2. Where did the idea come from for the book?
Ideas always come from obsessions, don't they? Having spent time growing up in Pinochet's Chile and post-Cold War Poland, I am obsessed with oppression on a personal and a national level. I am interested in the secrets we keep and those we ask others to keep for us.
3. What genre does your book fall under?
Literary fiction.
4. Which actors would you choose to play your characters in a movie rendition?
Assuming a production in English, I'd love to see someone young and smartly vulnerable like Elle Fanning play Magda. It would be fun to see Ryan Gosling explore his meaner side as Paweł and Aidan Turner would make a beautiful Jacek. Because many of the main characters are young, it would also be great to see some new talent in the movie. Fionnula Flanagan would make a wonderful Babcia.
5. What is the one-sentence synopsis of your book?
Thirteen years ago, Magda witnessed the arrest of her mother by the Polish secret police; now, as her country emerges from behind the Iron Curtain, a tip from a neighbor starts Magda on her quest to find out what would make a mother sacrifice her family.
See that semicolon? That's where I cheated.
6. Will your book be self-published or represented by an agency?
Ideally, the book will be represented by an agency. I'm still querying, so if you know someone… let me know.
7. How long did it take you to write the first draft of your manuscript?
The real honest-to-God first draft took me a year and a half. I dinked around with the characters and story in various forms for about two years before that. Polishing the book into its final form only took another 17 or so drafts.
8. What other books would you compare this story to within your genre?
I carried The Lover by Marguerite Duras very close to my heart while writing this book, so there are many similarities between the two. Murmurs of the River is also comparable to Chris Abani's Song for Night (which, not coincidentally, is also inspired by The Lover).
9. Who or what inspired you to write this book?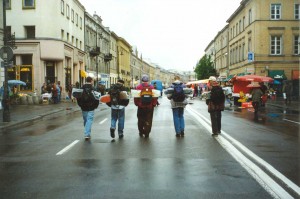 I spent a year in Poland on high school foreign exchange during the 1990s. It was a crazy time after the fall of the Berlin Wall when Poland was trying to become part of the West but was facing some real questions about what that actually meant and if it was a good thing. I fell in love with the people of Poland and wanted to understand what it was like for them to grow up in a closed society. Although my explorations of the Polish experience are fictional, a lot of the peripheral events in the novel are based on conversations I had during the year I spent there.
10. What else about your book might pique the reader's interest?
The Poland I write about doesn't exist any longer. I hope this book tells the story of how it was. I structured the narrative around lines from Czesław Miłosz's poetry and mood in the three sections of the book recalls Chopin's Murmures de la Seine.
Murmurs of the River is a coming of age novel about love, so although it's set in a land and time that are unfamiliar to most, Magda's struggle to define herself inside (and outside) the context of her family is universal.
Next Up on The Next Big Thing
Thanks for your curiosity about Murmurs of the River. Check in with the following writers next week to learn more about their upcoming projects.
Roxana Arama is a novelist, mother, and dedicated member of Louisa's Writers. Originally from Romania, she earned her Master of Fine Arts in Creative Writing at Goddard College and writes in beautiful English. Roxana is one of my favorite people to talk with about editing and how to make the most of the little time we writers have. The spreadsheet she uses to organize her latest novel is legendary.
February 18, 2013 update: Roxana bravely decided her novel isn't ready for public discussion, so she introduced me to Mindy Halleck, who also writes at Louisa's. Mindy's blog, Literary Liaisons, is a great resource for tips about writing and revising. I'm looking forward to getting to know Mindy better through her work and blog and maybe, just maybe, we'll meet in person someday soon at Louisa's.
Kim Brown has a Master in Fine Arts in Creative Writing and a Master of Science in Written Communications. She has published with Chicago Tribune, Today's Chicago Woman, and Contemporary Fashion, among others, and she co-founded Minerva Rising. Someday she will reveal her Jazz Age novel to the world. Kim is like your mom and your best friend all rolled into one and I don't know what I'd do without her.
You may recognize Ann Hedreen as a contributor to A Geography of Reading. She also uses her Master of Fine Arts and writing talent for commentaries on KBCS radio, making documentary films, and teaching the craft to writers of all ages. Her memoir, Her Beautiful Brain, is a heartbreaking story of how a parent-child relationship changes when Alzheimer's sets in. I am grateful to Ann for helping me learn that a creative life and a working life do not have to be separate things.