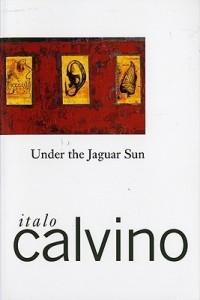 There are a very few authors whose work I love so much that I covet and then hide their books away so I don't read all of them at once. Italo Calvino is at the top of that list. So when my husband gave me Under the Jaguar Sun for Christmas, I thought I'd stumble on it some day in the future when I really needed a good read.
But something he said about the title story and love and adventure made me read the book just a few days later, and I'm so glad I did. I was performing final edits on two manuscripts at the time and if there is ever a time in a writer's life that she needs a good book, it's during those final edits when you think you've done everything you can to a book and need a little boost. I've always loved Calvino, but what he showed me in just a few pages made my work infinitely better.
Be warned: I'm going to spoil (a little) some plots in this review, but I don't think that will take very much away from the pleasure of reading this book for the first time. If you're worried, though, stop reading here and come back and chat with me when you've read the book. It's only 86 pages so don't be too long.
Writing for All Senses
This book was conceived as a series of stories that each focus on one sense. Although Calvino worked on it over a period of 13 years, he only completed three. I'm somewhat embarrassed to say I didn't realize that was the conceit of the book until the end, but that also tells you a bit about how I surrender to Calvino and just let him do whatever he wants with my brain.
It's not uncommon in writing workshops to draft a story that focuses on a sense. I wish I could do it as well as Calvino does and I love the way that his focus shapes the very nature of the story. "Under the Jaguar Sun" is a relatively traditional narrative about a couple visiting Mexico that focuses on taste. The story is gorgeous and well-written, which I'll go into more in a moment, but it didn't prepare me at all for "A King Listens." That second story is a monologue told in second person to you, the reader, the king. The way the focus of the narration shifts from quotidian advice to implications of rumor that breed suspicion and paranoia is flat-out brilliant. It played with the fleeting nature of hearing and how we interpret the implications of what people tell us.
"Epigraphs in an undecipherable language, half their letters rubbed away y the sand-laden wind: this is what you will be, O parfumeries, for the noseless man of the future." – Italo Calvino, "The Name, the Nose."
The third story, "The Name, the Nose" captures the ineffable magic of scent as a man seeks to find the woman who so bewitched him with her perfume. The story plays with the power of our sense of smell to provoke memory and also the way that memory sometimes shifts as we recall it. The way the story unfolds is a huge part of the magic, so that I will not spoil here.
Showing Your Hand
The art of writing, in the hands of masters, is about manipulating the experience of the reader so the words you put on the page evoke what you want them to, even though each person brings his or her lifetime of connotations into their reading of it. Like a magician, one of the ways Calvino does this is by telling you what he's going to do to you before he does it.
This is most obvious in "Under the Jaguar Sun" when the couple encounters Salustiano who becomes a sort of guide. The narrator describes him thusly:
"It was his way of speaking–or, rather one of his ways; the copious information Salustiano supplied (about the history and customs and nature of his country his erudition was inexhaustible) was either stated emphatically like a war proclamation or slyly insinuated as if it were charged with all sorts of implied meanings." – Italo Calvino, "Under the Jaguar Sun"
Okay, that's all a pretty cool description of character. But it's also the key to what the narrator is interested in about the man and about what he's just learned from this character and will soon try out on us.
"From one locality to the next the gastronomic lexicon varied, always offering new terms to be recorded and new sensations to be defined. Instead [of chiles en nogada], we found guacamole, to be scooped up with crisp tortillas that snap into many shards and dip like spoons into the thick cream (the fat softness of the aguacate–the Mexican national fruit, known to the rest of the world under the distorted name of "avocado"–is accompanied and underlined by the angular dryness of the tortilla, which, for its part, can have many flavors, pretending to have none)" – Italo Calvino, "Under the Jaguar Sun"
What Calvino is doing here, besides giving me a wicked craving for guacamole, is deconstructing the sensation of encountering these things so that they are new to us by calling attention to the renaming of the avocado. He's insinuating that the things we encounter that seem bland–the tortilla chips–have a flavor and rich experience all their own. In the context of the story, this passage also has implications about how we fail to appreciate the flavors of our lovers.
Because Calvino is so adept at this sleight of writing, this manipulation expands and enhances the story for me. I enjoy it rather than bucking against it.
Repetition
A friend once told me that things need to be repeated seven times in a book for a reader to really catch on. I'm not sure if that same number holds for a short story, but Calvino definitely uses repetition as emphasis and he does it so subtly that you're constantly re-encountering information without feeling like you've heard that all before.
In the case of "Under the Jaguar Sun," some of the most powerful repetition revolves around Olivia, the narrator's lover, and eating. At first he very carefully observes her eating, following as she chewed "the tension as it moved from her lips to her nostrils, flaring one moment, contracting the next." Later, they are at a temple having just heard about human sacrifice and he focuses on her "strong, sharp teeth and sensed there a restrained desire, an expectation."
The subtle repetition of theme slowly sinks in as you read, and the way Calvino handles eating, especially in relation to Olivia, evolves very quickly throughout the story. What it ultimately says about her relationship to the narrator made me glad this wasn't the story of my relationship. But the story is very evocative and I think we've all been in that place at least once.
I'll return to this book, as I plan to return to all my Calvinos, when I need that boost of writing excellence. Who are the writers who speak to the way you write and who teach you with every word they put on paper?
If this review made you want to learn from Calvino, pick up a copy of Under the Jaguar Sun from Powell's Books. Your purchase keeps indie booksellers in business and I receive a commission.