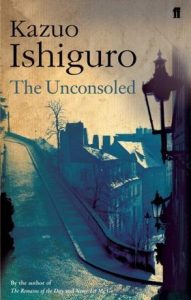 I started reading The Unconsoled by Kazuo Ishiguro because it's one of those really thick hardbacks that's been sitting on my to-read shelf forever, I love Ishiguro, and I'm trying to read through that shelf in the five months before this room becomes a nursery and all the books have to be moved to their new home. What I didn't realize is how much the book would blow my mind or that I was reading it at exactly the right time.
Big Books
As the tote bag goes, "I like big books and I cannot lie." Although I frequently leave them sitting on the shelf for far too long because they don't fit in my purse and a lot of my reading happens on a bus. Ishiguro went with me this week anyway all week because I was immersed in this book.
But what's odd about The Unconsoled is that it's the first book I've seen by Ishiguro that is long. It's thicker than the other three books I have of his (An Artist of the Floating World, The Remains of the Day, and A Pale View of Hills) combined. In fact, I swear I have Never Let Me Go around here somewhere and that fourth book would make the inches just about even.
So what's going on when a writer known for his understatement and his concision suddenly writes a 500+ page tome that spans four days? Something very unexpected. In fact, although I'm no literary theorist, I think Ishiguro was writing a modern version of the nouveau roman.
The Nouveau Roman
What the what? According to Wikipedia, "nouveau roman" was first used in the 1950s to describe the work of a few French writers who were experimenting with form. I think of Alain Robbe-Grillet and Marguerite Duras and the way their work can feel so disjointed that you're entering a new, wonderful dimension.
What happens in The Unconsoled is you think you're entering a novel about a pianist (Ryder) on tour in a strange city according to a schedule he never quite receives, but it quickly unfolds that the book is just as much about the people around him. Doesn't sound too unusual too far, except that the book is really about the people around him. As in, the hotel porter goes on for pages about how his profession has been denigrated over the years in the entire chapter it takes to settle Ryder in his room.
It started out as kind of maddening, but when I saw what Ishiguro was doing by creating these huge, looping speeches where  the "side" characters used so many words to say so few things, I started to understand the effect (and why the book was driving me so batty). From one angle he's highlighting how small the concerns of the townspeople are and how wrapped up they are in themselves while from another he's concealing the trick he's using to disorient readers. Because as readers it's our job to follow the narrative, so we get immersed in this winding tale of nothing and then that winding tale of nothing and we're grasping for information or a toehold at the same time Ryder is. We become the main character.
Meanwhile, Ryder's experiences shift as he's talking with these characters. Sent to make peace between the hotel porter and his daughter and halfway through a conversation with her he starts to recall memories of their life together. Eventually he recognizes her child as his child. But it's not so simple, because this isn't a "big reveal" kind of novel and Ryder continues to have trouble recognizing simple things like the house they shared, so we (and he) are kept disoriented the entire time.
Reading this book felt a lot like watching Last Year at Marienbad which I also find completely maddening—but fascinating. In fact, I still haven't finished the book (I wanted to put it down so many times but these effects are compelling). I had to come here to this blog to chat with you about what Ishiguro was doing to my brain before I could go back into that world and see what (if anything) happens.
Where Art Meets Life
I'm enjoying reading this book right now because Ishiguro is currently out in the world touring his latest book, and I can only imagine that The Unconsoled is actually an artistic expression of what it feels like to be on a book tour. Ryder is in a small, unfamiliar town surrounded by people who are all too familiar with him and have all kinds of wants, needs, and desires of him. He's following along as well as he can but he can't even remember where he's supposed to be. And his relationship with his family (who by now has grown somewhat unfamiliar and distant) pulls at him all the time.
It made me not ever want to tour a book.
I don't know yet if The Unconsoled is about more than that (I still have about 200 pages to read) but I can tell you that this book, like all of Ishiguro's books, is masterfully done. I may not love the feeling of being inside Ryder's world, but I am enthralled by the artistry that created it.
If you want to get lost in The Unconsoled, pick up a copy from Powell's Books. Your purchase keeps indie booksellers in business and I receive a commission.