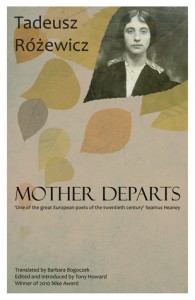 I was offered Barbara Bogoczek's translation of Mother Departs by Tadeusz Różewicz for review I think because of my interest in Poland and, of late, Polish poetry. But what made me read the book this week was flipping through and seeing that mix of shapes of text on the page that belongs uniquely to hybrid forms. Since reading W.G. Sebald, I've been interested in the way writers transcend the boundaries of their genres using hybrid forms and I thought this book might help me experiment with that a bit myself.
What I didn't realize until reading the introduction is that the book is actually a compilation of Różewicz's poetry, essays by his mother and brother, and selected family pictures. The result is a wonderfully polyphonic memoir as the voices harmonize to tell a greater story. And although the emphasis is on the family, the narrative is deeply influenced by the fascinating period in Polish history starting before World War I and ending just after the fall of communism.
On Polish Peasantry
At first reading the childhood recollections of Różewicz's mother, Stefania Różewicz, was somewhat jarring. Her sentences are much shorter than his and her observations more quotidian. But I soon ceased to care about the writing itself because the stories were so interesting and, to me, personal. She was a Polish peasant at the same time that my grandfather's parents were peasants in nearby Ukraine. As she describes how desperately poor the families were – taking babies to the fields and sending young children abroad to work – I started to imagine for the first time the circumstances my family had lived in and why they likely fled to work in Pennsylvania coal mines. I also thought back to stories my adoptive Polish grandmother (from when I was on foreign exchange in Poland) had told me about her childhood. This book made all of those stories come alive for me.
Stefania Różewicz does a lovely job of immersing the reader in her mode of life. And later in the book when she finally owns a purely decorative vase, the exquisite luxury of that one simple object is enthralling. It made me think about my relationship with material objects and consumption for its own sake.
Selected Poems
The language in Różewicz's poetry is relatively simple and his imagery isn't especially evocative. I think without the context of his mother's narrative, I wouldn't have found it at all remarkable. But within the context of her story, his poems come alive. Because I was seeing the Różewicz's story from a myriad of angles, I began to feel like I was a member of Różewicz family.
mother in the photograph
is still young beautiful
smiles slightly

but on the back
I read written
in her hand the words
'year 1944 cruel to me'

in the year 1944
the Gestapo murdered
my older brother

we concealed his death
from mother
but she saw through us
and concealed it
from us
– Tadeusz Różewicz from "The Photograph"
By focusing on the emotional push-pull of sharing and concealing information surrounding the death of Różewicz's beloved brother, I saw both the importance of tacit understanding in the family and the depth of love in that silence.
A Mourning Diary
The heart of the book is Różewicz's "Gliwice Diary" a record of the time he was attending to his dying mother. This section spans just a few months of her decline and yet it conveys the depths of both love and despair he's experiencing as his mother passes slowly away. Some of the most beautiful moments are watching him try to cope with her impending death by making his art ever better.
"I am at rock bottom. That's almost funny. There are no rocks here, it would be hard to explain even to somebody close what I mean. I am at rock bottom. Used up rhetorical phrase, says nothing. And still… I know there's no sense or value to what I'm writing. But I must not scream." – Tadeusz Różewicz
But there is sense to what he's writing and this section struck me as a more emotive and poignant version of A Mourning Diary by Roland Barthes. The death of a loved one is something we all hope never to experience, but most likely will. I was glad to see another example of how a writer can turn even the worst of times into art.
Hybrid Forms
"You ought to be writing one single novel or play or one volume of poems all through your life" – Tadeusz Różewicz
The various viewpoints coalesce beautifully in this book. I think if Różewicz hadn't focused so tightly around his mother, the book would have felt more sprawling. Instead that focus reminded me of Colette's My Mother's House. Mother Departs is certainly less whimsical, but it's no less personal and poignant. And whereas Colette speaks from one viewpoint and completely in prose, Różewicz allows the reader to form his or her own relationship with the entire family. And readers of prose and poetry will find an entry point into this narrative.
If you want to learn more about Różewicz's family, pick up a copy of Mother Departs from Powell's. Your purchase supports a wonderful independent bookstore and your faithful reviewer.