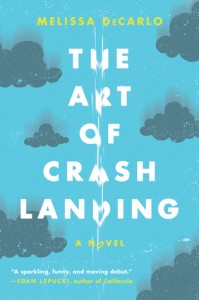 Reading the first page of the review copy of Melissa DeCarlo's The Art of Crash Landing where self-proclaimed "fuckup savant" Mattie Wallace details how long it takes to cram your entire life into plastic garbage bags and outline some of the circumstances that got her there, I cringed. I thought, "Oh, great, a self-indulgent, first-person narrative about how the world done her wrong." But I could not have been more wrong, and instead The Art of Crash Landing turned into a wild ride through a life wasted where redemption and forgiveness burn on the horizon.
Inside a Disaster
Despite my initial misgivings, it's not long before we gain real insight into where Mattie's thirty years of living went wrong as she packs up her car and heads on over to the last friend she has in the world—her former stepfather, Queeg. By the time she shows up on his doorstep pregnant, starving, and out of cash and options (page five), Mattie's voice stopped grating on my nerves and I've started to worry for her. Now that's an art.
There's something about the way DeCarlo unpacks Mattie's experiences—including the death of her alcoholic mother—that made me (and Queeg) want to cradle this wounded bird and nurse her into a better life. Part of it is how much Mattie owns everything that's happened to her—even the things that were way beyond her control. She knows she's bad news. She also thinks she was bad news when she and her mother first met Queeg seventeen years earlier. She doesn't feel entitled to this man's help—she simply has no other choice.
As plots usually go, another choice emerges and Mattie is somewhat shoved by fate to visit the town where her mother was born, raised, and seemingly run out of a long time ago. She runs into characters from her mother's mysterious past and a few ghosts of what could have been, too. The resulting story, always tinged with Mattie's over-ownership of the disasters around her, is a poignant unwrapping of how one person's disaster can take down all their loved ones. It's also a look at how to escape the life you were given and thrive on your own. Most importantly, it's a look at how we all have reasons for becoming who we are—our parents, our grandparents, and us—and how to live in the part of that cycle we have control over.
Pacing a Narrative Race
I should have known from DeCarlo's opening words, "Twenty-seven minutes is, if anyone ever asks, exactly how long it takes to cram everything I own into six giant trash bags" that this book would be fast-paced. What I couldn't anticipate is that at just over 400 pages what a fast read it would be and that it would cover such a short time period—about a week.
When I saw the day markers dividing sections of this book, I did do the math and worry for a minute that The Art of Crash Landing would be filled with a Proustian level of detail, but thankfully I was wrong. Instead, DeCarlo delves into the myriad threads and subplots of small town life that came to make Mattie's mother's life (and consequently Mattie's) what it is. So while on the surface the narrative covers only that short week, it actually uncovers three generations of secrets and daily life—the things that make us all what we are. I won't spoil any of that for you here, but the tight narrative does not disappoint and the cast of characters is round and wonderfully nuanced.
The Personal Side
I'll admit that 86% of my judgment of Mattie comes from the fact that I was watching her wreck her life and the life of her unborn child just weeks after giving birth to my own baby. Plus, coming from a background where I feel responsible for, well, everything, I saw some of myself in Mattie. And I did not like what I saw. Mattie's story fits perfectly in with the narrative of my generation—a generation that far too often had to shout, "I'm supposed to be the kid not the parent."
Reading this book helped me let go of some of the responsibility I feel for the entire world and helped me channel that feeling into the appropriate place—taking responsibility for what I do today for myself and for my child. Which, now that I am the parent, is pretty good timing.
Is The Art of Crash Landing a quick read? Yes. Could it be called "chick lit"? Yes again, but in the best of ways. Despite my initial reservations, I really enjoyed reading this book. Most importantly, I learned something from it.
For a fast read with a lot of heart, pick up a copy of The Art of Crash Landing from Powell's Books. Your purchase keeps indie booksellers in business and I receive a commission.