I may be 10+ books behind my Goodreads Challenge reading goal for the year, but that doesn't mean I'm not reading. I simply haven't figured out how to get Goodreads to count the 100+ times I've read Brown Bear, Brown Bear What Do You See? aloud to my son Remy. Though those readings used to be initiated by me, at fourteen months he's now old enough to bring me a book that he wants read. Even cuter, he sits in front of the shelf in the living room that contains his books and pulls them out, one by one, and reads a few pages aloud ("Da di da ba da") before discarding that book and reaching for the next. The result is him sitting inside a nest of books. He's my son.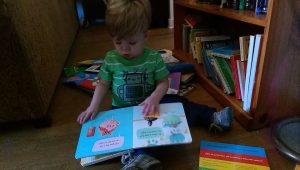 So I thought I'd share our thoughts on a few of the books we read most often.
Mr. Brown Can Moo! Can You? by Dr. Seuss
Mama's Take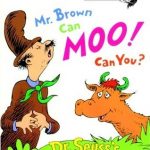 The rhythms of this book are fantastic. It's a lot of fun to read aloud and I think my poetry has gotten better as a result. Making animal sounds is supposed to be a good way to help kids learn language and Remy seems to love when I dig in next to his ear and announce, "BOOM BOOM BOOM Mr. Brown is a wonder. BOOM BOOM BOOM Mr. Brown makes thunder."
What Remy Says
I like the sounds my mom makes when she reads this book. And it's delicious. I ate up so much of one copy that my dad said we had to put it away. That's okay, my mom bought me a new copy. It tastes just as good as the first one.
Little Blue and Little Yellow by Leo Lionni
Mama Says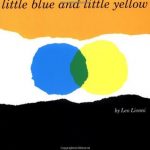 This is one of the books the library very wisely allows parents to take out on loan permanently. We all know what kids can do to books. No one wants them back after they've been out on loan. But the book is terrible. Little Blue leaves the house when his mama tells him not to (after she's left him home alone). He and his friend Little Yellow cry so hard that they meld identities and their parents no longer recognize them. The illustrations appear to be made of torn paper. I don't know why I keep reading it to my son.
Remy Says
Dot colors. Mama's always taking this out of my hands and returning it to me upside down. More dot colors. Friends and play and parents with hugs. What's not to like?
The Very Hungry Caterpillar by Eric Carle
Mama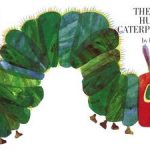 Torn paper done right. I still vaguely remember doing kindergarten projects with tissue paper in imitation of Carle's iconic style and was delighted when my husband wanted to buy a copy that came with a little stuffed caterpillar for our little baby. Though the sentences are a little long and meandering, I love the focus on days of the week and counting and the story's good. Even if it makes me want ice cream cones. We used to read the book with the caterpillar weaving in and out of the holes in the pages. But now Remy's all business and I have to hurry if I want to get to the end. Bonus Eric Carle book is the aforementioned Brown Bear—talk about rhythm and I think the repetition is really good for language learning. I was dreading the day someone would tell me I look like the teacher in the book. It happened. I lived.
Remy
I like the short pages with holes that fit my fingers. I don't know why my mom always wants to talk at the long pages, but this book is the best. Even when she reads it upside down. I even know what plums are. I eat them with breakfast sometimes.
Jacob Lawrence in the City by Susan Goldman Rubin
Mama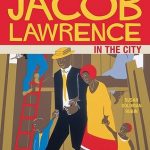 Arty parents trying to expose their kids to arty books can't really go wrong with this book. The author does a good job of incorporating a blues rhythm into the text and I enjoyed getting to know more of Lawrence's work. There's also a book in this series that uses Magritte's work that is more imaginative but the text and images in the Lawrence book work better together overall.
Remy
Flip, flip, flip. People in the city. Next book.
The Game of Mix-Up Art by Herve Tullet
Mama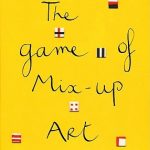 Speaking of arty books, I adore Tullet's books. I sometimes fantasize about my husband becoming a childrens' book illustrator and these books feed that fantasy. This one doesn't have any words, but it's filled with abstract illustrations cut at odd angles and I like seeing what picture Remy will make with it next. You may have heard of Press Here which is a super fun book to read and I think will get better as Remy gets older. My least favorite Tullet so far is The Game of Red, Yellow and Blue. The color combinations are okay and I like the shape cutouts, but the "Fab-racadabra" rainbow carnival at the end does not translate well into English.
Remy
Lines go with dots go with squiggles. I could flip through this book all day. I have a favorite picture picked out, but I flip back and forth because it seems to make Mama happy.
Counting with/Contando con Frida by Patty Rodriguez and Ariana Stein
Mama Piensa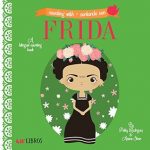 One of the things I've been trying to make sure Remy gets is exposure to other languages. I started reading him Garcia Lorca really early on and when I saw this adorable little book, I thought it would be a good chance to learn to count and for me to get my tongue around Spanish in ways that we could both practice. The illustrations are so attractive and I liked the book so much that we now have all of the books in the series. Probably the second best is Lucha Libre Anatomy/Anatomia and not just because I like shouting "ombligo!" on the belly button page.
Remy Dice
Frida is beautiful. She isn't on all of the pages, but I know which pages to turn to so I can see her face. I used to kiss this book, but now I'm trying to be less obvious. On the page with five portraits of her, I like the one best where she looks like an Eskimo. I don't know who that dude with her in the middle portrait is, but I could take him. I love pressing each of the tres flores in her hair over and over.
Bear and Ball by Cliff Wright
Mama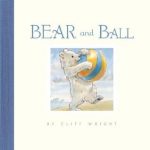 This is another book I liked so much that I bought everything else by Cliff Wright I could find. It's a very simple book with just a couple of words on each page that match the illustration. Still, Wright achieves a kind of story with the pictures and I love the summary at the end where you can see all the pages at once. The rhyming is nice, too.
Remy
I like to bring this book to Mama because I can understand the words she uses while telling me the story. It's a good substitute for when we can't play with an actual ball. And it's not so long it's boring. Ball. Ball. Ball. Maybe those squiggles below the pictures actually mean something.
Guess How Much I Love You by Sam McBratney
Mama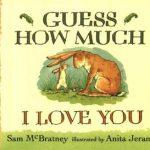 I knew this book was a classic and I loved the sentiment of not being able to quantify the amount of love a parent has for a child. What I wasn't prepared for is how competitive it is. Geez Big Nutbrown Hare, just let your kiddo have the upper hand one time fer Chrissakes.
Remy
I like the way Mama snuggles me when she reads me this book. I don't know why she always cries at the end.
Sharing Our World: Animals of the Native Northwest Coast by Ian Reid
Mama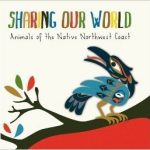 One of the wonderful things about having a community of people around you when you have a baby is that they expose you to new things. I've always resisted Native American art because I didn't understand it. But a Native friend gave this book to us at a baby shower and I love learning about the iconography of Native Northwest coast tribes and also some of the lore that accompanies it. Like the books says, "Raven teaches us to be clever and creative" and I'm really glad my son will have some exposure to a culture that's very important in the area he calls home.
Remy
Caw caw. The black bird in this book also flies past my window every morning and every night. I point at him whenever I see him flying with his friends.
A is for Activist by Innosanto Nagara
Mama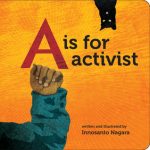 Some books are written for parents. This is one of them. I'm a socialist. I'd love for my son to be politically involved and try to make the world he lives in a better place. I don't often read him this book, though, because there are a few things I need to teach him before he absorbs messages like "No! No! No! Yes to what we want. No to what must go."
Remy
No! No! No!
Thanks for indulging this new mom. Reading is one of my greatest pleasures. And although I probably won't finish that Garcia Lorca or the Wallace Stevens I just ordered anytime soon, snuggling with my son while he learns about the world is a pretty great substitute.
If you're hunting for board books or anything else, I always recommend Powell's, and not just because I receive a commission when you click that link.