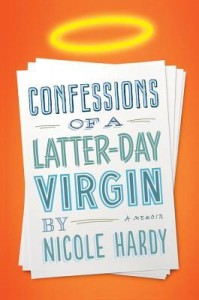 If I told you
Confessions of a Latter-Day Virgin
by Nicole Hardy was about a single, Mormon woman wrestling with her faith and her choice to remain a virgin, I wouldn't be doing the book justice. Saying that it's a memoir based on her touching
Modern Love
column might lead you to think the book was more about throwing off that faith and rebelling in the big city. But that isn't true either. Let me explain…
About the Mormon Thing
Bur first, here's my confession. I grew up with a lot of Mormons, but not the pious-types; instead, I ran around with the Jack Mormons. The first boy who broke my heart talked for months about how we would lose our virginities to each other, and then he slept with someone else. His brother swore he'd pledged his love to me with his CTR ring, but that had to be some other girl, too. So a tiny, ugly part of me hoped this book would reveal stories of weird Mormon conspiracies.
Instead, Hardy paints a loving picture of her childhood faith, even when you can tell she feels rejected by the doctrine and the way that "questioning feels, to them, like betrayal." I won't spoil the tender ways she deals with her faith. If you're looking for a tell-all Mormon bashing, this isn't that book, but you should read it anyway. She reminded me of the humanity of the church and how, a very long time ago, Mormon missionaries helped my family get life-saving vaccines when we were far from home and how they made us part of their family. Reading about someone parting with something they still love so deeply is much more nuanced and interesting than a hate-filled tell-all, and I learned something about compassion from the way Hardy handled the church.
What Does it Mean to be a Woman?
Hardy wrestles with many of the same issues all women face. Will I have children? Will I find someone to love me? Will I find someone I love and will I learn to love myself? And the stakes are raised by her Mormon upbringing with its expectation that the fulfilling life for a woman is as a wife and mother. Hardy writes, "There cannot be only one way to be a woman. My identity cannot be something I've never felt." I loved the way she explored myriad paths to self-fulfillment and how she never impugns others for their choices even as she makes different ones.
"Not everyone has been raised to believe silence should accompany doubt. Not everyone has been raised in a culture of perfection: they don't see a benefit in the shellac required to keep up appearances." – Nicole Hardy
Dealing with Sexuality
One of the things I loved about this book is how unabashedly sexual Hardy confesses to being. From reading The Joy of Sex in fifth grade to becoming captivated by a discussion of frotteurism while at BYU, she writes openly about the sexuality that most girls feel but aren't supposed to talk about. She shares her desperation and her successes and failures as she dates, still in search of the one. The book is open without being salacious. Of course I wanted to know if she finally lost her virginity, a question I felt revealed a lot about the weight that virginity carries, and I was glad she gave me the space to contemplate my cultural prejudices rather than immediately satisfying my curiosity.
Story of Becoming
"This is how it feels to stand at the precipice of a different, dreamed-of life. To know, even as it's happening, that this is the day that changes everything." – Nicole Hardy
Confessions of a Latter-Day Virgin is also the story of becoming a writer, and the day that Hardy decides to apply to Bennington, she writes simply, "There is a master of fine arts program for creative writing, which admits nine to ten students per genre twice per year. I decided to become one of them." I wanted to stand up and cheer for her and the matter-of-fact way she embraced herself as an artist.
It's also the story of becoming Nicole. You should read for yourself about the brave choices she makes along the way and how she becomes more and more of herself with every one. I learned from her courage every step of the way.
But What About the Writing?
True story: I was so immersed in reading this book on my way to work that I read it all the way from the bus, up the escalator, into the building and to my desk. And then I wanted to hide in the bathroom and read it some more. The writing is good and the story is engrossing. I was sometimes thrown by the use of present tense in flashback, but that didn't interfere with my enjoyment at all.
Whether you're a Mormon housewife who chose kids and the church at a young age or a proudly heathen and poly-amorous (or anyone in between), you'll be touched by this funny, sweet, and candid book and you'll fall in love with Hardy at the same time.
If this review made you want to read the book, pre-order a copy of Confessions of a Latter-Day Virgin from Powell's Books. Your purchase keeps indie booksellers in business and I receive a commission.
Summary
Reviewer
Review Date
Reviewed Item
Confessions of a Latter-Day Virgin
Author Rating