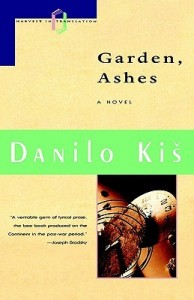 I have read a lot of books about the Holocaust. Memoir and fiction, books set in World War II Europe and in the US before and after. But until reading Garden, Ashes by Danilo Kiš, it had never even occurred to me that a book could be written about Yugoslavia during the 1940s without writing directly about the war. This story of a young Catholic boy, Eduard Scham, who loses his Jewish father, Eduard, attempts to focus so directly on the personal that the historical context is nearly absent.
Are All Holocaust Books the Same?
When I said I've read a lot of books about the Holocaust, I mean I've read so many that I've lost count. In my early teens I was so interested to understand the depths of human depravity that I read every Holocaust memoir and novel I could get my hands on. Kids in school called me a Nazi because I carried around a copy of The Rise and Fall of the Third Reich for weeks trying to understand the history as well as the personal stories.
But aside from a few snippets of Anya by Susan Fromberg Schaeffer and images of a Jewish girl dying her hair in a barn from a book whose title I can't even remember, the stories ran together in my mind. Each ghetto was individual. Each child who was saved or died was an individual with a full life of potential. But I could not then (and cannot now process) that many individual horrors. The events are too big. The lives lost too many. The closest I've come in recent years was reading Tadeusz Borowski's This Way for the Gas Ladies and Gentlemen back to back with Fatelessness by Imre Kertesz and letting myself be jarred by the juxtaposition between Borowski's story of unloading prisoners at Auschwitz and Kertesz's description of being unloaded.
So no, all Holocaust books are not the same, but I can understand Kiš's desire to try and tell a different kind of story.
How do You Write Around the Holocaust?
"You can't play the victim all your life without in the end becoming one." – Danilo Kiš
My absolute favorite part of Garden, Ashes is the first chapter. Kiš begins his book with a description of summer days and Andi's mother carrying in a tray of honey and cod-liver oil which he describes as the "amber hues of sunny days, thick concentrates full of intoxicating aromas." This first passage ends with how the children would on rainy days, "sad and disappointed, hating to get up, we would back under the covers to sleep through a day that had started badly."
This contrast between sunny and rainy days continues throughout the first chapter and I realized (too late perhaps) that Kiš was building a metaphor. He's telling a story that ever so subtly illustrates the differences between life before the war and life during the war. When he writes about how Fraulein Weiss could not be killed–not by the Titanic, her suicide attempt, or the numerous carts that had run over her–he is writing about surviving through the worst whether you want it or not.
Then the chapter, yes, this is all in one short chapter, turns toward the last days of summer when the leaves are changing color and Andi's mother "had a peculiar presentiment about the advent of autumn" that leads them to jump on the last train and then "the dark cloud was upon us and rain began to patter down." When they return to town, Kiš begins to use military language like the "signs of autumn's offensive" that surround them. And then his mother announces the death of an unknown uncle and it seems as though the rest is inevitable.
By continuing to use metaphors, Kiš manages to write an entire book about this family and their experiences in the war that hardly ever mentions the war directly. I began to notice moments when he mentioned his mother but not his father. I felt fear and dread every time a train journey was mentioned. When Andi describes how his relatives are leaving, I wonder if they are going into exile or being deported to camps.
Is Kiš Successful?
"The eternity of the world and the worthlessnes of my own life within this enormous passage of time had become obvious, almost palpable." – Danilo Kiš
I found this book maddening. The metaphors were amazing and the writing was gorgeous. But there were moments I simply wanted to know what was happening. The historical context is there, imprinted in our minds. But still, I wanted the personal details. I looked for direct mentions of the war, of which there are very few, and clung to them like a buoy. I wanted to know how Andi who clearly had a Jewish father avoided being picked up by the Gestapo. I had trouble distinguishing between his father's emotional absences and his physical ones.
If you are a more careful reader than I am, one who absorbs information over time, Kiš will knock your socks off with Garden, Ashes. I have a feeling the book is rife with metaphors I'll never uncover. But even with all the context I have on the Holocaust, I needed this book not to tiptoe as much around the topic. I needed to not wonder whether Eduard Scham had survived or not.
I think Kiš really wanted to create a new kind of narrative about the Holocaust, one that was about life and not death. I admire that. I really do. But some things are too big. We do not have to allow ourselves to be crushed by them, but we do have to look at them head on.
If you want to see how to write around traumatic events, pick up a copy of Garden, Ashes from Powell's Books. Your purchase keeps indie booksellers in business and I receive a commission.
Summary
Reviewer
Review Date
Reviewed Item
Author Rating