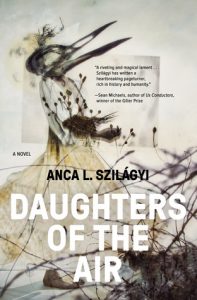 A good book opens you—to worlds you would never know, to the experience of being human, to yourself. Daughters of the Air by Anca Szilágyi did just that. This story that touches Argentina's Dirty War, the gritty days of Brooklyn, and what it's like to be alone in the world before your time shows, through one family's experience, how tragedy and political upheaval can upend lives and alter forever the future we once thought we had.
Writing About Argentina's Dirty War
Daughters of the Air is not the same kind of blow-by-blow story of Argentina's Dirty war that Liliana Heker's The End of the Story is. Though Szilágyi gives us glimpses inside the politics and even the arrests, the story is for the most part one or two steps removed from that main action, and I was glad for the freedom to explore that this separation allowed Szilágyi. Instead of detailed accounts of rallies and resistance, we encounter the fear that surrounds a family and how that affects them for years to come. Rather than a peek inside the torture chambers, we see the moment of flight and what comes next for the exiles. Daughters of the Air is stronger for this separation which also allows Szilágyi's story to migrate to Brooklyn.
A Teenaged Girl Alone in 1980's Brooklyn
Basically abandoned at a boarding school in Connecticut after her father disappears from his Argentine university and her mother shuts down emotionally, Pluta takes flight one evening by jumping into a car with a strange young man and heading off to Brooklyn. If the previous sentence reminds you enough of your hot-headed experiences as a young person to bring up some terror-related bile, you'll know how I entered this book. I will not tell you what happens next, but I will say that Szilágyi pulls no punches with Pluta's experience as a teen on the streets of a pre-hipster Brooklyn.
What I respect greatly about this narrative, though, is that while Pluta is victimized, it's never quite what I feared—Pluta is no Law & Order: SVU-style victim who gets smacked down by life and exists only as the object of rescue. Instead, she makes active choices that have actual consequences. As a mother and a former wild teen, this story line was heart-rending to read but I had to admire the strength of the character inhabiting the decisions she made. No matter what happened the page before, Pluta was always trying to make the best choice she could to make a life for herself in a world where all of those who should have been protecting her were gone.
I found myself wanting to shake Pluta's mother from her stupor. A reaction whose violence I can only credit to the tension Szilágyi builds in this book. Equally so, I wanted to wrap Pluta in blankets and save her from herself and the world, but I don't think this steely character would have allowed it. She has her own path to walk and she will not stop until she's reached the end on her own terms.
Enter Magical Realism
And then something completely unexpected happens. I won't detail it here (because I think knowing in advance would spoil something for you), but I will say that the element of magical realism surprised me and I wish I understood it as more than a metaphor. Part of this is my own expectation as a North American reader because I had a similar reaction when Dylan in Jonathan Lethem's Fortress of Solitude began flying (literally) around Gowanus.
I think Szilágyi was experimenting here and trying to stretch me as a reader, which I appreciate, but I wasn't fully on board. Perhaps I read too quickly to fully grasp the nuance of this element, but I was left wanting the implications of this element to be explored a bit more than it was.
Stasis in Perfection Lies
I wasn't sure after finishing Daughters of the Air that I liked the feeling of reading the book, so for my very next read I pulled Emily Ruskovich's Idaho off the shelf. From the first sentence this story of the world after a mother has killed her daughter is textbook perfect. The structure is well-architected, the prose cleanly constructed and Ruskovich doesn't shy away from fully imagining and confronting a difficult topic. And yet Idaho completely failed to move me as a mother and as a writer.
Putting these two books side by side made me realize I want to read a book that pushes me so far beyond my own experience as a human and a writer that I'm already off the cliff and halfway to a crushing death before I realize what's happening. Daughters of the Air took me there. Idaho did not.
Daughters of the Air is not a perfect book, but that's where its beauty lies. Instead of telling a pat story, Szilágyi reaches into her treasure trove of fiction-telling tools and weaves a story different than any I'd ever read before. The narrative surprised me, the gravitas shocked me, and the fantastical elements challenged me—all of which made for a worthwhile read and will make me a better writer. Daughters of the Air showed me that I've become much too safe with my own writing and that I must push myself into new depths and new experiences to create work that is meaningful to me. I must shove off the idea of perfection and instead begin, again, to explore.
If you want to read a book that will surprise and challenge you, pick up a copy of Daughters of the Air from Powell's Books. Your purchase keeps indie booksellers in business and I receive a commission.