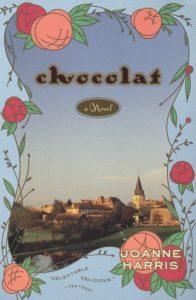 Some nights I miss Baba more than I can bear. I'm surrounded by wonderful memories of my grandmother and I know she was ready to die. Still, although it's been nearly two years since she passed away, the grief sneaks up on me. This happened recently as I encountered the character of Armande Voizin while reading Chocolat by Joanne Harris. This review contains spoilers…
Every Character Has an Arc
That every character should have an arc is common knowledge among writers—whether they abide by the rule or not. One of the things I love about Armande is that we encounter her at the end of hers.
I've written before of AS Byatt's quote, "There is always an old woman ahead of you on a journey, and there is always an old woman behind you too, and they are not always the same." Armande answered the question of primary motivation ages ago and each of the questions she is faced with throughout Chocolat is decided based on the person she became.
The Wisdom of Experience
Armande is the crone of fairytale and like any old witch, she developed a lot of wisdom along the way. She imparts this wisdom in gentle ways throughout the novel.
The wild Vianne Rocher who blows in on the wind and follows her own whims is in many ways a younger version of Armande. Vianne faces much opposition in the town, but the presence of Armande—who recognizes Vianne as a witch and proclaims herself one—shows Vianne and the reader that another life is possible even in the strict confines of a small town.
The wisdom Armande had to impart to me was acceptance. Like Baba, she lived a long, rich life, and at the end of the story, she is ready to leave the earth. Armande prepares a final feast (like my grandmother, Armande is diabetic and she has gone off her insulin), as a celebration. She is not coy about her purposes, but she does not tell everyone. She only tells those who have the life experience to understand her—Vianne who saw her mother's health decline and Guillaume who let his ailing dog hold on too long.
Reading about this final banquet, I see how it could have been for Baba. The last time I saw her was at a weekend of parties with the whole family in attendance. It was my grandfather's 95th birthday and their 65th wedding anniversary. She whispered something in my husband's ear and I waved goodbye at the door. The grandkids gathered at the airport and toasted family and life.
Though I am grateful for every moment Baba was part of my life, most days I try to forget the last time I spoke with her. It was a few months later on my birthday and my aunt helped her make the call. We knew she was dying and it was wonderful to hear her voice, but it was awful to hear her incoherence and to know how long her body had been failing. She wasn't the person I remembered and it scared me how scared she sounded.
Rewriting an Ending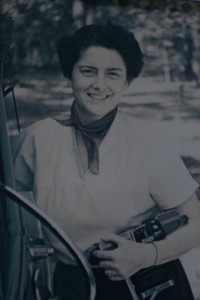 Most of us do not get to control the terms of our own exit, but I'm rewriting the story of Baba's death. After that weekend of parties, she went home and ate a gallon of butter pecan ice cream. She snuggled up with her husband of 65 years and said goodnight one last time.
It's an imperfect scenario. She would have missed the birth of her first great-grandchild—an occasion I'm certain gave her great joy—but she also would have been at peace. Maybe part of Armande's wisdom of acceptance is that life is full of tradeoffs.
I am looking to Baba's memory tonight for guidance on a comparatively trivial matter. I sit in my office surrounded by things that were once hers sipping wine from a glass that belonged to her mother. Maybe it's time for me to take all the wisdom she tried to share over the years and find my own story arc.
Good night, Baba.
If this review made you want to read the book, pick up a copy of Chocolat from Powell's Books. Your purchase keeps indie booksellers in business and I receive a commission.