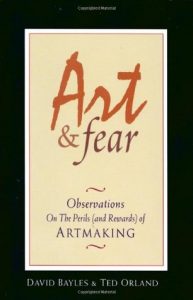 It feels like a long time since I reviewed anything here. It's been even longer since I wrote anything I consider creative or good that isn't a blog post. There are lots of reasons for this–things like marketing a book, changing a job, and getting my life in order all take time. But the big reason, as I've come to realize this weekend, is fear. So I turned, as I have so many times before, to this slim little volume called
Art & Fear
by David Bayles and Ted Orland.
Identifying the Problem
When I was talking to my husband this weekend, trying to figure out why I sometimes feel lately like I am hollow or don't have a voice (wow, that looks so much smaller, more manageable in type–I should have started blogging earlier), the conversation inevitably turned to fear. Fear of failure. Fear of success. Fear of being seen for who I really am. Fear of not being seen for who I really am… the list continues.
I should have known (by now) that fear had become a problem because I was feeling paralyzed in a somewhat similar way to how I feel when three salespeople flank me at Best Buy (BTW, if we ever happen to see a war, I might not be the best person to have your back), except for much, much bigger. And I've been flailing. I've made some big declarations about what I'm writing on social media. While they often sound self-congratulatory (which I hate), they are for me–to remind me what it feels like to believe I can do good work.
And so it begins, with paper and pen, the second novel that so scares me. Time to jump in. #amwriting #screwthesophomoreslump

— Isla McKetta, MFA (@islaisreading) July 5, 2014

I've been making equally big declarations about not writing. Because I need to admit to myself that I'm not.
If every book I read influences my voice, who do I read to sound like myself?

— Isla McKetta, MFA (@islaisreading) July 6, 2014

Note that those tweets are from the same day. The ups and downs for me is a symptom of the fear. This is how I am when I don't feel grounded in myself–which means my work.
Art & Fear
Of all the amazing books my husband brought home from art school (Motherless Brooklyn, White Noise, City of Glass and more), Art & Fear has to be the most useful. It's written by two artists and it's written for practicing artists (as opposed to the genius-types that we like to put on pedestals and assume they have no struggles). It delves into the feeling of creating work and, more importantly right now, the feeling of not creating work. They write simple phrases like, "There's a painful irony to… discovering how frequently and easily success transmutes into depression" and "tolerance for uncertainty is the prerequisite to succeeding." They remind me that "Art happens between you and something" and that it is only by producing quantity that a perfectionist like me has any hope of producing quality.
Art & Fear covers fears you might feel about yourself and your work. It covers fears you might have about others and the art world in general. It's so comprehensive and concise. And it's insightful. And I think everyone should have a copy for the harder days.
The book is 122 pages and I read the whole thing over again in just over an hour last night. It has to be the third or fourth time I've read the book and I'll go back again when I feel this way. Because it always gets straight to the heart of what I'm feeling and why. It reminds me that the very things that make it hard for me to write are the things that make me a great writer (writing that I'm a "great" writer was a bit of an exercise for me there and I want to delete it but I'm leaving it).
One of the many things I love about being married to an artist is that he sees this struggle in me and he can relate. I hope I won't wait for him to point it out next time before turning back to the book, but any way that this gentle reminder of the fact that the fear is both normal and motivating makes it into my hands is a gift and I'll take it.
So What's My Deal?
"Artists don't get down to work until the pain of working is exceeded by the pain of not working." – Stephen DeStaebler
Now that I'm coming out of this funk a bit, I can look at what the causes are and see what, if anything, I can do to avoid it next time.
Starting Over
"The depth of your need to make things establishes the level of risk in not making them." – David Bayles and Ted Orland, Art & Fear
I made a book this year! I made two! And then I was empty. I've written a little about this in the past few months, but I spent so many years honing Polska, 1994 that I cannot remember what it is like to start a new project. That's been really, really scary. And I'm trying to push myself even farther with the next book, which makes it scarier still.
Starting a New Job
"Lesson for the day: vision is always ahead of execution–and it should be." – David Bayles and Ted Orland, Art & Fear
I was recently hired at this really fantastic company (Moz) that deeply cares about my success and me as a human being and they want to pay me to write. That's both an enormous gift and a whole lot of pressure (especially for someone who trucks in hiding behind her work–something that's already been noticed and mentioned to me in a helpful way). I'm trying to live up to it because I know how rare this opportunity is. But aside from the exhaustion that comes from learning all the norms of a new culture, I'm also terrified that the faith they have placed in me is mislaid. I guess I feel a little like an imposter about to be found out. For my first big project, I'm investigating some things that are deeply exciting for me, but the farther I stretch, the more concerned I become that the work isn't good enough or right enough or right for the audience. And despite the fact that I'm working inside a framework where it's safe (and encouraged) to talk about these things, I haven't yet opened myself to that process.
"The seed for your next art work lies embedded in the imperfections of your current piece." – David Bayles and Ted Orland, Art & Fear
So this week my homework is to talk with this wonderful group of people about how I feel. It's to be brave about what I think my failings might be and to ask for help. It's to accept that I will fail (if I've gone far enough) and to trust that I can get up from that and do better next time. That all looks so good in type…
Approval
"Courting approval, even that of peers, puts a dangerous amount of power in the hands of the audience." – David Bayles and Ted Orland, Art & Fear
Putting my books out into the world is part of their natural life cycle. It's also exposing them to judgment. That's hard, but I can man up and accept it's part of the deal. Starting a new job is putting myself out there and it's exposing me to judgment as I worry I can only disappoint.
I am smart enough about myself to know that changing jobs right after putting my artwork into the world was going to be treacherous. But this opportunity was too great to pass up. One of the things about me that works as an artist is this insane ability to get deep inside myself and my work and only care about what I think. But I don't get to do that right now. Instead, I'm presenting all my fingerpaintings to the world and asking for them to find value in them by buying my book or signing my paycheck. It's okay. It's normal. But it's going to take me a little while to find myself in the process and find the comfort zone where I am in charge of my own judgment again. Where I feel strong enough to open up and receive the kind of feedback I need to grow without it feeling like my underlying worth is being challenged.
Postscript
After writing the bulk of this blog post, I had an epic conversation with one of my closest friends. We talked about a lot of things I've written about here and about some of the ways they manifest in our lives overall. I'm lucky in my life to have a few of those people (including my husband) who intrinsically get me and whom I trust to challenge me. They help me be stronger and more myself in the world at large. I just want them to know how grateful I am for that.
Growth is hard, but it's worth it. And it's easier when you have a good support system. I feel very lucky in that regard.
Oh, and I've re-started my second novel. That's what the first tweet was about. I'm scared as hell but I won't let that stop me from making good use of the notebook I've put into my purse just for that project. Wish me luck!
If you need some help navigating Art & Fear, pick up a copy from Powell's Books. Your purchase keeps indie booksellers in business and I receive a commission.