It's the time of year to reflect on existential questions and lay out splendid plans to enact the lives we dream of. This makes it the perfect time to talk about books, two of which have been guiding my own thinking these past days: Dreams Under Glass by Anca Szilágyi and A Line in the World by Dorthe Nors. These two very different books took me on a tour of the struggles to make a meaningful life and the complexities of arrival in the place you think you want to be.
Dreams Under Glass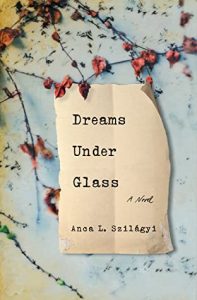 In Szilágyi's engrossing novel, twenty-something Binnie is grinding through her workdays as an underpaid paralegal at a law firm while living a second life planning Joseph Cornell-inspired artworks in her mind. She gives up a rent-controlled apartment to spend less time commuting to have more for her artwork, but she often struggles to make the commitments to the work itself that would allow her to finish a piece (and thus potentially capitalize on some connections that could turn her fortunes). It was sometimes painful to watch Binnie's choices, mostly because I've been there and the hours we spend on things besides art (hello, Twitter) are easiest to quantify and lament from the outside.
"The hot floor would contain vats of steaming black coffee, a bitter stink of burnt grounds and toner fumes. Wallpapering this floor would be documents from tobacco companies, dizzying red text printed on pink paper. Perhaps here we'd have moaning figures, neckties draped over their shoulders, parched mouths panting at the vats of coffee, unable to drink." – Anca Szilágyi, Dreams Under Glass
Szilágyi delves deep into Binnie's ideas, which made the inside of Binnie's mind the most fascinating part of this book as we experience the visceral details of artworks the world may never see. Binnie draws inspiration from her struggles in a dysfunctional, capitalist workplace and from a well of knowledge about Cornell. In fact, Cornell almost becomes a character in the book as Binnie draws upon his memory while planning how to arrange her squirreled objects and I learned a lot about the artist, despite having taken a lot of art history classes back when I thought visual art was my future.
I won't reveal the major shift that happens toward the end of this book, only that there is one and that I'll never think of the color turquoise quite the same way again.
One of the more touching aspects of Dreams Under Glass is Binnie's relationship to her boyfriend, Gary. Although he seems clueless about her art, he very clearly cares deeply about her. What struck me most was a moment when, after Gary met Binnie's parents, he gently prods her about her feelings for him and then says, "You make me feel alive." It's a tender thought and not one I think I would have appreciated quite the same way five or ten years ago. Maybe not even a year ago, because, like Binnie, I've spent a lot of time striving to find inspiration and time to make art. And in the struggle I've missed some of the best parts of what surround me every day, like the softness around my husband's eyes when he brings me yet another cup of tea (when he could be working on his own art).
So while Binnie was finding her way toward art, I was finding my way into a quieter view of what makes a great life. I hope I can find compassion for the Binnie in me along the way.
A Line in the World
"I want to wake beneath a sky that is grey and miserable, but which creates a space of colossal dimensions in a second, when the light comes ashore. A horizon is what I want, and I want solitude. Healthy solitude, and I want intimacy, true intimacy. I no longer want to be anyone but myself." – Dorthe Nors, A Line in the World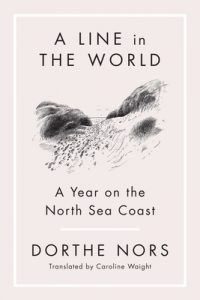 In January 2020, my husband and I were starting a lot of big discussions about how to make the life we want. The theme was being intentional in our choices. Like everyone else, our choices were very quickly limited, but this discussion is once again rising to the surface in a practicable way. Sometimes this means picking the breakfast I want (rather than eating my oatmeal default) and chewing my toast slowly so I can experience and enjoy the last bite of special jam. Sometimes it means going to the beach, because one of the small (but huge) things that makes me feel whole is being near the ocean. This is why I was pretty sure I would love A Line in the World. What I didn't know is my choice to curl up with this book during a week of sickness and recovery after Christmas would itself be healing.
"But a vacuum is always waiting to be filled with something. In the Wadden Sea, you bring the contents with you, and the contents of a supposedly authentic life can be terrifying." – Dorthe Nors, A Line in the World
I've never read Nors' fiction, but this collection of essays written during a year traveling the west coast of Denmark (or the east coast of the North Sea) was perfect. She resists a geographic order as these essay explore everything from family history to climate change to Danish surf culture (sometimes all together in a few pages). The writing, masterfully translated by Caroline Waight, seems effortless and I'm giving myself the gift of letting this book be the last I read in 2022. I know I will return to this book again and again but right now I want the feeling of having read it to stretch into a new year, and maybe a new life.
"Surely, to be great is to stand at the northernmost tip of the nation, right at the very top, with a foot in each sea. Can you feel the potential? This is your country, your language. Your limitations. In this moment under your jurisdiction, and only yours." – Dorthe Nors, A Line in the World
So the struggle continues, in books and in life, and the glory, too, as we embrace the best of the lives we can make. What have you read this year that makes you see where you've come from, where you might want to go?