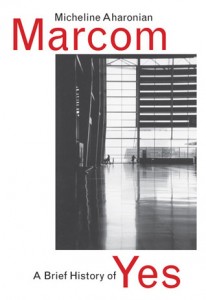 As a writer, how do you critique the work of friends? In private you read drafts of their work and point out the parts you love and areas for improvement. You both know you can't be objective but that red-penning a draft is in fact a loving act that will make the work stronger. With any luck you are different enough writers that you can learn from each other but also at similar stages so that it's an equal exchange.
But how then do you review the work of your teacher, your advisor, the person who helped shape your voice? When reviewing a book, I always try to look at the best of what the book has to teach, so I wasn't worried that I'd review A Brief History of Yes by Micheline Aharonian Marcom in a negative light. I did know, however, that Micheline will always be my mentor and that when I read her words on the page I hear her voice.
When I told her that I wanted to write about her book here but that I wasn't sure that I could be objective, she graciously offered to answer a few questions. So what you see here, rather than a straight-up interview, is me asking both questions about the book and the questions that would help me continue to find my way as a writer.
A Brief History of Yes
"He still lies in the mind of the Portuguese girl, for as the lover of yes knows, the absence created by the end of a love affair is another form of presence." – Micheline Aharonian Marcom, A Brief History of Yes
A Brief History of Yes by Micheline Aharonian Marcom is the portrait of a love affair from beginning to end between the Portuguese Maria and an unnamed American. The way the book is structured, we know always that the affair will end, but the writing is so gorgeously inhabited that I was deep inside the emotional thrall of the ups and downs from the thrall of new love to the deep loneliness of knowing something is about to end.
With echoes of Clarice Lispector, Fernando Pessoa, and William Faulkner, Marcom's carefully crafted blend of lyricism and concision is inimitable. I know, I've tried. She plays gently with grammar, combining words and changing punctuation, so that I always feel the possibilities of language are opening before me. And the way she reveals the unsaid is something I'm still ruminating on, even months after reading the book.
Interviewer: You've led such an international life, how has that shaped you as a writer? Is that part of the reason you read trans-nationally?
Marcom: I think that literature, like painting or music, cannot be appreciated from the vantage point of only one culture or country or epoch—it would be as if I only looked at American painters, for example, and skipped Cézanne, Picasso, Klee, Velasquez, Goya, the ancient Mayan sculptures…. I seek the books that are "aesthetic achievements," that make the hairs stand up on the back of my neck. Wherever and whenever they were written.
I: I loved the way you revealed the things that were "not said" between Maria and her lover. Is this something you started with or did it evolve as you wrote and rewrote?
M: I can't any longer remember. But I don't think that it happened in revision, and more or less emerged that way. Although, of course, I did revive the book extensively. But I am a writer who follows my intuition, who "listens to the voices," as Faulkner said. So although I revise continuously, I also allow for the strange and unpredictable. And I am always interested in what people don't say to one another, as much as what they say.
I: The events in A Brief History of Yes are not at all chronological and yet the book has an inherent logic. How do you think about time as you are writing?
M: When I'm writing first drafts, I don't think, I follow my obsessions, my interests, my inklings—as I said: I tune in and listen. Later when I have material I shape and trim and work to cull a book's final form. But I usually find the pattern had already been made and it then becomes my job to "lift" it to its final shape.
I: What are you reading?
M: Right now re-reading Faulkner's The Bear for a literature class I'm teaching, and all the Lispector I can fit into my day for an essay I'm writing on her work. So, as you can see, I'm returning to the tried and true.
If you want to read A Brief History of Yes, pick up a copy from Powell's Books. Your purchase keeps indie booksellers in business and I receive a commission.
Summary
Reviewer
Review Date
Reviewed Item
Author Rating